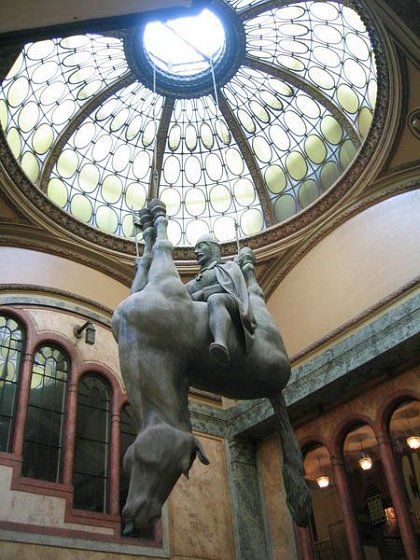 Very weird. I've heard of beating a dead horse... but riding one? And why is the Knight riding an upside down horse? And um, I hope it's a FEMALE horse. Or else he's sitting on something very uncomfortable. He's going to be mad "saddle sore."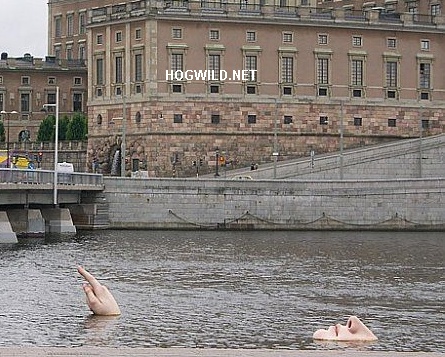 I think I know what happened here. There was this huge statue that borrowed money from a loan shark. When he couldn't pay, the mobster told him "You'll be sleepin' with da fishes!"
I'm assuming this statue is doing the "Dead Man's Float." Because if he's alive, something very embarrassing could poke out of the water when he wakes up in the morning. Someplace that wasn't meant as a perch for birds.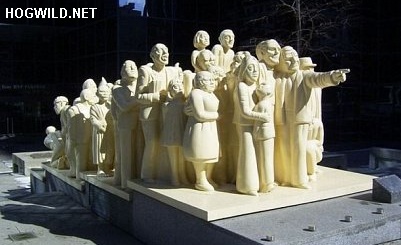 They look like people made out of butter. I think they are waiting for their space ship. The space ship is actually a huge corn on the cob.
I think it would be cool if this statue really WAS made of butter. And underneath the statue the put a giant piece of toast. The statue melts and the entire neighborhood gets breakfast! Maybe they could add some statues made of the jelly, too.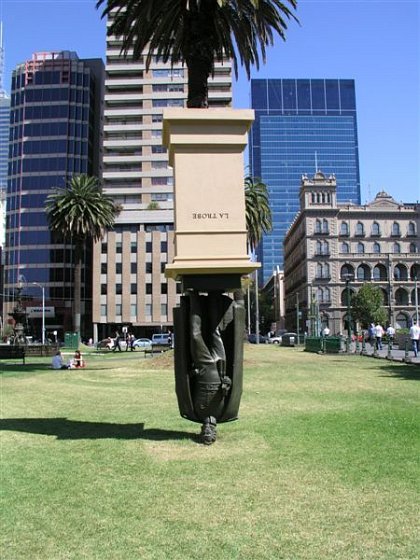 This is the coolest statue ever! What a simple but really awesome idea! I mean, no one pays attention to boring statues anymore. But I bet EVERYONE takes a picture of this one! There is actually a version of this statue in New York City. Except he's SPINNING on his head, break-dancing.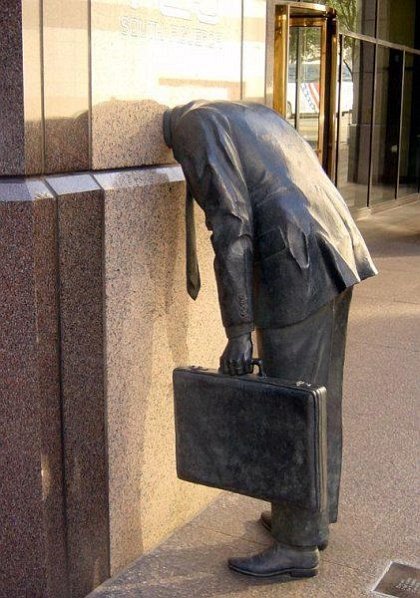 Not only does the Corporate World suck your soul... but it also sucks in your entire head.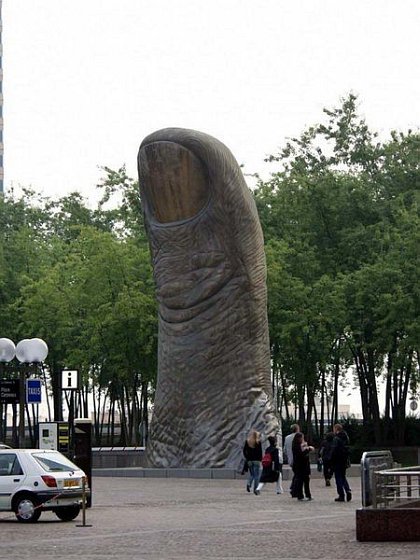 This statue honors a group of people they don't get enough acclaim. This statue honors the world's proctologists. (Butt-doctors.) In fact, this is the very thumb that examines the legendary rectum of the Abraham Lincoln statue in Washington, D.C.
DID YOU KNOW? Every year for Gay Pride Day, the fingernail is painted pink.
DID YOU KNOW? This statue was originally part of a giant hand? But the thumb fell off the giant hand from the stress of playing too many video games.
DID YOU KNOW? 97% of people who wear thumb rings are super annoying.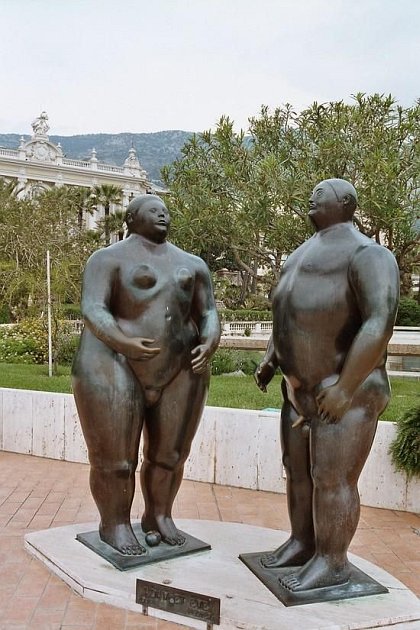 I vote that all statues must have underwear. Why is it that we can't have posters outside of nude women but we can have nude statues with pigeons perched on peckers?
Is this supposed to be Adam & Eve? Because there's an apple between the woman's feet. I think the man-statue dropped it there on purpose and when the chick-statue bends over to pick it up... he's gonna give her the old gargoyle.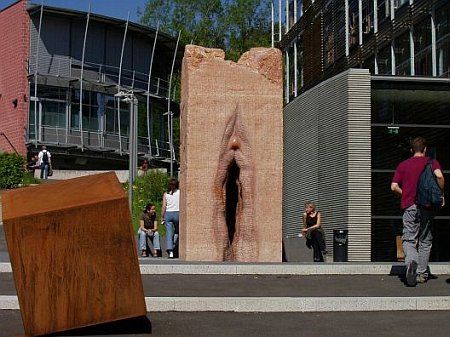 Um... is that what I THINK it is?!!!
I know I'm a pre-vert but uh, that looks a lot like a... hmm. I wonder if the inside of this thing is damp. I'm not exactly sure WHAT this is, but it may answer the question all little children ask, "Mommy, where do statues come from?"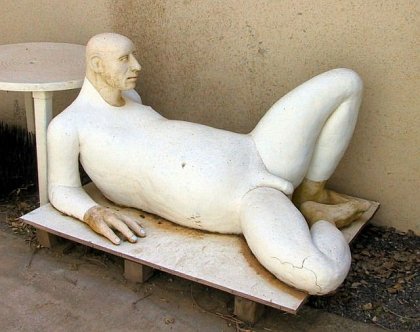 "Hey ladies... I'm covered in flour and ready to bake in your oven... of love."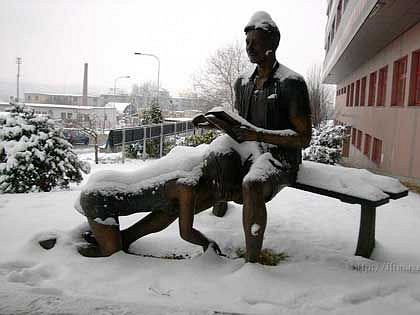 Um, I think she's looking for her contact lens. Oh, there it is! On the head of your pen!s!
I think I look pretty good as a 1-armed statue. One day when I'm super important, I'll commission some statues of myself. And I make you this promise. I WILL have underwear! I will NOT make some poor artist use his talents to mold clay into the shape of my balls.