Steve Irwin, The Crocodile Hunter, was killed by a stingray. What a cool way to die!

Most people die in a boring way. The Crocodile Hunter was lucky enough to go while doing something he loved.

That's why I want to die laying in my bed... with a cheeseburger in one hand and my jammy in the other hand. Whoa. Wouldn't that make a great opening scene to Law & Order? No, Law & Order SVU!

We all have to go, so isn't it so much cooler to be taken out by the poisonous sharp tail of a stingray stabbing through your heart than to die because of old age?

We should all be so lucky as to die doing what we love. This would be like if Michael Jordan died right after dunking the winning basket. Or if Tom Cruise choked to death on a pen!s.

It sucks that the Crocodile Hunter died, though. He was so happy. He was like a child in his enthusiasm for animals. But in a good way and not in a creepy-Michael-Jackson-way.

Maybe the lesson here is that we still need to respect the danger of animals. The Crocodile Hunter was killed by a stingray. Roy of Siegfried & Roy was mauled by a tiger. And Britney Spears was ruined by a weasel.

What I don't understand here is, why did they let the perpetrator get away! This stingray is a murderer!!!

None of our cherished celebrities are safe while this stingray is out on the loose!

Any of the following scenarios could totally happen!

Beyonce is sharing a romantic glass of Cristal with Jay-Z on their 198 mile yaht. The couple goes out to take in the clear night air and SWOOP! The stingray jumps out of the water, glides in the air, and before Jay-Z can blast any shots from his 9mm, the stingray stabs Jay-Z through the lip and cuts all the way through Beyonce's throat.

All we will have left is a sad Jay-Z tribute song produced by P.Diddy and maybe Elton John does another version of Candle in the Wind.

Or maybe Angelina Jolie and Brad Pitt are scouring row boats in the South Pacific Ocean in search of new babies to adopt when FLEEEEEEEEEWIE! The stingray swings a Samurai sword and slices the beautiful faces of Brad and Angelina! And the stingray was really Jennifer Aniston dressed in an all-black wet suit.

I think the lesson here is that you need to stick to what you know. He's the Crocodile Hunter. He shouldn't be hunting stingrays. I mean, you don't see the MILF Hunter hunting FBI fugitives. Unless of course, the fugitive is an older woman with huge boobies who's been a "bad girl" and needs to be punished.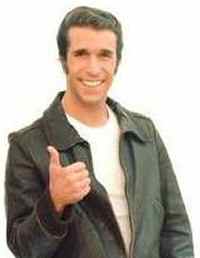 The Crocodile Hunter's death is really sad news. Especially for the Discovery Channel. He was their big star! I just hope they don't replace him with some bootleg version. Like some guy with a fake Australian accent who calls himself the Iguana Hunter. That would suck.
It's just so weird that the The Crocodile Hunter gets killed by a stingray. You wouldn't really expect it unless it was a crocodile dressed up as a stingray.
It happened while The Crocodile Hunter was filming a segment for a TV show called "Ocean's Deadliest." Finally a TV show that lives up to its title!
The Crocodile Hunter's fun and adventurous personality did a lot for promoting Australian tourism. Almost enough to offset the damage caused by the Outback Steakhouse restaurant chain.
Australia's Prime Minister John Howard acknowledged, "This unexpected and tragic death is the saddest thing to happen to Australia since the release of the movie Crocodile Dundee in Los Angeles."