An official eulogy from the orifices, er, offices of the MILF Hunter:

Hi there! You guys already know me from my series of popular internet videos. But you ladies may need an introduction (assuming I haven't already paid you to have sex with me on camera.)

I am the MILF Hunter. I travel the globe courting beautiful older women with c*ck and cash. But enough about me. I'm here today to honor my hero, The Crocodile Hunter.

It was The Crocodile Hunter who inspired me to become an adult film producer. When I saw the natural joy he took in his work, I knew I wanted to do exactly what he did -- except with Moms.

The Crocodile Hunter truly inspired me to be what I am today... a man who appreciates natural beauty and wild moms and who wants to share my experiences with viewers around the world.

Although I never enjoyed the honor of meeting The Crocodile Hunter, I did share some correspondence with him.

Okay, it was not with him directly, but rather with his lawyers on his behalf. Close enough! By the way, in light of recent events, I think they should drop the copyright lawsuit over my nickname.

While the Crocodile Hunter hunted reptiles in their natural environments, I hunt moms in their natural environments. Like the mall or in their homes while their husbands are at work. You may be thinking, there isn't much similar between reptiles and moms. To that I say, you haven't seen the fast-action tongue on Mrs. Sara Jay! That b!tch can give some serious head! Can I say "head" at a funeral? Well, I guess I just did.

When I first heard that the Crocodile Hunter was killed by a stingray I was shocked! Get it? "Shocked!"

What? I'm confusing stingrays with electric eels? What the hell do you know?!! Iím the MILF Hunter, god dammit!! The point is, the Crocodile Hunter was a really cool dude and I studied his techniques wrestling crocodiles and applied them to moms.

I hear that The Discovery Channel might air the final episode of "Crocodile Hunter", but obviously won't show the final stingray penetration. Out of respect, in my next video, the MILF Hunter also will not show any penetration.

From stingrays.

Steve Irwin the Crocodile Hunter was from the land "down under." And I've filmed slutty moms going "down under" my nut-sack. Either way, we're both cool.

When I saw The Crocodile Hunter, I admired how he spread joy all around the world. And I aspired to be just like him! Except replacing the word "joy" with "legs."

Most importantly, we must remember to send our heartfelt prayers to Steve's wife Terri and their two children. If they need anything, I want them to know I am here for them. Especially Terri.

What? Don't judge me! I'm the MILF Hunter, god dammit! I can say whatever the hell I want!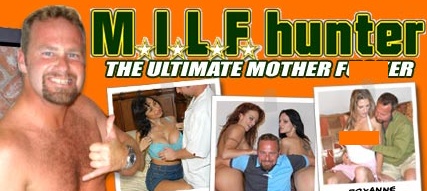 HOGWILD'S PREDICTION FOR 2012: MILF Hunter tragically killed by a mom. Picking up crocodiles is dangerous and so is picking-up moms! Normally moms are placid creatures, but this mom felt threatened by his camera crew. So she unleashed a ear piercing mom-scream from her powerful mom vocal cords, and ran him over in the mall parking lot with her mini-van. Twice. Then she got out of the van and hit him in the head with her purse.
HOGWILD'S OBVIOUS PREDICTION: Even though the MILF Hunter had about 170,000,000 more viewers, the MILF Hunter's passing will not elicit nearly the same mournful response as the passing of the Crocodile Hunter.
NOTE: For the MILF Hunter, I imagine "Taps" playing and erections around the world slowly slauting.
NOTE: Aaaaaaaaaaaaaaaaaw!