JUSTIN:
As men with b@lls we are required to be interested in one of
4
things: sports, cars, money or hunting.
I left out women because Iíve met a lot of men who were qu33r as a three dollar bill that had better cars, made more money and were better at sports than me... but enough about Troy Aikman.
HOG: Ouch. Dude, are you saying that Troy Aikman is h0m0m0m0m0?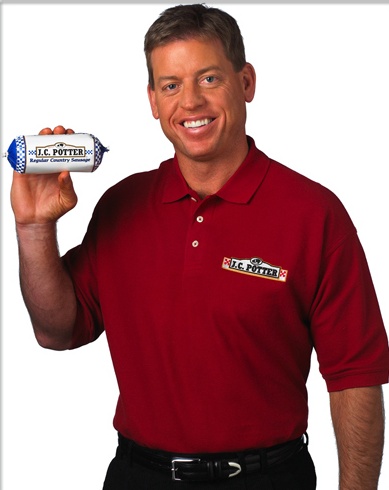 Troy Aikman holding the sausage.
JUSTIN: It seems that the Dallass (not misspelled) Cowboys "passing game coordinator" Todd Haley is suing a McDonald's claiming his wife found a dead rat in their salad. This finally explains whatís really in the chicken nuggets at Mickey Dís!
HOG: Eeew! That's disgusting! They eat McDonald's?!
It's McDonald's. The food is gross. The complaint should go more like, "Excuse me, may I speak with the manager. There seems to be a salad on my rat. How can I enjoy my McRodent with all this damn salad!"
A rat in the salad? Now that just doesnít make any sense. Now, a tail sticking out of your Big Mac I can understandÖ but in the SALAD?
How would one identify it as a rat unless it was still in original rat-like condition? Are you suggesting that an entire un-chopped rat was in the salad? Like hiding out, camouflaged under the lettuce?
Then he pops up like Rambo with his little machine gun @nus shooting rounds of black rat pellets.
JUSTIN: Haley's lawsuit seeks $1.7 million in damages or a 7 game winning streak because at this rate thatís the only thing thatís going to get Dallas into the playoffs.
HOG: What? You donít have full confidence in Romo? Everyone was crying to get rid of Bledsoe, then they bring in Romo and his first pass gets intercepted. You know the Cowboys really suck when the cheerleaders wear bags on their heads.
JUSTIN: You'll never see a Dallas Cowboy cheerleader with a bag over her head! These are the hottest chicks in Dallas in the hottest uniforms in the league. Putting a bag over their heads is like putting ketchup on a rib-eye.
HOG: The bags aren't for our benefit, it's for THEIRS. They are ASHAMED to be seen on the same field as the Cowboys.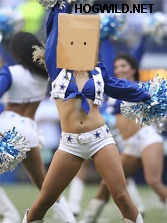 JUSTIN: As a lifelong Cowboy fan I donít think it was an accident or due to any health code violations at McDonald's. I think the acne riddled fry cook at that store was a big time fan, recognized Haley as one of their coaches and put the rat in the salad.
This is basically the Texas equivalent to the Godfather where they put the horse head in the movie producer's bed. The message, "Win some games or else!"
HOG: Hey, at least here in New York City we keep our rats where they belong! In our apartments!
JUSTIN: The dead rodent, believed to be a juvenile roof rat, was about 6 inches long and was found on its back with its mouth opened. Yep, thatís a message from your friendly Texas Football Mafia baby. If I were Haley Iíd worry less about the $1.7 million dollars and worry more about the Cowboys offense before someone makes him an "offer he canít refuse"!
HOG: Okay, random thought... Dallas Cowboys. Cool name. Makes sense. Houston Texans. Yeah, that's creative. All teams should be named like that. The Los Angeles Californians. The New York New Yorkers.
JUSTIN: Haley went on to say that his wife didn't find the rat until taking the salad home to eat, and that a manager from the McDonalds "didn't offer any comfort" after driving to their house to see the rodent. The suit was filed after the restaurant promised "to make things right, but only if the Cowboys beat Carolina next week."
HOG: Wait, his wife didnít notice the rat until she got home? Well, anything could have happened on the way home. Maybe the rat was in their car, snuck into the bag, and caught a heart attack while trying to eat all of that cheese off the top of the salad.
Or maybe, and this is just a theory, Terrell Owens planted that rat in the salad because heís mad that heís not getting enough plays called for him. Watch, next week weíll hear that Coach Bill Parcells found a snake in his morning box of doughnuts.
JUSTIN: Or his bra.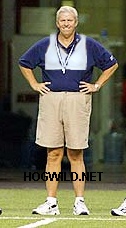 HOG: Dude! What a great movie idea! Snakes in a Bra!