JUSTIN: Danica Patrick
the
smoking hot
and
equally
talented Indy Racing League driver is currently thinking of trading the open wheels of her Formula One for the challenge of the
NASCAR
circuit.
HOG: Indy Racing League? More like Indy "Racy" League!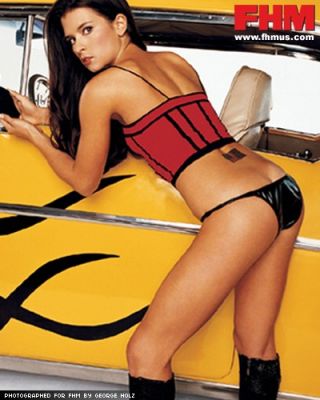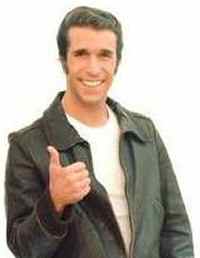 JUSTIN: Indy Racing League races are held all of over the world. Unfortunately for Danica, NASCAR races mainly reside in the south where the only time women are allowed to drive are when their husbands are too drunk.
HOG: That is an insult to Southern men! Everyone knows a real southern gentleman drives drunk!
JUSTIN: I'm kidding of course but being a woman in a male dominated sport hasn't been easy for Danica Patrick. I mean, it's got to be hard for a woman to try to win a race when there's a man in the pit crew constantly telling her how to drive.
Pit Crew: "Slow down on the corners, you're wasting gas."
Danica: "Stop yelling at me! I can't focus on the road when you're YELLING AT ME!"
HOG: Plus she has the added challenge of trying to drive while applying her lipstick in the rear view mirror.
Look what happened to her fellow female driver: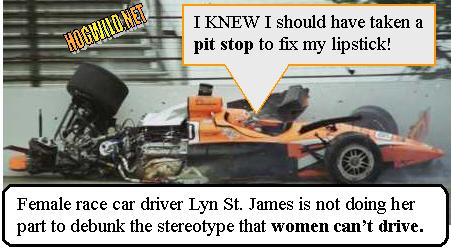 JUSTIN: Ed Carpenter, an Indy driver, was asked how Danica Patrick might handle NASCAR racing and said, "I think Danica's pretty aggressive in our cars, I mean, you know especially if you catch her at the right time of the month, she might be trading plenty of paint out there."
"But I think she'll hold her own. I don't think she's leaving, so we'll see."
Yikes. This coming from a driver who drives for a team owned by his MOTHER and her husband Tony George. Looks like Ed will have to do his own laundry this week.
HOG: Mr. Carpenter is saying that stuff out of fear. He doesn't want to get by a driver who drives her laps while listening to Lite FM.
Ya know, I don't know why Danica isn't being taken seriously...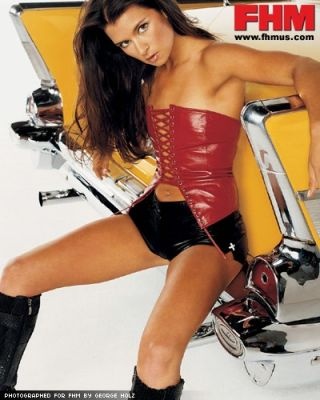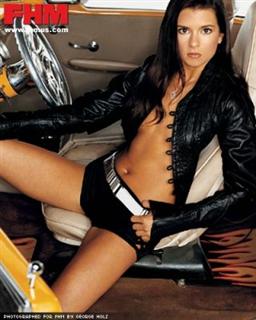 JUSTIN: Danica Patrick responded to Carpenter's comments with grace by saying, "That sounds like a good joke to me, it's pretty funny to me. No big deal. Ed is a really nice guy. There's no drama there. I think it's funny. I'm glad he's showing some personality."
HOG: I wouldn't be surprised if Carpenter was like, "Who's gonna sponsor a dang woman? Here comes Danica Patrick in the pink Payless-Shoes-Vagisil-Monistat-7 car… She a dang woman! It's not fair for her to compete against us men because she has to drive barefoot and pregnant. If God wanted them there women to drive then he wouldn't have given us men the stick shift in our pants!"
JUSTIN: From the beginning, Danica Patrick seemed destined for speed. Unfortunately for the guys she was destined for the driver's seat instead of the back seat.
Danica Patrick began driving karts at age 10, then jumped up to the Formula Vauxhall Winter Series in England in 1998, when she was just 16. By 2002, she had signed her current contract with Team Rahal and in 2005 Danica Patrick became the first woman ever to lead a lap at the Indy 500 and still make it home in time to cook dinner.
Seriously though, she led the race for 19 laps and ended up finishing a respectable fourth in the race, the highest finish ever by a woman.
HOG: I think this might happen:
Carpenter: Danica, your headlights are on!
Danica: Shut up, creep!
Carpenter: No, really.
Danica: Oh. Thanks. Douche-bag.
JUSTIN: This year's really been no different for the racing phenom, as she has left off right where she finished in 2005. This year she's won three pole positions and ranks 12th in the current Indy Racing League points standings. Can she transfer this success to the next level without riddling her face with worry lines?
HOG: Hey! The only "worry lines" will be the skid marks… in the underwear of the male drivers!
The only thing that would upset me about a woman winning the race is that instead of bikini girls at the Finish Line, we'll see hunky muscular dudes in Speedos popping their corks and squirting champagne into her mouth… well actually… Go Danica!!