When a man is trying to woo a woman, NOTHING is too expensive.
Once a man has her as his girlfriend, EVERYTHING is too expensive.

When a man is trying to impress a woman, he's taking her to fine restaurants.
Been together 3 months, he's like, "AN APPETIZER?! You KNOW the prices at Red Lobster are outRAGEOUS!"

First date, a man has his lady on his arm, PROUD to pay her way to the late showing at the movies.
20th date, a man takes a woman to the afternoon matinee -- through the back door -- with a sandwich bag full of microwave popcorn.

In the beginning, a man is enthusiastic on the phone when the woman calls.
Later, he's like, "Yeah. Uh-huh. Yup. Ok. Yeah. DAMN IT WOMAN, THESE ARE PRIME-TIME MINUTES!!!"

When a man is getting to know a woman at a bar, he'll be buying her martinis, cosmos, shots.

That man is in a RELATIONSHIP with that woman and they're at a bar, man will say, "You know, you really shouldn't drink so much. It's BAAAAAAAAAAAAAAAAAAD for you."

At the start, a man might even splurge for a limo!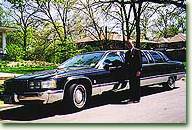 When a man has her as his girlfriend, he gets a coughing attack every time they pull into a gas station. "AHEM AHEM. Woo, gas sure is expensive these days. ACK ACK AHEM!"

When a man is trying to bed a bim, he'll take he to the ballet and say, "Here's $400. Buy a bunch of black heels. Whatever you need."
Been together a while, "Awwww, a hole in the toe of your shoe? GREAT!! Now they're sandals!"

Beginning stage, "Are we still on for Saturday? Great! Here's some money. Get your nails done! Enjoy!"
Then it's like, "Need your nails done??!!! What? Are your TEETH broken?!!"

While courting a lady, a man might surprise her with jewelry.

After they're LIVING TOGETHER, "You want new jewelry? "Okay, okay. I'll go look at Diamonds..." Then he mumbles, "Diamonds STRIP CLUB!"

At first, it's not uncommon for a woman to unwrap a GIFT from her man.
Later, the only PACKAGE she'll get from her man is the lame one he's already played with!!!

Watch my helpful and hilarious Expert Dating Advice videos!