For Father's Day, I think we should recognize the best celebrity dads and name a "HogWild Celebrity Father of the Year."
No, this isn't about being sarcastic and naming Kevin Federline. Although, to be fair to K-F'ed, he doesn't look so bad when you compare his parenting skills to Britney's. That's why they are a great couple. They make each other look good. Didn't we all think Britney was stupid? Not anymore! Now, thanks to her husband, she seems like a super-genius capable of adding 2 digit numbers! And possibly locating the United States on a map.
Because when Kevin Federline was asked to find the U.S.A. on a map, he pointed and said, "There it is! The thingee that looks like a plus sign with the letter N on top. That was easy!"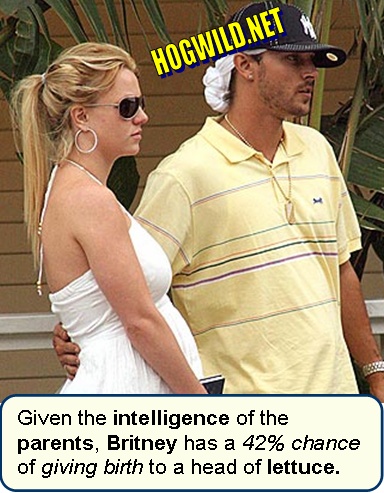 HogWild Celebrity Father of the Year is not about honoring pot-loving Woody Harrelson for putting his new baby girl in hemp diapers. Or that her first words were "Maaa-ee-wana." Or that Woody tucks his baby into bed by wrapping her in giant rolling papers.
And I'm not here to reveal that the real mother of Ben Affleck's baby is Matt Damon.
No. This is serious business. So let's get on with it!
Who will be the HogWild Celebrity Father of the Year?
For your consideration:
*** DONALD TRUMP ***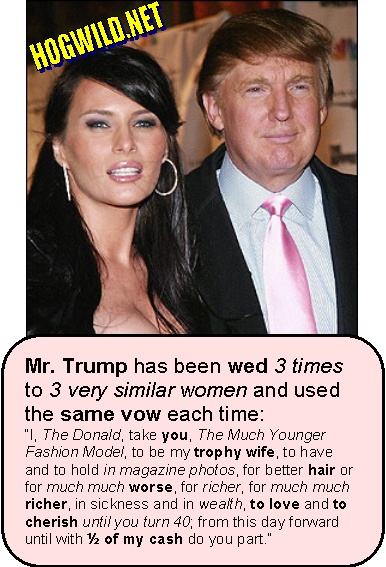 Just think, 3 generations of Trump children... and he fathered them all by himself!
Donald Trump is a real go-getter. Why wait around for your kids to give you grandchildren when you can make them yourself!
Donald Trump has 3 grown-up children with his 1st wife, Ivana. He has a pre-teen child with his 2nd wife, Marla Maples, and he has a baby with his 3rd wife, Melania.
Trump always has a new development. As soon as he puts up one child nice and tall, it's time for a new project. (Preferably with a new wife.)
*** BRAD PITT ***
Lots of dads claim they will go to the ends of the Earth for their children. But Brad actually did! Do you know where the hell Namibia is? No. But Brad does. Why? Because he loves his kid. And because Angelina Jolie is 1 crazy bitch.
*** AARON SPELLING ***
Do you know the TV shows Beverly Hills 90210, Charmed, or Charlie's Angels? Yes? Then you know Aaron Spelling. He produced those shows.
Would you do anything for your kid? Would you build a successful career from the ground up and then risk ruining your reputation for your child? Well Aaron Spelling did! Through his powerful influence, his daughter Tori Spelling has a career, despite the fact she has no discernible abilities. In fact, she doesn't even LOOK like she belongs where her dad got her.
*** ROGER CLEMENS ***
Any good American dad plays catch with his son. Roger Clemens loves his kids so much, he has kept putting off retirement just so he can play baseball on the same team as his son. Isn't that sweet? Well, to be honest, another reason he may have put off retirement is the $700 billion dollars the Astros are paying him to pitch.
*** SHAWN KEMP ***
Mr. Kemp is a great celebrity dad! Hey, sometimes it's quantity over quality. And former NBA basketball All-Star Shawn Kemp is winning 7 - 0. That's seven children and zero wives. Kemp sure knows how take it to the hole!In your face, Christian Right!
*** GEORGE BUSH, SR. ****
See the explanation I gave for Aaron Spelling; just replace "daughter Tori Spelling" with "son George W. Bush."
All great dads. But who should win?
(Insert drum roll here. Okay, you know I'm too bootleg to have a drum, so just make the damn drum roll noise with your mouth!)
My choice for HogWild Celebrity Father of the Year is.........
Rosie O'Donnell!
Rosie is a great dad!
Rosie loves kids! She's adopted 3 of 'em. (And she did it before it was trendy!)
While her partner Kelli Carpenter breastfeeds the baby, cooks, and cleans... Rosie brings home the bacon! And when she's not eating the bacon, she teaches her kids how to throw a football, how to build stuff, and how to pee while standing up.
Rosie! Rosie! Rosie!