LARRY: More evidence that society is hurtling ever closer towards self-destruction comes by way of the Bronx. (As if the re-election of Bush, USA Basketball going silver and Britney's Baby weren't more than ample reasons) Two second grade boys ages 7 and 9, were suspended for repeatedly stabbing a female classmate in the back with a hypodermic needle found on the street.
HOG: See, kids don't need expensive toys. They get creative. They play with what's available.
When I was kid in the Bronx we used to play a game called Kick The Crack Vial. Two points for Blue Tops. Four points for Yellow Tops.
Stabbing someone with a hypodermic needle is not much of a challenge. To make a real game out of it, you'd have to play Hypodermic Needle Darts.
LARRY: Hypodermic Needle Darts sounds as much fun as Herpes-spin the bottle. Nothing like extreme childhood games brought to you by The Bronx.
Instead of finger-painting, the young boys instead chose to partake in South-Bronx performance art while potentially exposing this young girl to HIV and Hepatitis.
HOG: The really sad thing here is that while the girl was crying, Whitney Houston ran in screaming that she wanted her needle back.
Whitney Houston BEFORE and AFTER she found out that crack is the Greatest Love of All.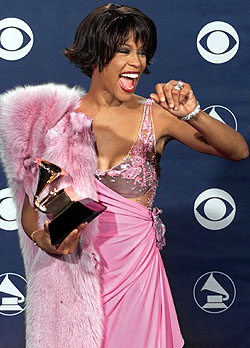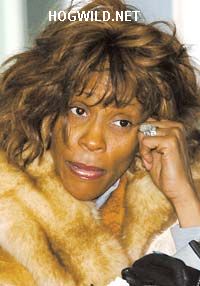 LARRY: The junior sociopaths reportedly yelled "You're going to die!!" while sticking her according to news reports. The victim is quoted as saying "I was screaming... I told the teacher and the teacher didn't do nothing about it"
HOG: Always blaming the teacher! Look, it says right here in black and white on page 322, section E, part IV of the United Federation of Teachers Union Contract: "Classroom Educators are not responsible for removing foreign objects from the student body."
LARRY: Based on the girl's statement the teacher must be just as bad at teaching grammar as she is at recognizing when a child's life is in danger. To be fair, a teacher in the Bronx probably hears "You're going to die!!" so often during the school day that at some point it just becomes another case of yelling wolf.
HOG: HA HA HA!! That's true. In general, the rule in Bronx schools is: "No blood. No foul." So these evil little masterminds were technically playing within the rules.
LARRY: But the looming question in this story has to be what is to be done with the two boys.
HOG: I believe their parents will set them straight. You know, since they've done such a good job with them so far.
LARRY: Clearly they knew the consequence of their actions as their declarative statement to the victim implies.
HOG:
Defense Lawyer: My clients had no idea that they could kill another child by stabbing them with a dirty needle!
Uh… just before the alleged incident, they were playing a violent video game while listening to violent rap music that sampled a quote from a violent movie.
And the school never taught them right from wrong. If schools weren't so busy teaching math and reading, maybe my clients would have the EDUCATION necessary to know not to repeatedly stab a girl with a needle!
LARRY: The dilemma is how to punish a child for actions that have adult consequences. Stabbing a girl with a hypodermic needle found on the streets in the Bronx no less, is a crime of absolute depravity. I wouldn't stab someone with a knife found on the streets of the Bronx if we were fighting to the death.
HOG: Yeah, the streets of the Bronx are dirty. Even the rats in the Bronx do their grocery shopping in Manhattan.
Growing up in the Bronx, I once stepped on a piece of gum on the sidewalk… and my sneaker got AIDS.
LARRY: Yeah, only in Bronx do your shoes need condoms. Jordan isn't even on your shoes anymore now that he spends all his time in the clinic.

The poor child has probably been infected by germs who are battling addictions.
HOG: Yeah, this innocent girl would have been infected with Hepatitis but the Hepatitis bug was disabled because it was infected with Herpes with a Meth habit.
LARRY: By way of their actions, these boys have shown that they lack morals, compassion and are generally without any sense of humanity. I say train them to be reality TV show producers.
HOG: HA HA HA HA!!!!
LARRY: At 7 and 9 they are obviously way beyond rehabilitation. Why not capitalize on their repulsive inherent qualities, while punishing them at the same time.
For the next 15 years they should be forced to endure the submission tapes of hopeful reality TV show stars from American Idol, to Survivor to the Real World.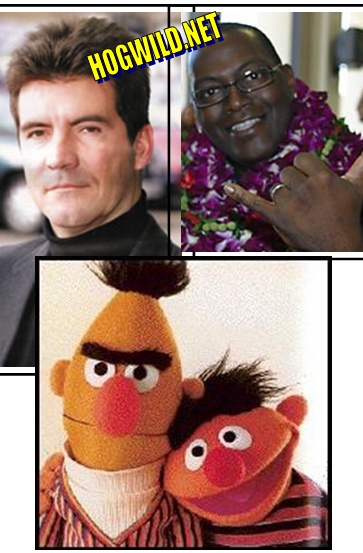 These kids should be strapped to a chair and made to watch failed Reality TV pilots day in and day out until they are adequately punished and properly prepared to produce their own crap for the American Public. By the time they are 15 they should be broken. At 22, they should be insane enough to be incapable of committing any crime while able to give us our next Flavor of Love.
HOG: Then they have a flashback and try to stab Flava Flav with a hypodermic needle!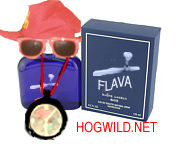 But the needle won't touch Flava Flav because it's too scared of what HE'S got. Crackhead Flava Flav then grabs the hypodermic needle (as he is very familiar with it) and casually uses it to toothpick his teeth.