JUSTIN: American Floyd Landis, the current Tour De France Champion, tested positive for high levels of testosterone and has been suspended pending the results of his B test. Landis' team said his urine sample showed "an unusual level of testosterone/epitestosterone" which usually is a sign of HGH or Anabolic Steroids.
Great. Another American wins the Tour De France and another American is accused of cheating. What is it with the French? If they don't want us winning their bicycle races then maybe they should lay off the Wine and Cheese, bathe more often and find some better racers.
HOG: Yeah! I heard that the French bicyclist Pepe Le Poopoo was totally hopped up on Brie and that he farted his way to the finish line.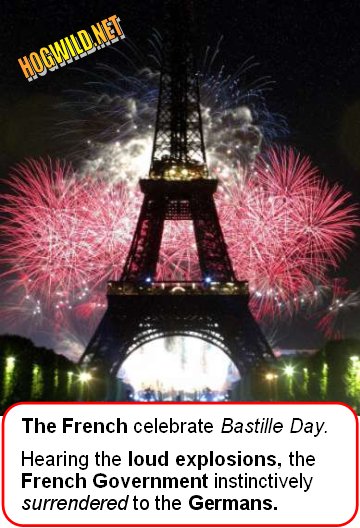 JUSTIN: When American National team lost to Argentina in Olympic Basketball did we accuse them of cheating? Did we accuse the Italians of cheating in soccer when they won the World Cup? Okay that last one was a bad example, but the bottom line is the French need to suck it up.
HOG: Yeah! They should learn to cheat as well as we do! Everybody has the SAME access to body-altering chemicals. It's just about whoever wants to win the most! It's about whoever doesn't mind having radiating glowing green testicles like Amelie Mauresmo ("female" tennis player.)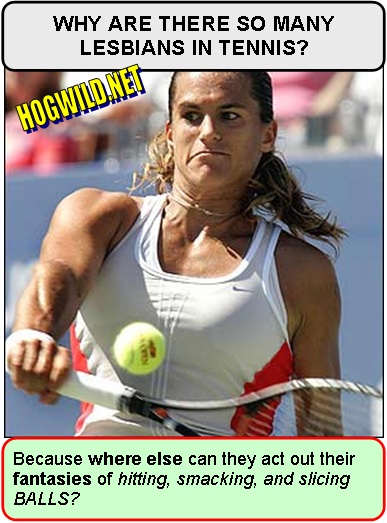 JUSTIN: But this brings me to another question. Why do we care if athletes take drugs? Sure they ruin their bodies and even shorten their life spans... but so does the stress of working 80 hour weeks on Wall Street. But no one is going to ban that. Why? Because much like the Stock Market, American Sports (not including the WNBA and Hockey) are billion dollar businesses and when money is on the line anything goes.
HOG: Ya darn tootin'! And there IS cheating in the NHL. I mean, c'mon… hundreds and hundreds of dollars are at stake.
I'll tell you why we care. Because athletes are our modern day fairy tale. We want to believe they are better people than the rest of us. We look up to them. When we find out they possess human qualities like greed, dishonor, and herpes… it really feels like a let down!
That's why we should not encourage young people to idolize athletes. No. They should idolize musicians. Because those guys would never take drugs or have herpes.
JUSTIN: And I say if an athlete wants to take drugs to get an advantage we should let him. If they want to die at the age of 32 with a horse tail and a head the size of Beavis then hey, that's the price of glory.
At least then when we looked at Barry Bonds we could say things like, "Damn that look at the size of his head…that guys willing to do anything to win!" instead of saying things like, "Damn that look at the of his head…what a cheater." Which one of these statements sounds better to you?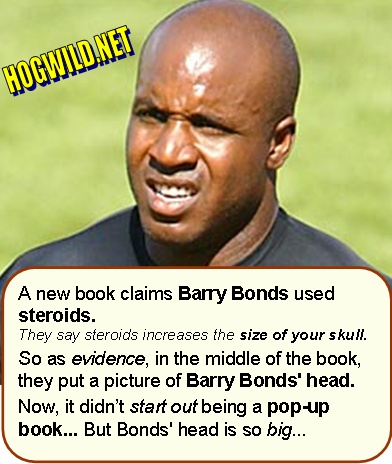 HOG: To be fair, they should make separate leagues.
For example, the NFL and the eNFL (enhanced National Football League.) That way us fans can see amazing athletic accomplishments in the eNFL like a 100 yard field goal and a running back who breaks 17 tackles to score. But then we can also appreciate the natural abilities of the guys in the "regular" NFL. And we will feel good knowing we can cheer for guys who aren't cheating. (Until we find out that guys are cheating.)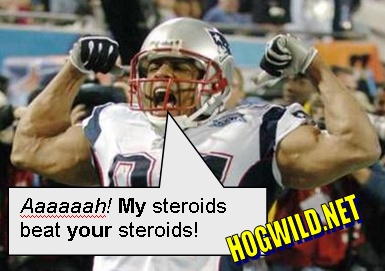 I think they should also do this for beauty pageants like Miss Universe. Separate events for enhanced and natural. Then the 2 winners go head-to-head to make me dinner.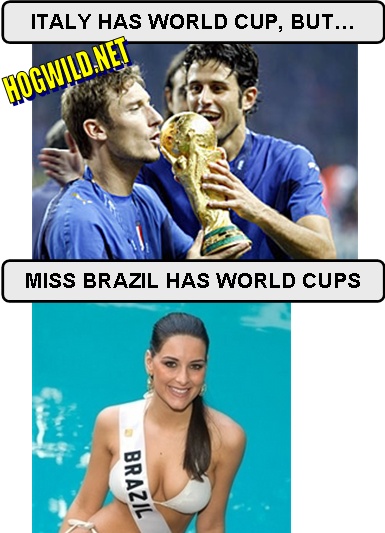 JUSTIN: We should really find better ways to test our athletes for drugs. When I worked at Blockbuster they took a sample of my hair to see if I had been taking drugs. This test is so thorough that it can tell if a person has taken any drugs in the past three years. This is ridiculous because why else would you be working at Blockbuster unless you were either a) a student trying to pay your way through college or b) a pothead who's gotten high and watched waaaaaay too many movies? Seriously you're telling me that having a guy pee in a cup is the most thorough way to tell if he's been doing drugs?
HOG: That's because the leagues don't WANT to know. They want the public to THINK the players are clean. So they do minimal testing. Now, when it comes to drug testing at a video rental store… that's SERIOUS! People are counting on you to alphabetize!
JUSTIN: And why do sports test for drugs like weed and cocaine? I realize both are illegal but players break other laws all the time and never get suspended for that. And it's not like weed or cocaine do anything to enhance your performance unless you're wielding a giant machine gun in a $1200 dollar suit while Columbian gangsters raid your mansion…but then again running a drug cartel isn't really a sport is it?
HOG: I think weed and cocaine DO help athletes. Marijuana can calm your nerves before an important game. And cocaine speeds you up. Mets pitcher Doc Gooden was great when he was high on cocaine. He didn't throw a fastball. He threw an 8-ball! And the cocaine-sweat dripping off him gave him a natural spitball.
JUSTIN: I think that the answer to drugs in sports is to have steeper penalties for the offenders. Pete Rose got a life time ban for gambling on sports yet Rafael Palmeiro got busted for using steroids and still has a pretty good shot at getting into the Hall of Fame.
HOG: Pretty good "shot." Heh heh.
JUSTIN: What I want to know is since when is betting on baseball any worse than taking an illegal substance and tarnishing the game's integrity?
HOG: Because to make money you bet on your team LOSING. No one wants to see their team lose on purpose. When you take steroids you are trying to help your team win. Now what would be really cool is if back in the day, manager Pete Rose was betting on his team to lose and the players were all taking steroids to win.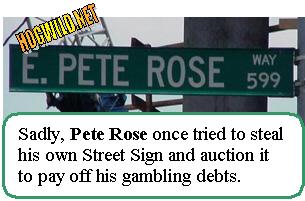 JUSTIN: They really need to do something because these days with all of the doping allegations in sports we're going to have to hold off crowning a new champion until the test results come back. So tomorrow if you see a crowd of rowdy Americans dressed in American flags and pissing on a plate of French Fries you'll know that Floyd Landis' test came back negative. Otherwise watch your ass because big brother is watching.
HOG: Especially if your ass has a big needle sticking out of it!