JUSTIN: Not since Muhammad Ali fought George Foreman in 1971 (when HogWild was 12) has there been more excitement about a fight as there is about the match up between Floyd "Pretty Boy" Mayweather and the "Golden Boy" Oscar De La Hoto, I mean Hoya.

HOG: #1 I am not that old.
JUSTIN: You sure? Old people tend to forget things...

HOG: #2 Why are we talking about boxing when it's the NBA Playoffs? Plus it's the NHL Playoffs. Is boxing still a sport? Really? Who the hell watches boxing? Things I'd watch instead of boxing:

1 - Professional Ski Ball

2 - Women's Darts

3 - A Rhinoceros vs. a Lion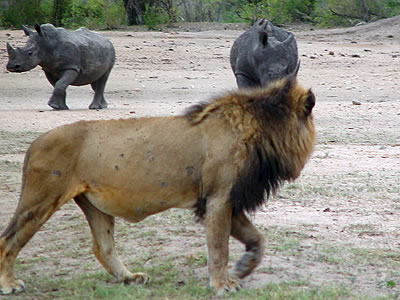 (Admit it, a rhino vs. a lion sounds pretty cool!)

JUSTIN: I'll talk about basketball next week and Hockey is only slightly more watchable than the WNBA.
In order to hype the fight, HBO put together one of the best ideas ever and made a mini documentary called De La Hoya/Mayweather 24/7 about the training camps of both fighters. It was an excellent idea that was brilliantly filmed and edited. The show has given us insights into both fighters and how they actually prepared for the fight.

HOG: I know boxers skip rope. It would be cool if these rough and tough boxers also did other playground activities for agility like:

Red Rover

Monkey-in-the-middle

Hoola-hooping

JUSTIN: On one hand, you have Mayweather who trains and talks like Clubber Lang from Rocky III. Seriously just watching Mayweather work out makes me tired... whether it's from the frantic jump rope exercises or the mesmerizing speed in which he hits the mitts you quickly realize it's as Mayweather himself said, "He's a bad motherf*cker!"

The highlight of the camp though has to be Floyd's trainer and Uncle, former fighter Roger Mayweather. Floyd's crazier than a homeless man on Sunday morning and has taken so many punches that he talks like Evander Holyfield after 10 shots of Jagermeister. Throw in the fact that Mayweather's father, Floyd Mayweather Sr. used to train Oscar and you've got one of the most entertaining training camps that's ever been filmed.

The cherry on top had to be in the first episode when Mayweather's getting a haircut while talking trash about how he's going to whip Oscar when 50 Cent comes rolling in on a Segway! That's right a Segway!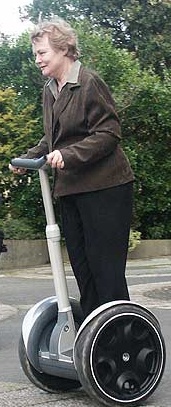 Let me tell you have to be a bad ass to talk smack on a personal transport system straight out of the Bill Gates Geek catalogue. I guess if you've been shot as many times as 50 you can pull it off.

HOG: Did 50 Cent's Segway have 22 inch spinning rims?

Not even 50 Cent can make a Segway cool. And it's like, way too slow for a drive-by.

JUSTIN: In the other camp we have a calm and business-like Oscar De La Hoya who splits his time between training and trying to show what a good family man he is.
HOG: Sorry for interrupting, but this is what a round card girl looks like: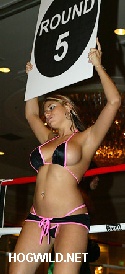 JUSTIN: One highlight of the De La Hoya training camp was that former pound-for-pound champion Sugar Shane Mosely actually came into camp to spar with his friend Oscar. The fact that Shane is even in the ring with him just goes to show what an intense training camp that it's been for Oscar.
His trainer Freddy Roach even went as far as putting a $1,000 bounty for the first boxer that "put Oscar on his ass".
After all the years of hearing how cute Oscar is from my wife I would've loved to have been able to spar with Oscar and come home with that thousand dollars. Of course I would've had to go into the ring with a sledge hammer in order to knock Oscar out but hey a thousand dollars is a thousand dollars!

HOG: Your wife thinks Oscar De La Hoya is cute? Do you guys have a Celebrity List? Like, if you happen to have a shot with these celebrities, you are allowed to have sex with them?

I know Jessica Alba is on your list. But who is on your wife's list?

JUSTIN: HEY! WE WILL NOT TALK ABOUT MY WIFE AND ANY LISTS MISTER!!!

My celebrity list would be:

Jessica Alba, Scarlett Johansson, Alessandra Ambrosio, Tera Patrick and Oprah.

HOG: That should be a Reality/Game Show. Married couples meet their favorite celebs and then they have to decide if they will actually go through with it and do the Funky Slamdance with the celebrity.

If I had a Celebrity List it would be:

* Linda Carter (for historical purposes)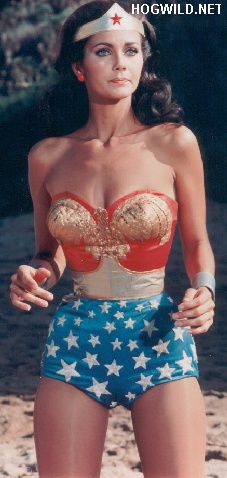 * Jessica Alba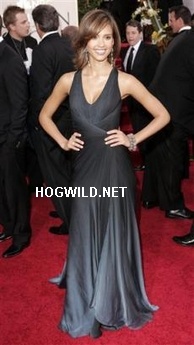 * Scarlett Johansson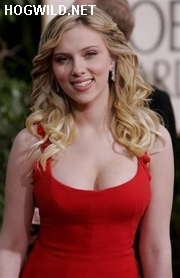 * The blonde girl on The Wonder Years who dated Kevin Arnold for a few episodes (if we were both still teenagers or if she is still hot as an adult.)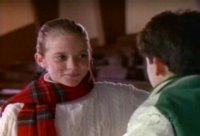 * That girl who is a waitress at my favorite restaurant

I know the last person on my list is not TECHNICALLY a celebrity, but she's pretty famous among my friends. Does that count? Besides, you wanna have at least one girl on the list who is realistic. Which is why I am adding one more name:

* Rhonda the Bag Lady on 63rd Street

JUSTIN: So let's break down the boxers.

Oscar De La Hoya comes into the fight with a 38-4 record with 30 coming by way of knock out. This generation's cover boy has beaten such greats as Julio Caesar Chavez, Pernell Whitaker and arch rival Fernando Vargas.

Even though he has beaten some of the best he has yet to win the big fight to seal his place in boxing history. In his biggest fights he has been the Peyton Manning of boxing with a record of 0-4 losing close decisions to Felix Trinidad, Shane Mosely twice and being knocked out by Hall of fame middleweight Bernard Hopkins.
This surely doesn't bode well for the Golden Boy since the fighter he's facing is believed is better than all four of the previous boxers.
HOG: Sorry to interrupt again, but this reminds of me of a story about a round card girl: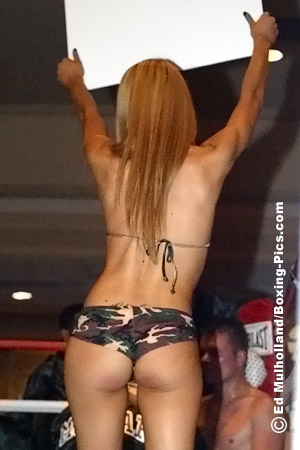 HOG: Um, I forgot the story.
JUSTIN: But if Oscar has one thing going for him it's that whenever anyone has questioned his heart or his drive he's risen to the occasion. If you don't believe just ask Ricardo Mayorga who tried to get under Oscar's skin by talking trash about his sexuality AND his wife only to be destroyed in 6 rounds!

HOG: Yeah, you don't want to call the other guy a sissy-boy with an ugly wife. I would be all compliments. Just to confuse my opponent.

ME: Mr. De La Hoya is a great man. He's the best boxer today. His family is genetically superior. And the man knows how to dress.

DE LA HOYA: Uh, hmm. Well, uh, my opponent is going down in 2 rounds! I want blood!

ME: Did I mention that Mr. De La Hoya is a charitable and generous person who donates his time and money to helping orphaned children?

DE LA HOYA: Uh… thanks, man. I, uh, hmm… no one has ever been this nice to me. Forget the fight. I'm going to buy you a Segway!


JUSTIN: On the other side of the ring is a boxing prodigy that goes by the name of Pretty Boy Floyd Mayweather. All records aside, you know you have to be a bad ass with a nickname like Pretty Boy and so far that's exactly what Mayweather's been. With a spotless record of 37-0 with 24 coming by way of knock outs, Mayweather has outclassed every opponent who's stepped in the ring with him.

HOG: He is classy. I heard he boxes in tuxedo cufflinks.

JUSTIN: He did wear leather trunks with fur trim in his last fight.
HOG: He's the pimp of boxing! Is he gonna throw punches or b!tch-slap his opponent?
JUSTIN: Mayweather is so good, at this point his next fight would have to be against 50 midgets and an alligator just to make it fair.

HOG: Now THAT is a fight I would watch.

JUSTIN: The only worry for the slick fighting Mayweather has to be his brittle hands which he has broken many times before and the fact that at 154 pounds, this is the heaviest weight that Mayweather has ever fought.
Still even with the extra weight, most believe that the Pretty Boy will still be quick enough and smart enough to out box De La Hoya.

So who will win the fight of this young century? Well don't be fooled by the hype or the fake hatred between the two boxers because it's not even going to be close. With everyone expecting a war they are sure to be disappointed as Mayweather will give the over-the-hill De La Hoya a boxing lesson. It will be sad because for the first time ever I will be sitting alongside my wife actually cheering for the Golden Boy.

HOG: Golden Boy? So this fight features a "Pretty Boy" vs. a "Golden Boy"? Is this boxing or pay-per-view g@y porn?

JUSTIN: G@y porn is what you see in the last 5 minutes of any UFC fight. Boxers may have g@y names but at least they don't fight in their underwear!
HOG: I'll be tuning in for one thing and one thing only: I want to see those hot bikini Round Card Girls circle the ring on Segway scooters!