What the hell is going on with the Freedom Tower? We're being held hostage not by terrorists -- but the real terror -- bureaucracy. 82 competing agencies all have their little idea of what to build there. And how to build it. And how it will look.

So when you involve all these idiots, of course the result will be (dramatic drum roll) nothing. Was the Statue of Liberty built by committee? Was the Eiffel Tower built by committee? No. They were built by a French guy.

But let's not get carried away. We don't want a French guy building a symbol of freedom for us. We want Germans. Because then it will get it done efficiently and on schedule.

But the design -- how the thing will look -- let's get 1 vision. A good old fashioned American idea. But most importantly, let's get the damn thing built.

It's embarrassing. There's a freakin' hole in the city. For 4 years now!

A hole! It's like we have Cleveland living in NY! (Sorry Cleveland. I know you're America's Comeback Ghetto. I lived there for 5 years.)

Please, can somebody be in charge?

Let someone build something. Then we'll all say we hate it because it looks weird. Then in 10 years, everyone will love it. That's how it works.

Unless you let that Frank Gehry guy build it. I hate him. His work is atrocious. If he built the Freedom Tower, it would PURPOSELY look like it was hit by a plane.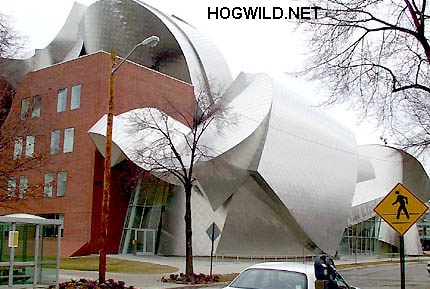 Frank Gehry built this scrap heap at my University. True Story: Some angry nerd boy with a machine gun was rampaging throughout the building and the FBI couldn't corner him because the building has no corners! (The inside is all rounded.) The newscasters had to tell the public, "No damage has been caused to the building. It's supposed to look like that."
You know who knows how to build tall buildings quickly and profitably? That's right. Donald Trump. Let him do it.

In NYC's horrible 1980s, there was this inept mayor who couldn't even build a freakin' skating rink. 4 years of B.S. and no simple skating rink. Trump takes over and builds it in 45 minutes. 45 minutes!!!

Put The Donald in charge, baby! I guarantee you, within 6 months: THE TRUMP HOTEL, CASINO AND FREEDOM TOWER.

It will be the tallest monument to capitalism, er, democracy ever built!
210 stories of luxury living space, poker, and shopping. It will be 1776 feet tall to represent the 1.776 billion dollars Trump will make in profit on the 1st year.
People are whining, "How can we protect such a tall building? It'll be a target!" WAAA! Look, retards, did you forget about the Empire State Building? THAT'S a target. No one is saying we should take THAT down!
Should we put the Statue of Liberty into storage while we wait for this whole, "The World Hates America" thing to blow over?

NO!

IN YOUR FACE, OSAMA!

If someone doesn't take charge of this situation, I will.

But you know I'm bootleg. I can't afford to build a billion dollar tower. I'll wind up building it out of popsicle sticks -- or Lincoln Logs. Yeah! Nothing says Freedom like Abe Lincoln!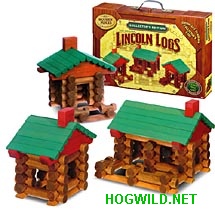 I'm mad bootleg. My Skyscraper won't BE a target, but it'll HAVE a Target! And a 99 cent store. And here's a wild idea... affordable housing in NYC!
And the World's Largest Red Lobster. Yeah, you know that humongous lobster outside the Red Lobster in Times Square?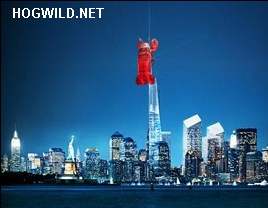 I'll put a BIGGER one on top of my building. So the WORLD will know that AMERICA is home of the all-you-can-eat Admiral's Shrimp Feast!

And also on the roof, there will be a new baseball stadium for the Mets. "This ball is hit deep! Back, back, back... uh oh. Carlos Beltran just fell off the building."

And no elevators. The subway will run into the basement of the building, and then travel vertically up to the 200th floor. Cool. Hold on tight, grandma!!

The entire building will be powered by the sun. And rats. Big steroid-using NYC rats running in hamster wheels -- Jason Giambi and Gary Sheffield.

Don't think I haven't thought of how to secure the building. Ferris Wheels.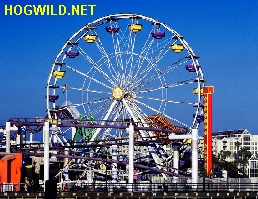 That's right. The Earth's hugest Ferris Wheels will surround the building. So if some unoriginal bastard tries to fly a jet into the Freedom Tower he'll be stopped by crashing into a huge rotating Ferris Wheel. At most, 40 children would be maimed or burned. But really, kids
bounce back from these kinds of things. 40 kids to save thousands of adult HUMAN lives? I think it's worth it.

Oh, and everyone who enters my Freedom Tower gets free cotton candy.