The Gay Games are really freakin' gay. The hole, um, whole idea is gay. Why do we have to separate ourselves?
Gay Pride is great. But why an entire separate Olympics? I can understand the Special Olympics because it's a feel-good event. But I think the Gay Games is just a cop-a-feel event.
Gay people are welcome into the Olympics. There is no need to hold a separate Championship for gays.
Fine! Let's separate everyone on Earth. We'll have the White Games (so white guys can finally win some Track & Field Events), the Jewish World Cup, and Black Midget Ice Hockey.
DID YOU KNOW?
At the Gay Games, the Torch wasn't the only thing flaming.
DID YOU ALSO KNOW?
That instead of National Anthems, they played show tunes.
*** Most Popular Events at the Gay Games ***
1 - Pole Vault
2 - Clean & Jerk
3 - Tug of War
GAY SPORTS FACT: Did you know that in Badminton, players smack something called a "Shuttlecock"?
GAY GAMES FACT: In the Gay Games Archery event, the target's "bull's eye" is replaced with a "Brown Eye."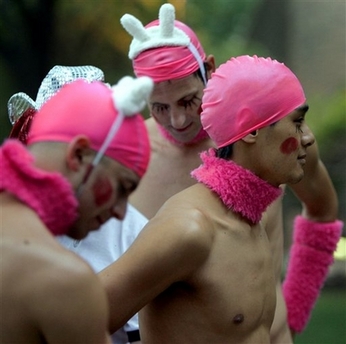 This is what I'm talking about. Why does being gay have to be synonymous with ridiculous? My gay friends do not walk around wearing pink condoms on their heads. They wear blue.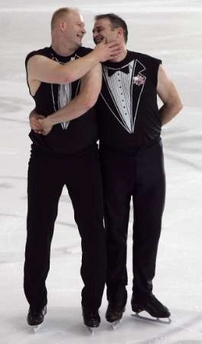 See, this is redundant. There is no need to have Male Figure Skating in the Gay Games. Everyone knows Gays dominate this event. This would be like having a special college scholarship in Computer Programming for pasty white guys who like Science Fiction.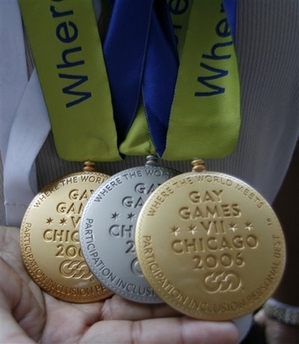 TYPICAL FRUITY GAY GUY AT A GAY PRIDE PARADE: I'm gaaaaaaaaaaay!!!!!!!
ME: What do you want? A medal?
TYPICAL FRUITY GAY GUY AT A GAY PRIDE PARADE: No thanks. Already have one!
When you say Gay Games, I don't think of Olympic Events. When you say Gay Games I think of "Hide the Salami."
These 2 lesbians are actually connected by a 3 foot long pink plastic d!ldo.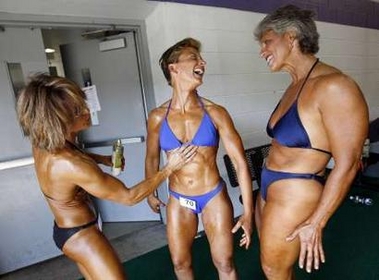 "HA! Greta, you are so funny!"
"Yes. yes. Would you like to feel my 8 inch woman-pen!s?"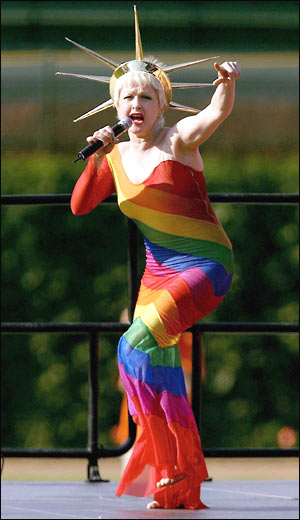 Cyndi Lauper? What? Were Madonna, Cher, and Barbra Streisand all too busy?
Look! Up in the sky! It's a bird! It's a plane! No, it's Super Dyke!
She foils criminals by knocking them over with her bowling ball! She menstruates rusty nails. She squeezes her rock-hard breasts and her n!pples fly off like Chinese throwing stars!
The only thing that can stop her is a glowing green vibrator. Is it Kryptonite? No. She just gets distracted and really horny.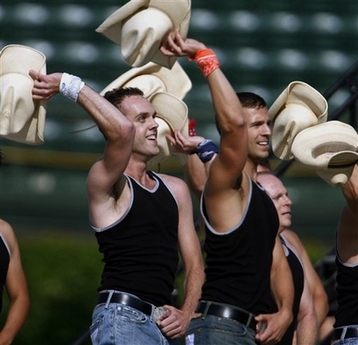 "We're queer! We're here! We take it in the rear! Yeeeee-ha!"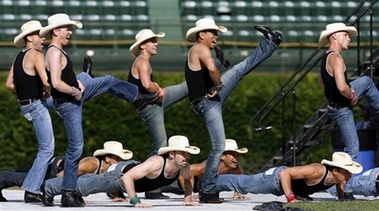 Gay cowboys have soft saddles.
They wear cowboy boots with 6 inch heels.
Their belt buckle has an arrow pointing down.
When a Gay Cowboy goes "cruising" his pick-up truck really IS a pick-up truck.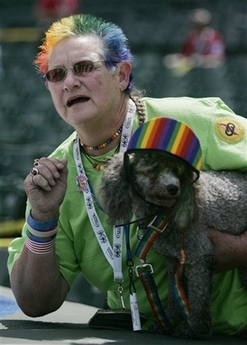 Why don't more people take gay issues seriously? Maybe it's because gays are always seen wearing the same attire as clowns.
And that poor dog. He's not even gay. Hey, I'm Jewish. And I might "raise" my dog Jewish. But that doesn't mean I should circumcise him!