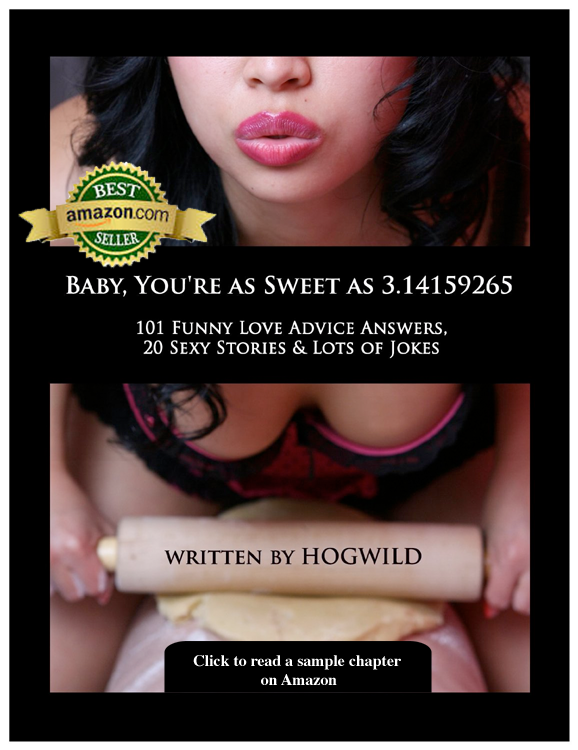 I did something I swore I would NEVER do. But it was hot. And it was Florida. It was summer. And I'm on the side of the dirty highway. My throat was so dry and burning hot it felt like I was DEEP-throating the devil's dick. A river ran from balls to crack. My nipples were sopping wet. My face went from toasty to drippy like my neck was the stick that held my marshmallow skull in the campfire. My eyes were burning hot and itchy – like 2 hemorrhoids in my head. It was hot.

So I had to do it. I summoned all my energy and lifted – my thumb. I couldn't walk any more. I got flat feet. Dude in a pick-up truck stops. Now, I'm from NY, so I'm real paranoid. I looked him over. Looked normal enough. About 45. Salt and pepper hair. Medium build. Wedding ring. Had teeth. So I got in.

See I had no car and I thought I could bike the 20 miles. No. Not when the weather forecast is Uterus.

"Thanks, man. It's hot as hell out there."

"No problem, buddy."

We made some small talk. But I couldn't pay attention to anything except the sweet, sweet cool jets of air breezing from the dashboard. I wanted to stick my face in the A/C like they were a set of huge boobies. <B-R-R-R-R-R-R> Oh! Felt so good! Like chocolate-cheesecake-to-break-your-diet good. Like an-extra-15-minutes-of-Monday-morning-sleep good. Like after-6-months-with-your-girl-she-finally-starts- taking-the-pill-so-
you-can-do-it-without-a-condom-for-the-1st-time good. Oh that chilly air was niiiiiiiiice!

Now, this 20 mile trip was out of this guy's way so I felt I had to keep him entertained. NO WAY I wanted to be back burning up on the side of the road!

So I was Mr. Talk Show host. EVERYTHING he said was fascinating! Striped bass around here? No kidding! Any plaid bass? HA! No, YOU'RE funny. I told him every joke and story I could think of.

"Did you have any trouble getting a ride?"

"Yeah! A lot of people don't want to stop, you know, I got flat feet. Thanks again, man. I really appreciate it."

"You know, a guy like you shouldn't have any problem getting a ride if you just whip out your BIG FAT DICK!!!"

<My look: shock>
<His look: pervert tongue wagging>

(thinking to myself) Shit. Damn it's hot out there. 15 MILES to go. It's so cool in here.

<His look: pervert tongue wagging>

(resigned) Look buddy. I'm sorry, but I'm not gay. I can't fulfill your mantasy. If you want me to get out (sigh) I understand.

"Oh, no. It's cool. I'll take you the rest of the way."

"Thanks, man! I really appreciate it."

<We look at each other in awkward silence>

"Some weather we're having"

"Oh yeah! Horribly hot!"

"So uh, tell me. How big is your dick? LET ME SUCK IT!!"

DAMMIT! Now I have to get my dick sucked by this pervert. Either that or get out a troop through the heat. I mean, I have an excuse to get my dick sucked, I got flat feet.

(Agonizing) Fine! I won't be gay!

Now, a lot of you guys out there THINK you are heterosexual. But did you ever have to PROVE it?!! I had to PROVE it! Because it was awfully tempting. I had a choice. A sweltering tiring traipse. Or lay back or let the man go to work on my pocket-wrench.




I PROVED my orientation. I should get a Certificate of Heterosexuality in the mail. Suitable for framing. Right there hanging on my wall. Certificate of Heterosexuality Awarded on this day. Signed by Clint Eastwood. And it should come with some gifts like a t-shirt with mustard stains and one of those Sports Illustrated football-alarm clocks. They should throw me a goddamn Heterosexual Awards Banquet – no wait, straight guys don't do banquets – a Heterosexual Awards BASH! With alcohol – but no wine or margaritas – only beer and beer. And music. But no dancing. That's right. All my buddies will honor me by belching in my face, nodding their heads to George Thoroughgood music and slapping me on the ass.

You can slap me on the ass now. It's okay. I'm certified.


Watch my helpful and hilarious Expert Dating Advice videos!
Dating Advice! Expert dating advice videos, your dating advice questions answered by HogWild!

Professional Dating Advice videos that will help you get the awesome relationship you deserve!



Expert Dating Advice Videos by me -- HogWild -- professional dating advice: helpful and hilarious.

Dating Advice Videos


Expert Dating Advice videos -- your dating advice questions answered!