Professional Dating Advice
Funny Pictures
Rants/Jokes
Videos
News
Advice
Cartoons
Chats
Games
Comedy Shows
Contact/Email Me
Free Newsletter
Links
Dating Advice Videos
Dating Coach
Professional Dating Advice
Crazy T-Shirts
Party Poker
Dating Advice
Latest HogWild Dating Advice
HogWild in Hawaii!
Part 5: God's Urinal, Hot HOT Lava, the Evil White Man, and Cock Fighting
Akaka Falls was our next destination. But first a grueling 17 hour bus tour to get there. The Hawaiian tour guide dude was mad annoying too. Had the monotone tour-guide-voice. And the tour guide kept making the mistake of asking, "Please, any questions?" So EVERY TIME I'm like, "Are we there yet?" This must have gone on 6 or 7 times. Plus I'm too Bronx to trust him. For example, he says, "And if you look to your left, you will see the bee-yoo-tee-fool waters falls of Ha-wa-ee." Everybody turns their heads left and snaps pictures like mindless drones. But not me. I'm all paranoid. I'm like, "But what's he trying to hide over here on the RIGHT?!" I'm all worried that the tour bus is gonna get car-jacked.
But I wasn't too concerned that I couldn't stir up some HogWildness on the bus. I was bored. Mrs. Potato-Head stopped talking to me after I commented on some bim's rack. (NOTE: Nubs, no matter how cool your bim is, they do not like when you blurt out, "Hey, look at THOSE bra-bombs!" I learn something new every day.) So I had to talk to someone else. The tour guide made us all introduce ourselves and where we were from. An icebreaker. God I hate those. And I actually had to swallow my pride big-time too. It would be too weird if Mrs. P said, "Hi, my name is Mrs. P and I'm from Dayton, Ohio." And then I say, "Yeah, I'm HogWild and I'm from New York City. WHAT! NEW YAWK IN THE HOUSE! WHAT! WHAT?!" I didn't want to have to explain. So I bit it, and claimed to be a true Daytonian. God that hurt. Being from a cool city like NY and then having to say "Dayton" is like having a whore extinguish her cigarette on the top of your head in front of all your friends at your bachelor party. Heh, not that I've had that experience. Heh, pretty funny, heh. Um, next topic.
Oh yeah, so this one family is like, "We're the Huskers and we're from Iowa." So basically, they were asking for it. So I turn around in my seat and ask the mom innocently, "Iowa. So is it as exciting as they make it look on television?"
A little joke. But no. Apparently Iowa-folk have no sense of humor when it comes to their homeland. She got all defensive talking about it's a good place to raise a family and how she has a good job and blah blah blah. I'm like, "I don't CARE, woman!" Whatever, I was just trying to make some convo. I knew I should have stuck to my NY instincts and avoided all talking and eye-contact with strangers.
We finally got to these Falls, and they were huge. It was like being at God's urinal.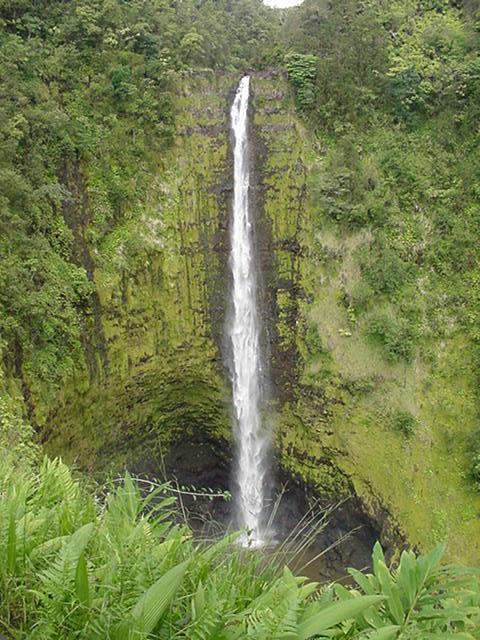 But being my bootleg self, I had to bust the low-budget promotions. I pushed my way into everyone's home videos, just walked by and looked straight into their camera and very stoically stated, "HOGWILD.NET." Damn, I'm everywhere!
There was a little bit of a hiking trail to see these Falls though. This was no trivial matter as a BFN (Big Fat Nasty) happened to be on our tour bus. This mountain of obesity waddles back on the bus DRENCHED. She tries to diffuse the sweat-stained situation with humor, "A little sweat never hurt anyone!" Yeah, except for the rest of us. Damn. I wish they would invent a body-wet-nap. I would have ripped that sucker open and with the help of a few others, mopped off her back, face, trunk, and tusks.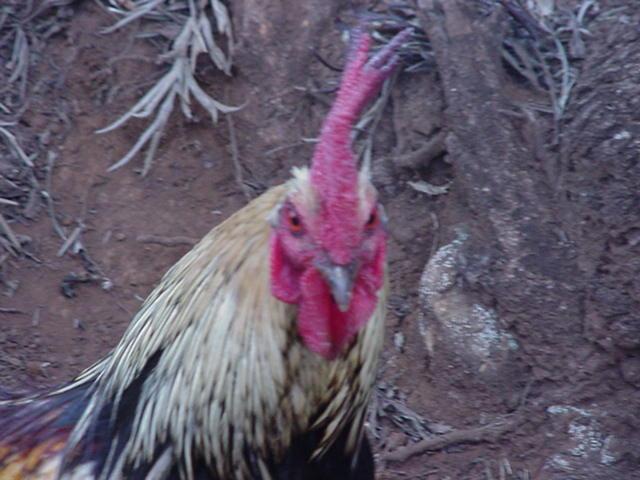 After the excitement of watching water flow down the side of a cliff, we went to a National Park. It was like so full of Nature that the Government feels we should preserve it (at least until we find oil there.) So like every good National Park, they showed this Nature Film. Propaganda is what it is. Man, all these Nature Films are exactly the same. Even the ones they show on PBS.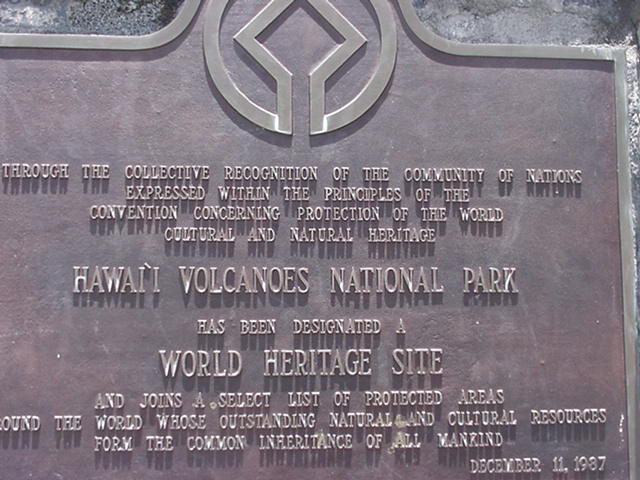 The ones about the Tigers or the Gorillas or the Rainforests. All the same. This one about Hawaii was no different. It always has announcer-man going, "The rare and beautiful creatures of the forest in all their natural glory. They roamed free and undisturbed. Then the white man f@*%ed it all up! Once mighty species now endangered. Plants ravaged. Animals raped."
Damn. White people DO always mess everything up. Oh well. Just think, without the white man there'd be no Super J-Mart. Then what would we do?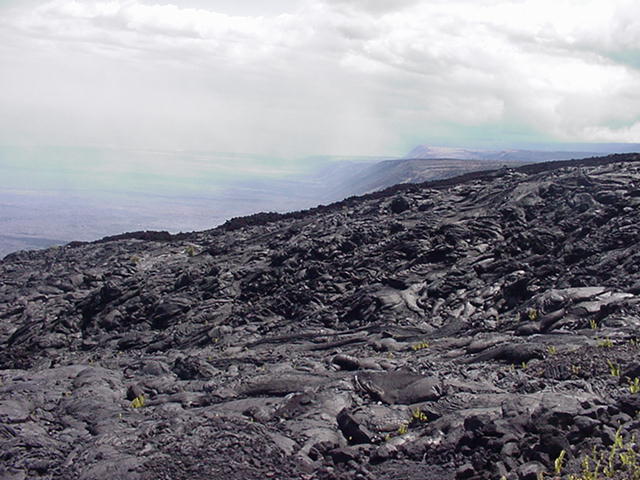 Part of this park was a volcano. It was incredibly cool. This was an amazing experience. You always read about volcanoes, but to actually walk on cooled lava flows was awesome. It was like flowing black tar. But solid.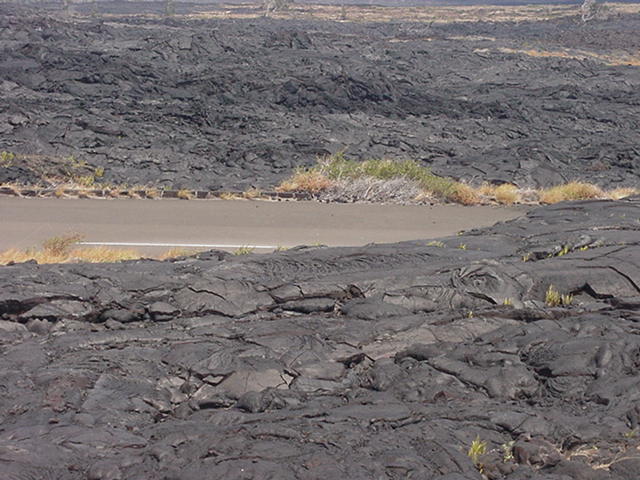 Smoke was billowing from the ground. The only problem was all the sulfur in the air. It smelled like Cleveland.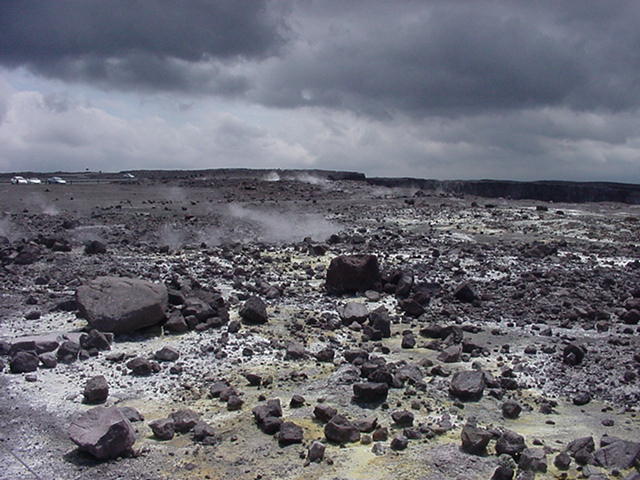 Well, not that bad. But still we could only manage it for 15 minutes then our eyes started watering. It overlooked the ocean. We were standing on a volcano looking over the ocean with black volcanic sand. Very cool.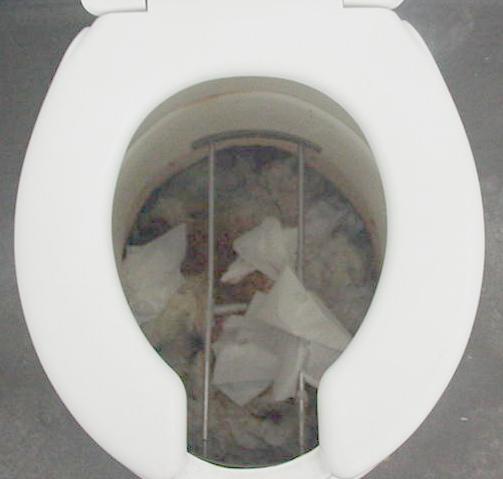 On the ride back we saw all these roosters sleeping in tiny individual shacks. What the hell was that? The tour guide said it was a training camp for Cock Fighting. Wow! It was weird. All these roosters had their own little shack, just big enough for them to fit inside. Each rooster had his own little punching bag for his beak too. Too bad we didn't get to see an actual Cock Fight though. Hey, that's what they should call it when two gay guys fight. Like when 2 bims go at it it's called a "Cat Fight." When gay nubs have a tiff people should yell, "Cock Fight!" Then someone should say, "Jeez, they look pretty angry. I hope it doesn't come to blows!"