JUSTIN:
In Kettering, Ohio, home of the
New York Jets
starting center Nick Mangold, there is another Mangold making headlines on the
football field...
Nickís little sister
Holley Mangold!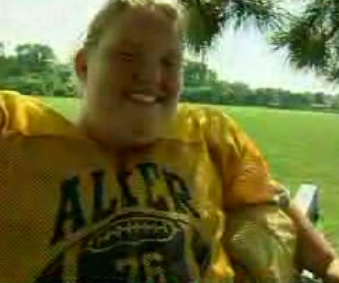 Actually I shouldnít say "little" sister because at the tender age of 17 she is 5'9" and 310 pounds, outweighing her older brother who plays in the NFL by 11 pounds. Hey Hog, didnít your last girlfriend weigh somewhere close to three bills?
HOG: Hey! I don't date fat chicks! I date crazy chicks.
JUSTIN: Holley Mangold is the first girl to ever play varsity football in Ohio state high school history.
HOG: Coach Morris Buttermaker, who invented high school football in 1803, must be spinning in his grid iron grave.
COACH BUTTERMAKER: What?!!! Girls are allowed to play high school football?!! And wait! When did they start allowing girls into high school?
At 310 pounds Iím guessing sheís an offensive lineman, er, linewoman, linebeast?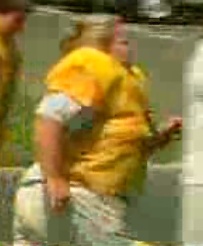 JUSTIN: Her position is LS, which stands for Left Side of the line.
HOG: No way you can get past her by physical force. You gotta run up to her and tell her, ďHey! You look fat in those pants!Ē
Then you run around her while she's sobbing and chewing on a Snickers.
JUSTIN: I remember when I was in high school we had a chick play kicker on our team. She sucked big time and not in a good way. The only time she ever got on the field, she tried to kick the ball and it was blocked by the centerís ass!
HOG: You never want your balls to end up in a guyís ass. Especially if youíre a chick.
JUSTIN: Despite the fact she made the team, her high school coach tried to discourage her from playing football by telling her to "go out for cheerleading." But like most of the guys at her high school, Holley was quick to say, "No one wants to see me in a cheerleading skirt, so donít even try it."
Come on who doesnít want to see a 300 pound cheerleader?
You know the other teams cheerleaderís would be intimidated! I think they should allow her to do both. Just throw on some shoulder pads and a helmet... only instead of football pants she could wear a cheerleading skirt. How do you like that visual Hog?
HOG: I love it! She doesnít need any other cheerleaders on the team! A 300 pound cheerleader is a pyramid all by herself!
The only problem is that when she jumps in the air, she gets stuck. HA HA HA!!! I know thatís an old Ya Mama joke, but itís funny! HA HA HA. Woooooo.
JUSTIN: She's so fat, when she wears heels, they're flats by the afternoon! She's so fat, her brother's going to beat the sh!t out of us when he reads this!
HOG: You really canít have a jiggly obese cheerleader kicking up her leg and wiggling her cellulite because it will cause the players to choke to death when they vomit inside their helmets.
JUSTIN: So is she a token girl on the football team? I doubt it because sheís got the size and the power for sure, she even set a national record for squat lifting 525 pounds and her coach thinks that she could approach 700 pounds by the time sheís in college.
No word on whether her was referring to what her actual weight will be in college or just how much she was going to squat. Iím hoping that itís both.
HOG: Whoa! Is she really that strong? Holy crap! Ms. Mangut, Iíd like to apologize right now for everything I just said and thought. You are a beautiful young woman. Please do not crush my skull between your powerful she-pecs.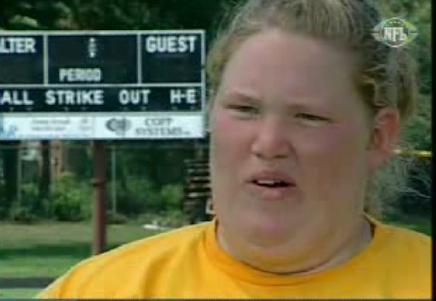 JUSTIN: If I were on her team my only fear would be if she tried to follow in her brotherís footsteps by playing center. You talk about an awkward exchange... how would you like to be the quarterback that has to put his hands under her booty? Can you say, "Shotgun?"
HOG: Dude, itíd look like the quarterback was delivering a baby elephant.
JUSTIN: Ha ha ha! Nice! To be honest Iím actually happy for her. If we had anyone that size blocking for us in high school we might have won more than two games my senior year.
But as a male chauvinist pig I must admit that the only time I want to see girls playing football is in the Lingerie Bowl!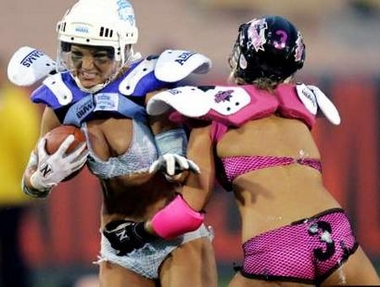 HOG: Yes, and I canít wait for Holley Mangirth to strap on that lingerie!
HOLLEY MANGOLD: Arg ugh arg, yummy! That edible underwear was delicious.
COACH: Um, that wasnít edible underwear.
HOLLEY MANGOLD: To me, everything is edible! ARG UGH ARGÖ
COACH: Aaaaaaaaaaaaaaaaahh! My arm!!