At age 69, Robert Brooks is dead. Why should you care? Because he was the genius who created Hooters Restaurant chain. He knew, that just like peanut butter belongs with jelly, and like Paris Hilton belongs with a yeast infection... chicken wings belong with scantily clad waitresses.

I'm imagining an awesome funeral:

The minister is delivering the eulogy: "Robert Brooks brought smiles to the faces of young men everywhere with his novel idea of incorporating crass sexual innuendo into his menu and hiring busty women to be his waitresses. Appropriately, he died at age 69.

"He is survived by his wife and children. His son Coby reminds us that his father was named "Coolest Dad of the Year" an unprecedented 17 times. Coby also reminds us that just 1 mention of his dad's job got him bids from every fraternity on campus. Plus free car washes from the Dean.
"Ashes to ashes, bust to bust."

The funeral announcement is probably something like:
"Out of respect for the deceased, female guests are asked to wear their BLACK (not orange) tiny booty shorts. And when you view the body, please lean forward to give Mr. Brooks one last look at your cleavage. He wanted it that way."
NOT APPROPRIATE HOOTERS FUNERAL ATTIRE:


APPROPRIATE HOOTERS FUNERAL ATTIRE: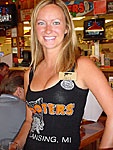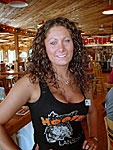 As was his request, Mr. Brooks will buried with sides of Curly Fries and Cole Slaw.
Robert Brooks, kicks the bucket... of chicken wings at age 69.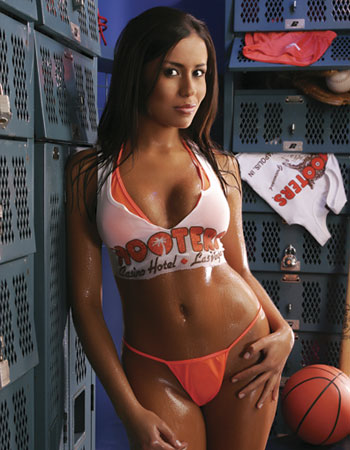 "Oh, Senor Brooks! When I came to this country I spoke no English and had no job. But you saw my full D-cup potential! Thank you so much for allowing me to exploit my body! Now I am a citizen and own my home all thanks to middle aged men who enjoy mediocre food served by women who secretly resent them. Gracias!"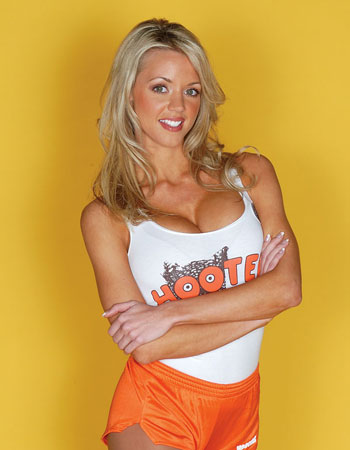 "Hey, y'all. Mr. Brooks sure was a special man. Working as a Hooters waitress, I really grew as a person. From a 34C all the way up to a 36DD! I would never have been able to pay for my implants without Mr. Brooks! Thank you!

---------
HogWild Hooters memory #1:

In college, we had fraternity Rush events at Hooters (naturally.) Except back then in Cleveland, the Hooters was across the street from a strip club.
And I think that was the reason the Cleveland Hooters had some busted ass women. Because the Hooters got the left-over rejects from the strip club. I mean, if you're a hot bim looking to show off your boobies to men for money... would you rather make mad cash dancing... or minimum wage + greasy tips from guys too broke or too young to go the Hooters next door?
Because of this, I think there should be a Hooters zoning law. No Hooters next to strip clubs, "massage parlors" or Paris Hilton's house.

-----------
HogWild Hooters memory #2:
Back in the day, my good friend was confused about what career path he should take. He made the HORRIBLE mistake of asking my dad about his exciting job as a computer data base administrator.
So my dad talked his ear off for like 45 minutes straight. Between gasps for air were edge-of-your-seat phrases like... "IMS Mainframe databases... Full, standards-based metadata support for seamless integration with common IDEs ... Provides SQL access to DB2, IMS/DB, VSAM." My buddy didn't want to be rude but he was falling asleep while standing up.
Finally my dad realizes this and feels bad, so he gives him his Hooters VIP card.
MY FRIEND: I thought "bored to death" was just a saying
ME: Oh, were you talking to my dad about his job?
MY FRIEND: Yeah dude.
ME: Usually when he starts doing that I cut my wrists with my imaginary knife and peacefully imagine the blood leaving my body until I pass out and can no longer hear him.
MY FRIEND: He gave me a VIP pass to Hooters.
ME: I'm proud of my old man. I mean who wants a dad who dispenses WISDOM... when he can dispense restaurant discount cards to my friends?