JUSTIN: In a groundbreaking revelation that began to reverberate around the NBA, former player John Amaechi has become the first professional basketball player to openly identify himself as a homosexual. To be honest, while it was a surprise to find out that a former NBA player was gay, it's a bit anticlimactic if you ask me.
Amaechi's been retired for three years. It's not like he announced it in the shower after a game. That would be news worthy.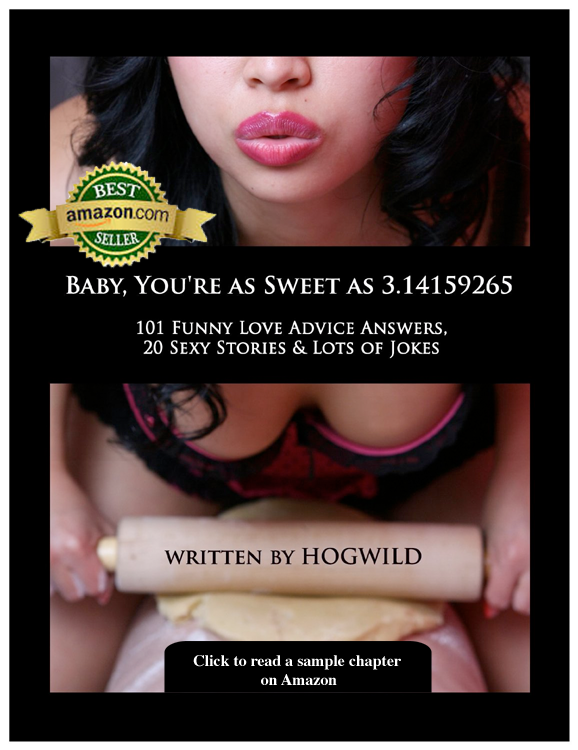 HOG: Plus there's another factor. Who the hell is this guy?
And more importantly, did he "take it to the hole" with somebody famous?
Did he turn tricks with Magic's Johnson?
Did he hold Larry's Bird?
Did he make a pass at Steve Nash?
Did he get stabbed with Dirk's dagger?
Did he discover why Dennis' last name is Rodman?
Did he have a Hakeem "the Wet Dream" Olajuwon?
Did he Shaq up?
Okay, I'm done.
No I'm not.
Did he find out first-hand why they called him Clyde "the Glide"?
Did Gary Payton wear "the glove"?
Did Michael Jordan dunk on him and "kiss the rim"?
JUSTIN: The only unsettling thing to me about this whole situation is that Amaechi's book is titled "Man in the Middle" which sounds more like gay p*rn rather than the story of a gay center's plight in the NBA.
HOG: Did you know that he was born in Britain?
So maybe he's not really gay. Maybe everyone just assumed that because he's a huge basketball player that enjoys to stick his pinky in the air while sipping tea with crumpets.
JUSTIN: Another thing that took some of the shock out of the announcement was the fact that Amaechi wasn't exactly one of the premier players in the league. In five seasons in the NBA he averaged 6 points and 2 rebounds per game.
HOG: He wasn't a great offensive threat but Amaechi was known for his man-on-man defense. And for stuffing balls.
JUSTIN: What interested me was what his life was like in the NBA. Did Amaechi have gay groupies?
HOG: That's the same exact question I want to ask of every WNBA player.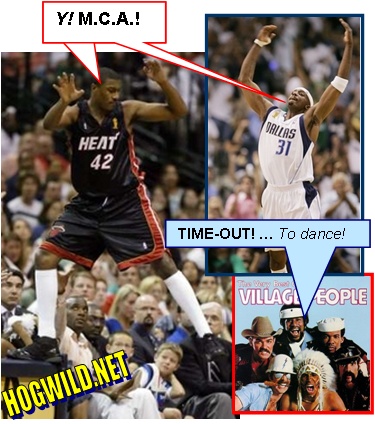 JUSTIN: And what about all of the illegitimate kids that other NBA players have running around the country? If you're a gay NBA player what do you do to fit in? Do you go around befriending single mothers and playing the role? Or do you just start adopting kids in different cities with your partner?
HOG: I think you're totally right. So he wouldn't be ostracized, Amaechi had to father a child. He didn't want to, but the guys were like, "Prove you're not gay! Make a baby!"
It sucks when you can't be open about your true self. And when you have to bang a hot chick instead of getting to enjoy a big, hairy man-ass.
Um. Whoa.
JUSTIN: Umm... In fact the only shocking thing to me about the whole situation was that Amaechi played for the Utah Jazz. I mean the fact that there was a 6'10" gay dude playing and living in the heart of Mormon country sounds like a Wayans Brothers movie. But the fact that he LIVED that life really puts his plight all into perspective. It'd be like if Elton John lived in Compton when he wrote Goodbye Yellow Brick Road... actually that IS the plot to the next Wayans Brothers movie.
HOG: Mormons are very straight-living people. They aren't even allowed to drink caffeinated coffee, much less man-goop.
Awwwwwwwwwwwwwwww.
JUSTIN: Ummm... Still you can understand why John Amaechi was wary of coming out of his locker as evidenced by some of his teammates' remarks. While most remarks on John Amaechi's sexuality were understanding, most of them did start with, "As long as he doesn't hit on me, and can play ball, I'm fine with it." Okay Brokeback 76er, it's time to relax. If a dude's gay and playing in the NBA, I doubt that he's going to go around snapping other players with his towel and getting erections on the court.
HOG: Dude, that's brilliant! If I was coach of the Knicks, I would force all my players to take Viagra before the game and to wear those tight Isiah Thomas short shorts. With boners popping out, ain't nobody on the other team gonna wanna defend them! The Knicks will score with ease!
In more ways than one!
JUSTIN: See, this is why you should be the GM of the Knicks, because you think outside of the box and even if your ideas didn't work, people would still come to the games just to see what you tried next!
All and all I wish Amaechi luck and would like to let him know that Brad Pitt is bi and curious!*

* I don't know if Brad is gay or even if John is interested in Mr. Pitt, but if he could pull it off that would mean that single guys all over the country would have a gay man to thank for Angelina Jolie being single again...and yes that is just a shameless plot to get a sexy picture of Miss Pitt in the column!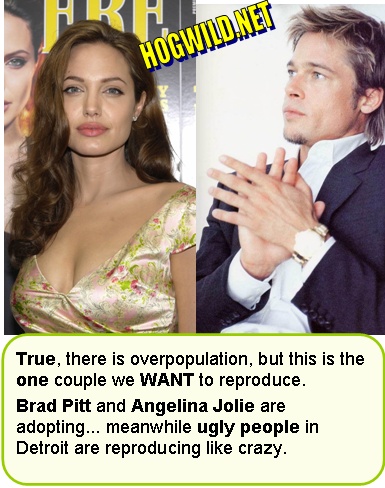 HOG: What's really tragic here is that Amechi's career was hampered because he suffered from repeated groin pull injuries. Who knew they were caused by his boyfriend?!