JUSTIN: We're two weeks into the NBA Playoffs and last year's champs AND last year's chumps have both been bounced out by younger and hungrier teams. The defending champs Miami Heat didn't even last six games before they were knocked out by the upstart Chicago Bulls. The Bulls may not have Michael Jordan anymore but they've got more young talent than a Vivid Video set and have a great coach in Scott Skiles.

HOG: Does your wife know that you watch "adult" Vivid Videos? She thinks you are hard at work watching basketball for this column, when you really you are just "hard at work." HA HA HA!!! Stoooooooooopid.

JUSTIN: In the Miami Heat's defense, Dwayne Wade, the best player on the team, was playing with a bum shoulder and without him playing full speed all the bogus calls in the world weren't going to get them to the next round.
HOG: Shaq is going write some angry rap songs this off-season!

JUSTIN: Speaking of bogus calls, I'd love to say that the Mavs got screwed by the referees again in the Golden State series but the truth is that they just got out-played.

HOG: I like a guy who is honest when his team sucks. Thank you. Too many sports fans like to shift the blame. But not you.

Personally, if my team doesn't win, then I blame myself. Because I know I could have cheered harder, supported more of the arena's sponsors, maybe even written a letter to a player who was in need of some encouragement.

If my team doesn't win, it's my fault. I may not get paid millions of dollars to play with a ball for a living, but I am just as involved and responsible for my team's success and failure. Because I am a true fan.

* When my team wins, I drink to celebrate!

* When my team loses, I drink to wash away the pain.

* When my team is not playing, I drink because I have nothing better to do.

What I'm trying to say is, I have a drinking problem.

NOTE: Just kidding. I don't have a drinking problem. Well, it may cause a problem for others, but I'm okay with it.

JUSTIN: The Mavs were out-played by the 8th seeded Golden State Warriors who won 25 less games than the over-rated Mavericks! Are you kidding me??? I could fill up an entire page about how this series played out but let's just sum it up with this: the Warriors whipped the hapless Mavericks in every category, every aspect and every minute of that series!
Had it not been for Baron Davis getting ejected in Game Two they would have SWEPT the team with the best record in the NBA. Now if you'll excuse me I'm going to bang my head against the wall for a couple of hours!
HOG: Dude, relax. So your Mavericks fell like a pathetic deck of cards. At least you have your Texas Rangers to… um, hey, so, nice weather we're having, huh?

JUSTIN: WHAT THE HELL does it take for a Dallas team to get out of the first round of the playoffs? The Mavericks, Cowboys and Stars were all bounced out in the first round this year and I won't even speak the name of that sorry ass team that plays t-ball in Arlington.

Deep Breath…

So who's left in the playoffs?
Well the NBA Finals ironically enough are being played in the second round of the playoffs this year as the Phoenix Suns are taking on the (the only team in Texas with heart) San Antonio Spurs in a best of seven series that's dead locked at one game a piece. If you watch any basketball at all this season check out this series as it will be the best coached series and feature two of the most consistent super stars in the league.
Steve Nash has back to back MVP awards while Tim Duncan has three championship rings so when it's all said and done this is the series to watch!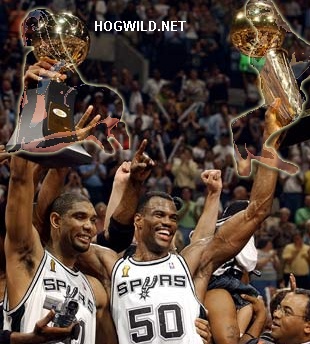 Spurs in 7

HOG: I think the Suns have a stupid mascot. A gorilla? WTF?

JUSTIN: No kidding. Can you imagine how much it would suck to have to dress up in that Gorilla suit and go do promotions in Phoenix's 135 degree weather?

The other series in the West is between the Utah Jazz and the G State Warriors. I say G state because they are from Oakland and Stephen Jackson is probably one of the craziest players in the NBA! Did I mention that he has to go to court this week for firing a gun in the parking lot of a strip club?

HOG: Cool! Did you know if you take ANY combination of the following words you can create your very own REAL NBA off-the-court headline?

Trial, r@pe, illegitimate, 9mm pistol, homicide, mistress, assaults, wife, illegal-blood-alcohol-level, Cadillac Escalade, marijuana, NBA player, in, on, with, authorities, arrested.

JUSTIN: Playing them, and so far whipping them, are the Utah Jazz. Up two games to zero, the Jazz are lead by monster Carlos Boozer and Andrei Kirilenko the 6'9" Russian banger who is married to former Russian pop star Masha Lopatova.
Why is this important? Because his wife, after realizing the rigors of an NBA season, made a bargain with her husband: he can sleep with one other woman one time each season. As Borat would say, "High five!"
I mentioned this to my wife and she just laughed and told me, "If you get to sleep with someone so do I." Which pretty much ended the conversation right there!

Jazz in 5

HOG: You're such a wuss. Here's what would make it fun: YOU get to pick the guy she sleeps with and SHE picks the girl you sleep with. That will keep both of you faithful. Because you know she's going to pick a 75 year old female meth addict. And you will choose a homeless guy with severe erectile dysfunction.

What would be cool is if the elderly drug addict and limp homeless guy fell in love! Awww! Who knew we'd get all romantic today?!

JUSTIN: I can see it now: "Fox TV presents our newest reality show...The Homeless Bachelor!" Just set up a homeless guy in an apartment and have him go out on dates with prostitutes, meth addicts and sorority girls! Who wouldn't watch that???

In the Least Coast conference, the New Jersey Nets are up against the Cleveland Cavaliers in the "Who gets to be swept by the Pistons?" series. This match-up will come down to which superstars plays better. On one side you have Lebron James, one of the best players in the league not named Kobe who has thrown his team on his back and carried them past the Washington Wizards.
On the other side, the Nets have a trio of super players in Jason Kidd, Vince Carter and Richard Jefferson. Unfortunately due to injuries this team has never really gelled together and it's shown since they're down 0-2 heading back to Jersey.

Cavs in 6

HOG: I'm rooting for Lebron. When the Nets move to Brooklyn, I'll root for them. But until then, I'm rooting for Cleveland to beat them. Because really, besides sports, what else does Cleveland have?

JUSTIN: Drew Carey? The Pro Football Hall of Fame? Drunk toothless women?

HOG: Cleveland doesn't even have the Football Hall of Fame. It's in Canton. New Jersey may not have much, but at least they're close to New York City. What is Cleveland close to? Toledo? See, they NEED this.

JUSTIN: On the other side of the conference we have an intriguing match up between the Heat beaters and the former champs. Detroit has won it all before and they're coming together as a team at the perfect time. Don't blink if you're watching this series because it WILL BE OVER in 5 games because while the Bulls have plenty of talent and energy they just don't have the size or the experience to deal with a scrappy Detroit team.

Pistons in 5

HOG: Again, a city like Detroit NEEDS this. Chicago has stuff going on. Chicago loses, well, there's still great restaurants, bars, and live entertainment. Detroit loses and it's back to the same-old same-old of setting the city on fire.

JUSTIN: But Detroit has one of the most prolific rappers of this generation...Kid Rock!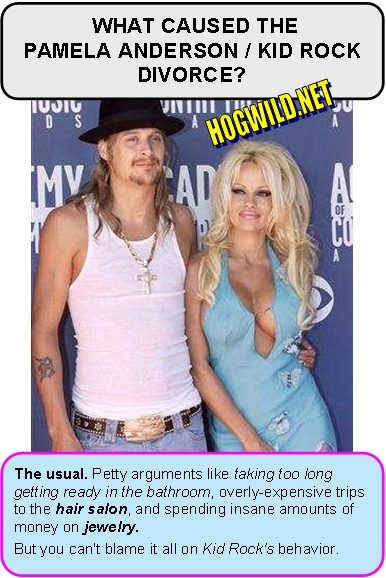 I'm picking the Spurs to go on and beat the Suns and the Pistons to route the Cavs setting up a rematch of the 2003 NBA Finals between the Spurs and the Pistons. If it all plays out I'll be back to gloat and give my Finals pick.

HOG: My prediction is that Charles Oakley and John Starks will galvanize the Knicks to sweep through Chicago and Indiana on their way to crushing Houston while Masha Lopatova makes me a sandwich. Oh, sorry. I was dreaming again.