JUSTIN: When Maurice Clarett and the Ohio State Buckeyes won the National Championship in 2002 no one had any idea that four years later not only would Clarett be out of football entirely but that he would be facing a prison sentence for carrying a concealed weapon.
With bond set at $5 million dollars the closest Clarett will probably ever get to football now is if his cellmate is Nate Newton, the former Dallas Cowboys star who got busted transporting over 200 pounds of marijuana.
HOG: That's a good point. NFL players get arrested all the time. So there is a very good chance he will meet some of his old buddies in the clink.
Damn! 200 pounds of marijuana!! And to think, that was all 1 delivery to Ricky Williams!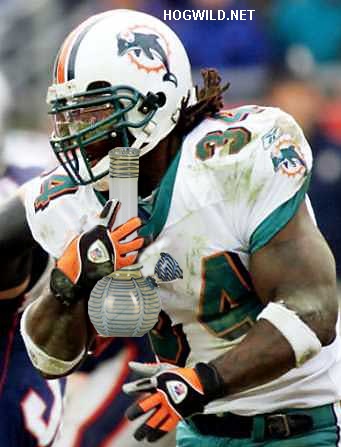 JUSTIN: Just last week Maurice Clarett was pulled over by the police carrying a loaded 9mm under his legs, an AK-47 riding shotgun, a half-empty bottle of Vodka and sporting a bullet proof vest.
Now unless you're reporting to the Cincinnati Bengals training camp there's absolutely no reason why a former football player should be carrying that much heat.
HOG: HA HA HA! Damn, football players make rappers look like a bunch of pu$$ies!
JUSTIN: The sad part is that Maurice Clarett and his girlfriend had just given birth to a baby girl which probably explains why when he was caught police found a CD of children's songs recorded by Ohio prison inmates…or not.
When quoted about being a father, Clarett said, "F*ck Ohio State, f*ck winning the National Championship, it's more cool to have her…that's why I got my homies in lockdown to lay down these lullabies for me."
Okay, okay I made the last line up but I think it's probably safe to say that Clarett has taken over the mantle from Mike Tyson as the craziest athlete on the planet.
HOG: I think we have set a World Record for mentioning Mike Tyson in our articles. I realized we talk about Mike Tyson too much when we mentioned him in a piece about Olympic Badminton.
JUSTIN: The best part of the take down though had to be when the police they tried to subdue Clarret with a taser only to find out that since he was wearing a bullet proof vest their weapons were ineffective.
Not to be deterred the cops changed their methods and immediately started using pepper spray on him like he was a fleeing date r@pist. Since when is pepper spray a more dangerous weapon than a taser? If the pepper spray didn't work what were they going to resort to next? Binanca?
HOG: No, but Maurice Clarett will need that Binanca breath-spray after being forced to engage in certain night-time prison activities.
The cops are getting soft. Back in the good old days of the early 90's, if he didn't respond, they would get 17 cops to beat him with down with billy clubs until his lips fell off his face. Then they'd say something witty like, "Are you giving me lip?" Then they pick up his lips, throw them up in the air, and shoot them saying "Kiss this, mothertrucker!"
JUSTIN: Reminds me of this one time when I was hanging out with Rodney King and Mike Tyson...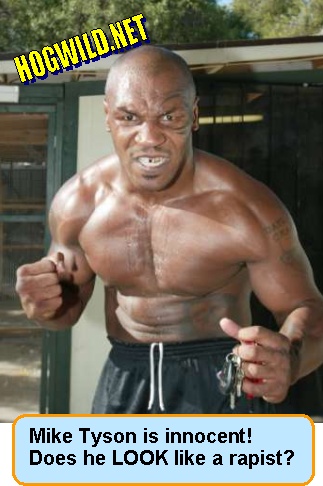 So where did it all go wrong? Perhaps it all points toward the half empty bottle of Grey Goose Vodka that was found in Clarett's SUV.
HOG: At least he's drinking the good stuff. I mean, he wouldn't want to drink cheap vodka! Because then the day after his drive-by triple-homicide he would feel bad… Not because of his conscience, but from being hung-over.
JUSTIN: He was known to be a drinker not only in college but also by his Denver Bronco teammates. When he was in training camp for the Broncos he had a water bottle that he would take everywhere, including the Bronco weight room. The team started getting suspicious when, before mini-camp practices, Clarett would grab the bottle and say, "I gotta get my Goose on.''
Which leads to my next question, who's going to be the first bar to come up with the Clarettini? The Martini drink that mixes three shots of Grey Goose Vodka with just a pinch of HGH garnished with two olives to represent the effects of steroids on your b@lls.
HOG: Now THAT is an energy drink! Yeah, the Broncos had to figure something was up.
Coach 1: Wow! Maurice is a great running back! He's unpredictable out there! You think he's going to run left, then he suddenly goes right!
Coach 2: Um, I don't think he's faking out the defense. I think he's stumbling around drunk.
Coach 1: Whatever! It's great!
Coach 2: Uh oh. I think he just threw-up in his helmet.
JUSTIN: Clarett never tested positive for steroids but he did use David Boston's trainer who denies supplying Clarett with steroids even though Boston is currently serving a suspension for steroids.
Eventually the forever tan Mike Shanahan was even getting fed up of Clarett but they still offered him a contract which included a $416,000 signing bonus.
HOG: Well, $416,000 is not THAT much money when you consider the rising cost of ammunition.
JUSTIN: But Clarett was stubborn and turned the contract down because he wanted to replace it with an incentive laden package that would pay him big money if he rushed for 1,000 yards in multiple seasons. This would be like if HogWild was at a club and turned down a bl0w j0b from an average looking girl because he thought that he was going to bang the two hot lesbians dancing on the stage. Because chances are both players are going home with their d!ck in their hands.
HOG: It's true. When I go home at 4 am with no girl and only my own body to play with, I call it "4th and inches."
NOTE TO AVERAGE GIRLS: I promise not to turn down your bl0w-j0bs. And I'm also cool if you want me to rush you in the sack.
JUSTIN: The Broncos agreed and when Clarett spent 18 days nursing a groin injury they cut him and he has never touched a football in the NFL since.
HOG: What's weird is that I ALSO spent the last 18 days nursing my groin. But dude, PLEASE, never say the words "groin" and "cut" in the same sentence!
JUSTIN: Now facing a long term jail sentence who knows if Clarett will ever get the chance to play football again or for that matter if he even deserves another chance.
HOG: Yeah, it won't be so pleasant the next time he experiences a "dance in the End Zone."
But hey, don't be so hard on the guy! This is America! The Land of 2nd Chances! O.J. Simpson got a 2nd chance. Vanilla Ice a got a chance to release a 2nd CD. And even after doing bad things the 1st term, President Bush got a 2nd chance!
JUSTIN: And don't forget Sharon Stone in Basic Instinct 2.
HOG: Besides, there are PLENTY of reasons why a man might be driving all crazy with an open bottle of vodka while wearing a bullet-proof vest with 3 loaded guns and an assault rifle near the home of someone who was a witness against him in a robbery trial.
Maybe he just came back from a costume party where we was dressed up as Rambo. And he thought, "Well, I shouldn't let this last bottle of Grey Goose go to waste! Hey, maybe that guy who is trying to put me in prison will want some of this… I'll make a surprise visit to his home!"
Or maybe he was filming a 50 Cent video. But the producer, director, camera man, and 50 Cent all forgot to show up.
Hmmm… the only chance Maurice Clarett has to stay out of jail is if the trial is held on the Ohio State campus. Because if that trial is held in Michigan… he's gonna get the electric chair!