Okay, say it 3 times fast: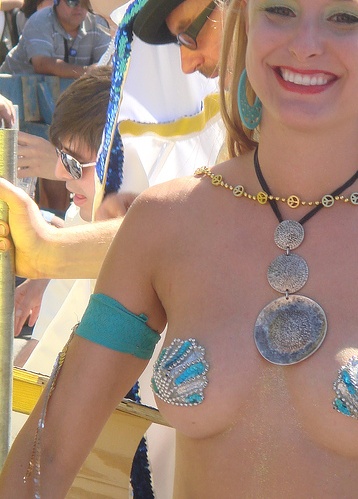 She sells seashells by the sea shore. She sells seashells by the see-those-boobies?!!! Yow! Damn it! I could barely say it once without getting distracted!
The mermaid in yellow has a magical booty. And the mermaid in blue...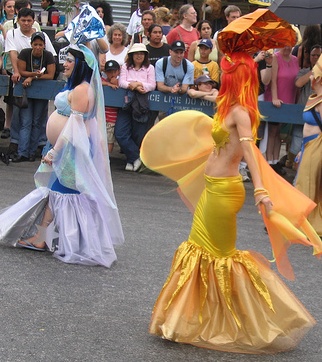 ...looks like she got knocked up by Sponge Bob Square Pants.
Arg! These mermaids be pirates!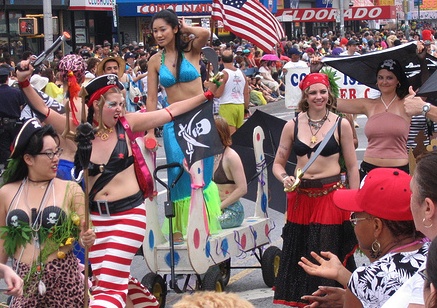 And I sure do like their Treasure Chests! X marks the spot where I will shoot me cannon balls! Ahoy matey!
The lassie on the left looks the only thing she be pirating is illegal copies of Windows Vista!
And the lassie in the red stripes looks like she's been plundering a little too much of the Ben & Jerry's! Arg!
Speaking of which: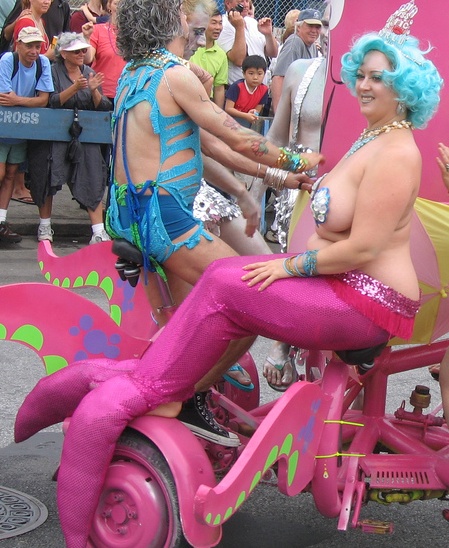 She must have mighty strong flipper muscles to propel that barge.
I'm sorry. That was mean. I will say this about her: she has beautiful, large boobies. I mean, is she a mermaid or a milkmaid?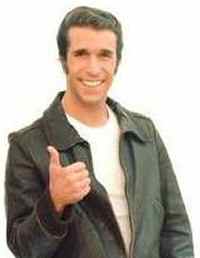 Hey, I'm not saying I have the perfect body... but then again I didn't go shirtless outdoors IN A PARADE!!!
This woman looks confused: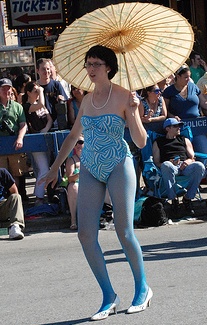 She is not sure if she is a mermaid or a hooker or a Grandma.
This lobster-man was in an altercation: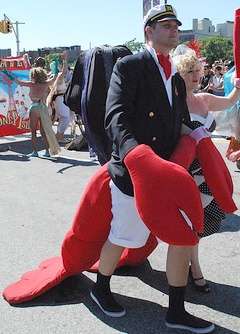 After he snapped at a human, the human tied up his claws in rubber bands, splashed him with hot butter, and stabbed him with a tiny fork.
Fisherman shows off his catch of the day: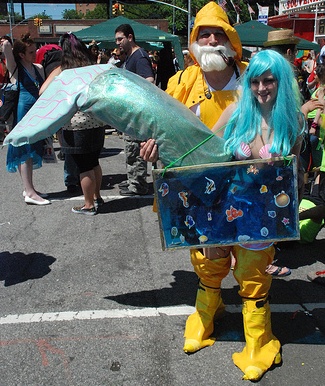 Unfortunately, when he netted her, he accidentally killed 3 dolphins.
Milfmaid:

Shark vs. Manatee: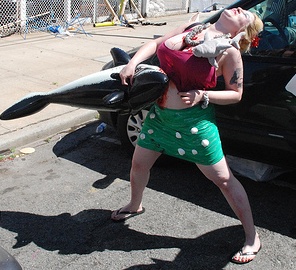 Cuties at the parade lured in by shiny gold coins: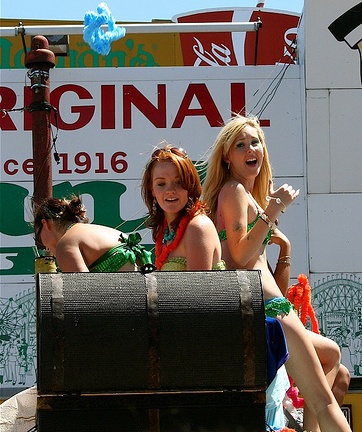 Everyone at the Mermaid Parade felt safer since they were protected by the very professional-looking NYPD: