JUSTIN: I've tried the hard hitting angles and the season previews but I think it's time that we focused on what the readers want. T!ts and Ass with a hint of sports, so in honor of that this week's column is about Michelle Wie the 16 year old Korean-American from Hawaii with the big woods and the lethal body!
HOG: Remind me to send out a bulletin to local law enforcement whenever you are within 500 yards of a high school.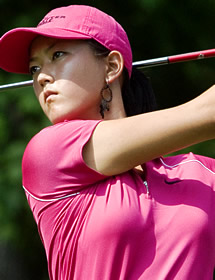 JUSTIN: Michelle Wie began playing the game of golf at the age of 4 and was not only the youngest player to qualify for a USGA amateur championship but she's also the youngest player ever to make a cut in a LPGA, the Lesbians Pro Golf Association.
HOG: You jest, but that actually IS what LPGA stands for! Lesbians love golf because they get to take a swing at little white balls. Plus at the end of each round they get to put their entire hand in a hole.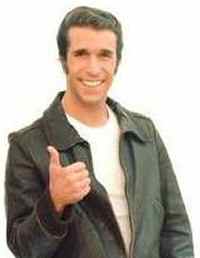 JUSTIN: The only problem is that unlike most of the women on the tour, she wants to play with the boys. This makes sense because at 6'1" she generates enough power in her hips not only to drive with the big boys but to have tongues wagging all over the golf course.
HOG: Remind me to send out a bulletin to local law enforcement whenever you are within 500 yards of a high school.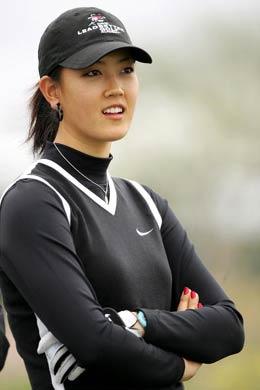 JUSTIN: This brings up a question: Which would be more pathetic... being a groupie who follows WNBA players or being a groupie who follows the LPGA?
On one hand most WNBA players look like trannies but at least you have a shot with them. On the other hand the ladies of the LPGA are hotter but the only balls that get handled on their tour have Titleist stamped on them.
HOG: HA HA HA!!
To answer your question, it is more pathetic to be a groupie of the Professional Women's Bowling Association.
I think they should make the Lesbian Olympics with world class lesbian athletes doing lesbian things.
Like a Track and Field event where instead of passing a baton they pass a 12 inch rubber dildo.
Or Olympic Diving but instead diving into a pool they dive into a giant muff.
And WNBA players do NOT look like trannies! That is an insult to trannies!
JUSTIN: The controversy that surrounds Michelle Wie is that while she has entered several Men's tournaments, she has only made the cut once at the SK Telecom Open in South Korea, finishing 12 shots off the lead.
Not bad for a woman, but many still wonder if she even has the juice to dominate the women's tour like Annika Sorenstam has the past couple of years. Or what it'd be like if they're were room mates and shared a bottle of chardonnay and decided to...well you get the idea.
HOG: Remind me to send out a bulletin to local law enforcement whenever you are within 500 yards of a high school.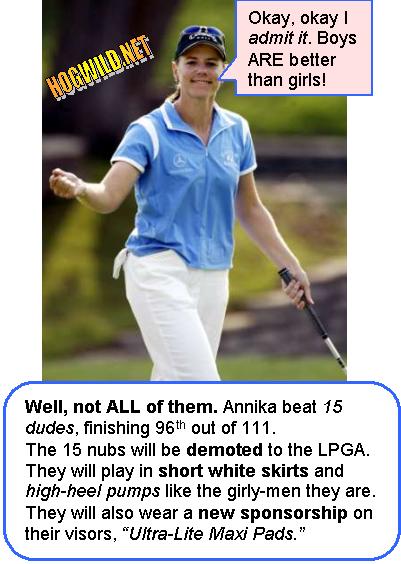 JUSTIN: My point is that while Michelle Wie has the potential to dominate the LPGA, until she turns 18 she can't enter the league.
HOG: Or your pants.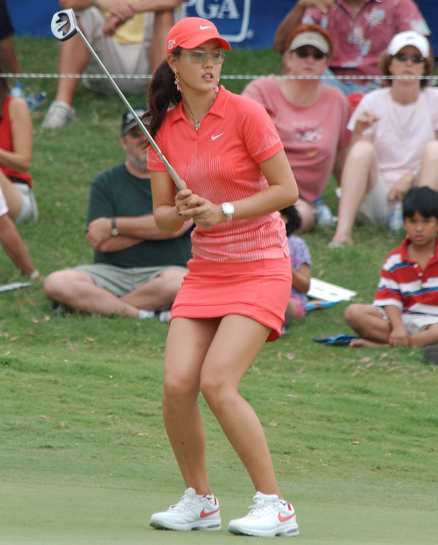 JUSTIN: So instead of pleading with the association to let her enter the league early like some of her peers have done, she instead decides to get her ass handed to her by the men of the PGA.
HOG: Men handing her ass? Dude! You're going to get us banned from the internet!
JUSTIN: It's a noble effort, but the fact that she shot a 78 in the first round and finished 15 over in a tournament last week just goes to show that she's more of the token hot chick on the tour than Tiger Woods with t!ts.
HOG: "Tiger Woods with t!ts." I think she actually has that slogan printed on her business cards.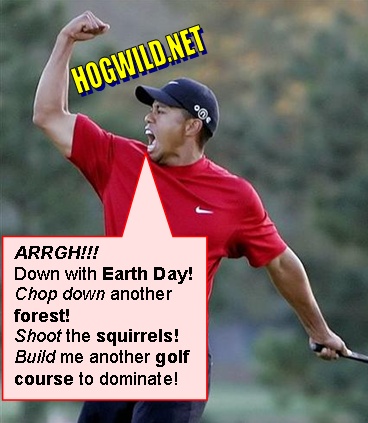 JUSTIN: Don't get me wrong though, if she's got the juice to play against men then she should go for it. But perhaps for now she should petition to gain early entry into the LGPA, dominate it Tiger style for three or four years and then once she's a little more mature, try the PGA.
HOG: I think YOU want petition to gain early entry into Michelle Wie and dominate Tiger style!
JUSTIN: I mean we all know she's got the talent, even though it's still a little raw, just look what professional golfer Ernie Els remarked, "Give her another couple years to get stronger, she can play on the PGA Tour." But then again even if she can hang with the boys she's still going to have to beat Tiger!
That'd be like if Sheryl Swoops of the WNBA (don't ask me how I know this) got SO good she joined the NBA only to have play against Dwayne Wade.
Or if HogWild decided that since he has no game in the regular dance clubs that he should go straight to the lesbian bars to try to get laid.
Either way someone's going to get their ass whiziiiiiiipped, but hey, at least it'll be entertaining!
HOG: Dude, what happened to the PGA? It used to be the most racist, male-chauvinistic sport on the planet. Now their best player is "ethnic," a few years ago they let a handicapped dude roll around the course to play, and now they're letting in teenage Asian girls. This is incredible!
The PGA is leading the way to understanding and World Peace! They should send the PGA to the Middle East!
The PGA will set up golf courses all over Israel... Palestinians and Jews will play side-by-side in perfect harmony. Protestants and Catholics, Male Figure Skating Fans and NASCAR fans, Democrats and Republicans, Amish and Eskimos, Yankees and Red Sox, Angelina Jolie and Jennifer Aniston… then Jesus and Buddha and Easy-E will all come down from Heaven to reward us with Paradise on Earth.
All because of a little game called Golf.
Until Jesus gets really pissed off that he missed a 6 foot putt, goes on a rampage and obliterates all humanity.