JUSTIN: This year's MLB All-Star Game reminds me a lot of the last Presidential Election because while everyone is complaining about the Red Sox -- Yankees and Mets are getting most of the votes.
HOG: What? Dude, I think your Big League Chew is laced with crack.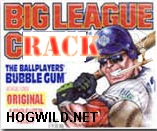 Who is complaining about the Red Sox? Of course the Mets and Yankees are getting most of the votes! The Mets are in 1st place! The Yankees are in 2nd! They are both in the biggest city in America! What, do you want an All-Star team full of Kansas City Royals?
JUSTIN: It's like 3 years ago when Bush and friends came to town for the Republican Party convention and were met with a million people on the streets protesting. Yeah it was great to see people standing up for their rights but unfortunately only six of those people voted and Bush was re-elected.
Well that's how this year's All-Star Balloting is turning out -- 3 teams represent half of the players starting in the game. PEOPLE NEED TO VOTE so that the All-Star game doesn't end up looking like the Subway Series sprinkled with a couple of Red Sox.
HOG: People DID vote! For the most part, the selections are good. Not perfect, but good. You would have an argument if the Mets' Carlos Delgado was starting instead of Albert Pujols. But that's not the case. I think you're just mad because your Texas Rangers have ZERO players starting!
The real robbery is that Ivan Rodriguez is starting instead of Joe Mauer when Joe Mauer is like me at Last Call at the bar – flirting with 400 (pounds).
JUSTIN: I'm saying that they should let the players vote for the starters and the fans vote for the reserves so that the more deserving players will get to start.
Jeter, Pujols, Papi and all of the other deserving superstars would still get to start that way and we could avoid seeing A-Fraud and company clog up the starting line ups. But then again does anyone really care about the All-Star Game? No matter who wins it doesn't count for anything in the standings. Sure the winning team gets home field advantage in the World Series but do you really think that Jason Bay of the (SORRY ASS) Pittsburgh Pirates is going to try and leg out an extra base so the Mets can have home field advantage? Hell No!
HOG: I care! I like seeing the best players compete. I agree, the home field advantage thing is dumb. But I really root for the National League over that other pansy-ass DH league. It's time for individual players to shine. I want to see Jose Reyes steal 5 bases. I want to see Alfonso Soriano vs. Mariano Rivera. I want to see Scott Kazmir strike out 6 in a row as I weep into my Mets blanket.
But you're right, there should be more riding on the game.
Ways to make the MLB All-Star Game more important:
* Losers have to personally inject "the cream" into the buttocks of Barry Bonds for remainder of season.
* If NL wins, players get to go on Dumbo-rides on the big elephant ears of Jorge Posada.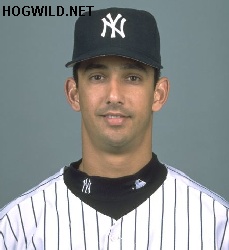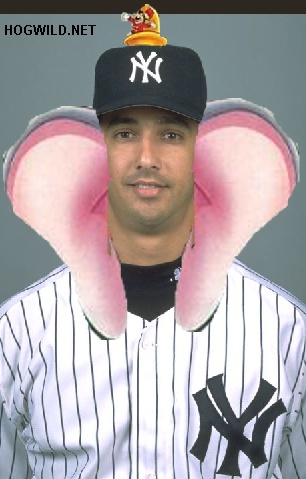 Or...
* Do it old-school playground style. Losers go "Bottoms-Up!" (That's where the losers line up against the wall, bend over and the winners peg their asses with the ball.)
JUSTIN: What playground were YOU playing on? Attica? Riker's Island?
The MLB All-Star game is played in the middle of the season; half the players who make the team could have crappy second halves and still be remembered as All Stars.
I mean if you're going to play a crappy and meaningless game why not follow the NFL's lead and at least have the game in some place nice like Hawaii. Honestly if you were an All-Star baseball player would you really want to fly out to Pittsburgh to play?
HOG: Hey! Pittsburgh has a beautiful new ballpark. And Pittsburgh even has a Quaker Steak & Lube – the best wings joint in the world! And as the official Pittsburgh motto states, "At least we're not Cleveland!"
JUSTIN: The projected starters for Tuesday's game are Bronson Arroyo and Kenny Rogers. Arroyo, if you remember, is the white guy who sported corn rows in Boston.
Then this spring he got traded, joined a rock band, grew his hair out and became the ace of the Cincinnati Reds pitching rotation. It just goes to show its bad karma for white men to have corn rows.
Rogers on the other hand is the 40 year old d!ck that attacked a camera man last year. This year he's turned over a new leaf and is the anchor of one of the league's best pitching staffs. It's not that I think he's on steroids I just think that in order to keep his youth and talent he has to suck the blood of innocent Little Leaguers.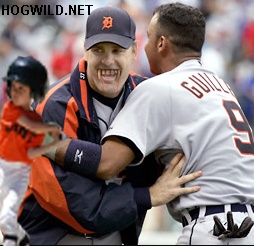 HOG: HA HA HA! The National League should start the 40 year old Tom Glavine. That way their combined ages would almost be as old as Julio Franco.
JUSTIN: After crushing the National League in interleague play this year, the American League is favored by roughly 15-16 points.
HOG: Yes, but in baseball we call points, runs. And in the World Cup, Italy is favored by 3 touchdowns. And in the Tour de France, the winner is expected to hit a hole-in-one after the spare in the 10th frame to get the bulls-eye slam dunk match point ace.
JUSTIN: Manny Ramirez is sitting out of the game because his knee is "acting up"; meanwhile Albert Pujols managed to return from a strained stomach muscle in time to play in the game. Just goes to show how much this game means to each player. One sees it as a chance to play against the best players in the league, while the other sees it as a chance to get his hair permed and catch up on his reading.
HOG: HA HA HA! That's hilarious! You think Manny Ramirez knows how to read?!
JUSTIN: Derek Jeter's having another great year and will be starting at shortstop next to Alex Rodriquez at third base. I'm curious as to what they talk about in between innings at Yankee stadium.
Alex: "I'm the reigning American League MVP."
Derek: "I've nailed most of the hot chicks in America."
Alex: "I'm the best player in baseball…during the regular season."
Derek: "I've won 3 world championships…until you got here."
HOG: HA HA HA! I heard that A-Rod can't decide if he should play for the AL or NL. He is in the AL now, but he grew up as an NL fan…
JUSTIN: David Ortiz is starting in his 3rd all-star game which makes sense. In a game that's dominated by Latin American Players it only makes sense to have the American Leagues starting first baseman nicknamed, "Big Papi".
HOG: That's also the nickname given to me by the laaaaaaaay-deez. That and "Creep."
JUSTIN: The National League features four Mets in the starting line up this year…let's take a minute for that to sink in…okay back to the column.
HOG: Believe it baby! LET'S GO METS!
JUSTIN: Pitching is deep on both teams but with Mariano "I'm probably 60 years old and you just don't know it" Rivera and Jonathon "Papelboner" Papelbon in the bullpen, the edge has to go to the American League. Seriously you have to question the mind set of a fan base that made up the term "Papelboner" to gauge their excitement about their new closer. Then again this is the same fan base that claims Jimmy Fallon and Drew Barrymore.
HOG: Yes, it's important that the AL have 2 strong closers to hold onto the 37-2 lead they will have in the 7th inning.
JUSTIN: This year's "Who the Hell is That Guy? Award" belongs to Mark Redman of the Kansas City Royals. He's won 6 of his last thirty games on the worst team in baseball, but since the league has a rule that every team has to be represented, Redman was the choice. I guess the Royals bat boy was hanging out with Manny Ramirez and couldn't represent K.C.
Other than that it should be a fun game to watch. I'm going back to my predictions again and am going out on a limb by saying that the Mets, I mean the National League, wins the game 11-8.
HOG: WOW! I'm rooting for the NL and I don't think they'll win!