JUSTIN: After years of watching the rest of the world learn how to play our games and eventually beat us at them (yes I'm talking to you, baseball and basketball) our country's confidence was in a slump. But that was until Joey Chesnut went to Brooklyn, New York and rescued our national pride by winning the Nathan's Famous Hot Dog Eating Competition.

HOG: USA! USA! USA! If there is any nation in the world that prides itself on how much they can eat… it is America! Land of the Free and Home of Obese! Go America!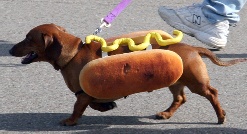 JUSTIN: That's right, the 6 year reign of Takeru Kobayashi, the Japanese eating machine is over. For six years Takeru destroyed the competition at Nathan's like Michael Jordan in the WNBA.
HOG: I could be mistaken, but I think Michael Jordan played in the NBA, not the women's league. Although, I wouldn't put it past him if he put on a blonde wig and grew out his leg hair so he could play with the "women."

JUSTIN: If Michael ever played with the chicks he would've dominated like Kobayashi, baby!

No one could touch him, but what's more amazing than Kobayashi's title run is that he ever even held the record in the first place. I mean, the dude weighs like a buck twenty when his stomach's full, but somehow he manages to keeping sucking down hot dogs like Kim Kardashian in front of a camcorder. Which is weird because after watching highlights of either video you'll never look at a hot dog the same again!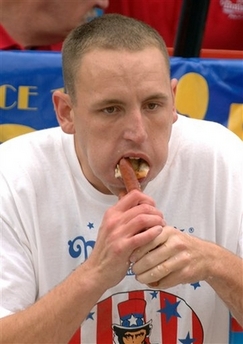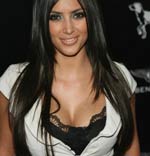 HOG: Aaaaaaaaaaaawwww! But you are correct. When it comes to handling lots of wieners, you think of the Nathan's Hot Dog Eating Contest and Kim Kardashian.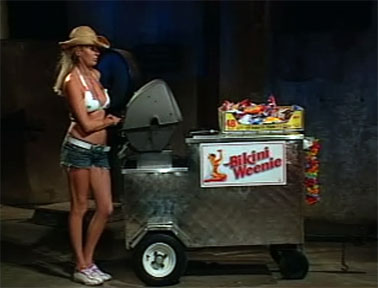 JUSTIN: Enter Joey Chesnut, the 23 year old Californian with the elastic stomach. After losing to Kobayashi last year by two hot dogs, Chesnut vowed revenge.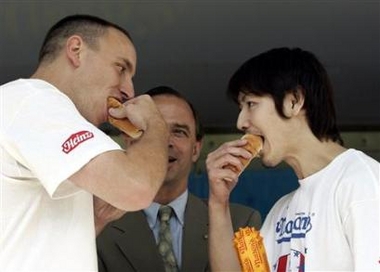 JUSTIN: And he came back this year to eat a world record 66 hot dogs in only 12 minutes.
That breaks down to roughly eating one hot dog every 11 seconds!
But that's not what gets me because I've been to Nathan's and while the hot dogs are delicious I can barely get through one without having to visit the Men's Facilities. I can't even imagine what it'd be like if I had eaten 66?!

HOG: I like how you said, Men's Facilities. Very classy. Because I would have said after eating all those hot dogs I would have to make Fecal Frankfurters of my own! Probably like, one of those foot-longs that sticks out of the water. And maybe with a little hot mustard on top. And some relish.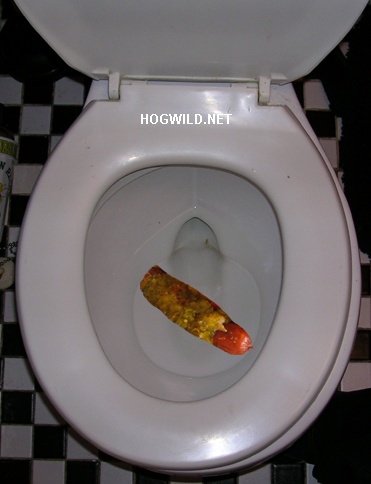 Aaaaaaaaaaaaaaaaawwww!

JUSTIN: Here's the thing that gets me though... after it was all said and done and we crowned Chesnut the champion, some jack ass came up and draped an American Flag around him. Come on man we're already the FATTEST COUNTRY in the world without draping an American Flag around someone who just ate 66 hot dogs!
Fat kids across the country were probably sweating in front of their TV's thinking, "Someday that could be me if I just eat enough! Momma, [panting] make me some hot dogs...[more panting] I'm going to be a champion someday!"

HOG: That's why America is the greatest country in the Universe. Because only in America can you even DREAM of becoming a hot dog eating champion. In other countries, people have to dream about getting a better job or being the first person in their family to wear pants.

JUSTIN: That's why I think that next year they should hold the Hot Dog Eating Championships in Somalia or some other famine stricken country. And then instead of having a hot dog eating contest they should just have a bunch of starving pot bellied children chowing down on hot dogs while Joey Chesnut and Takeru Kobayashi try to keep up with them!
Either that, or they should turn it into a Chili Dog eating contest! I won't go into details but I'm guessing that would be an UNFORGETTABLE EVENT!

HOG: Dude…. that would be awesome!!! They should totally have a farting contest directly after the chili dog contest! It would be epic! It would be an explosive competition. Why not have the contestants go out with a bang?

The big question is how do you judge a farting contest?

Well, I've put a lot of thought into this:

1 – Volume of the Volcanic explosion.

2 – Duration of the doodyerrific deed.

3 – Smell as measured by number of kittens blasted into unconsciousness.

JUSTIN: Don't forget...

4 - Automatic disqualification for anyone that accidentally sharts!