What a genius! 5'9" Nate Robinson wins the NBA Slam Dunk Competition by dunking over 5'7" 1986 NBA Slam Dunk Champ Spud Webb!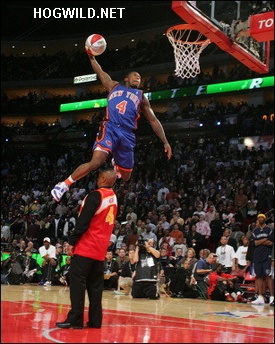 After the failed drunk attempts in practice , Spud Webb was left with a bad a taste in his mouth.
Listen, how many different kinds of dunks are there? It's hard to add creativity at this point. So, yes! Bring out the celebrities and dunk over them!
DUNK 1: Next year I want to see Josh Smith dunk over Britney Spears.
DUNK 2: Or LeBron James takes off from the 3 point line, lands on Vin Diesel's shoulders, then does a somersault in the air and dunks over Jessica Simpson who is sharing a meatloaf with 50 Cent.
DUNK 3: Ooh! How about Desmond Mason hurling the ball at Paris Hilton's face, catching the bounce off her head, and slamming it home!
DUNK 4: No, I got one better. Kobe Bryant throws the ball super high in the air, and while he waits for it to come down, he dry-humps Pamela Anderson and 17 white female arena employees, then catches the ball, and dunks it into a net made out of diamond rings that crash to floor where his wife and his mistresses dash to greedily gather them up like candy from a pinata.
Really? Is there something these guys can do that we haven't seen before?
DUNK 5 THE ULTIMATE DUNK: Personally, I'd like to see Jason Richardson rip Kevin Federline's skull off his spine and slam it. Probably won't happen.
It's crazy to bring out an old NBA player and dunk over him. You know every year they try to out-do the last year! So NEXT year we'll see Shaquille O'Neal dunk over the coffin of Wilt Chamberlain.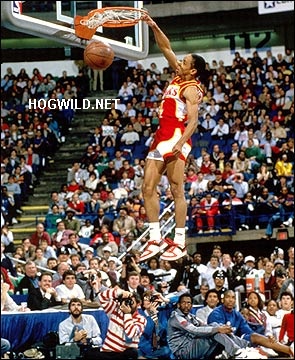 This was Spud Webb dunking back in 1986. Amazing. He's 5'7" and can get up that high! Of course, he had 1 unfair advantage that today's players don't have.
Back in the 80's players weren't weighed down with those heavy shorts that extend way down past the upper testicle region.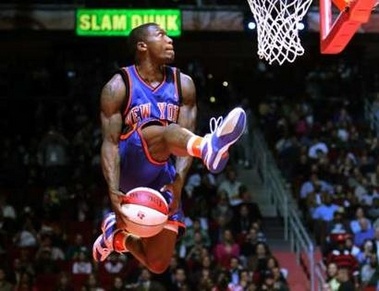 Nate Robinson bringing the ball through his legs. This is a common theme in the NBA Dunk Contest. Let's see the players do something new, like jump in the air and juggle 3 balls and dunk all 3 while reciting the Greek alphabet backwards. Not only would that guarantee you a NBA Slam Dunk Win, but it would also get you into the Fraternity, you lowly pledge!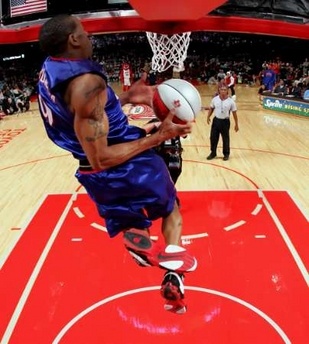 Andre Iguodala gets the pass off the BACK of the backboard, catches it in the air and completes an amazing reverse dunk going from back to front. Wow! That was cool. One of the coolest dunks I've ever seen.
Really, Iguodala should've won, but he didn't dunk over any former Slam Dunk Champs. If he was smart, he would've got Dominique Wilkins, Julius Erving, and Michael Jordan to lie on the court, so he could leap over them and then... high-five Vince Carter who is strapped to the backboard... and then dunk with his eyes closed.
NOTE: During the competition, former NBA All-Star Charles Barkley also dunked. He dunked his doughnut into his coffee. Because he's faaaaaaaaaat.
Nate Robinson's Dunk Championship is the season's only highlight for the pathetic New York Knicks. But don't worry. Like a true Knick, Quentin Richardson choked in the 3 Point Shooting Competition.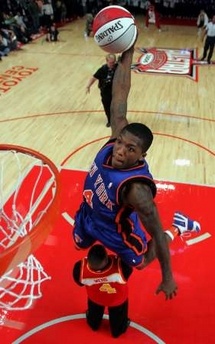 The coolest dunks have names. Like The Windmill Dunk. The Kiss-the-Rim Dunk.
I think they call this one The Teabag Dunk.