Cheerleaders are an American tradition beginning way back in 1773 during the Revolutionary War when hot chicks wore short skirts sewn by Betsy Ross to cheer on George Washington and his troops against those tea-sipping sissy-fairies who wanted us to pay taxes.
Well we showed them! Because Americans don't pay taxes!
Uh, okay, that part didn't work out as well as we hoped, but the tradition of the hot cheerleader is still with us.
The job of the cheerleader is to inspire the athletes to greater athleticism with their feminine hotness, feminine dance moves, and feminine flexibility.
Here is what a cheerleader should look like:

You will notice her hot outfit, her toned body, and her face that is free of scars, warts, and herpes.
I mention this because there is one team in the NBA -- the Orlando Magic -- who seem unable to grasp the concept of hot cheerleaders.
Yes, we hold cheerleaders up to a higher standard of hotness because that is their job... to be hot.
If you are a female scientist, you don't have to be hot. But if you are a female cheerleader, please, be hot. It's your job.
NOTE: If you are a female scientist AND hot... I love you. Email me a picture of you letting your hair down and taking off your black-rimmed glasses.
Now, before I show you the pictures of the hideous Orlando Magic Cheerlosers, I will demonstrate what other NBA cheerleaders look like.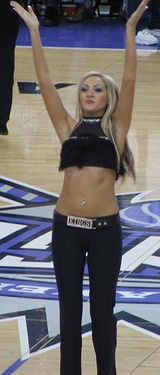 See! Even in a po-dunk town like Sacramento, they can find enough hot chicks who enjoy jumping until their boobs almost fall out their shirts to put together a cheerleading team.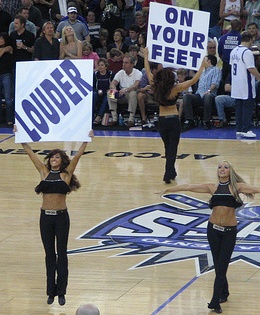 The Sacramento Kings cheerleaders hold signs to tell men what to do. Basically, men do whatever hot women tell them to do. They could hold up a sign saying, "Choke your grandmother!" and men would say, "Sorry Nanna. But she's got big hooters."

See, this cheerleader inspires great basketball. The players see her backcourt and they are inspired to Slam and Double-Team. The fans see her backcourt and they have to wipe the double-dribble from their chins.
WARNING: Disturbing images of non-hot cheerleaders ahead!
So you've seen what NBA cheerleaders should look like. Now, c-a-r-e-f-u-l-l-y look at these fearleaders: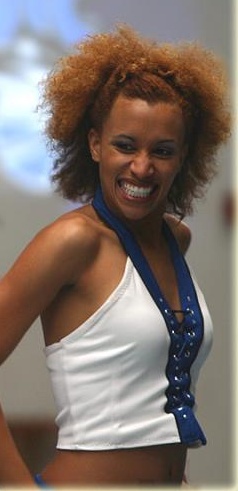 Again, we're not talking regular-woman standards... these are cheerleaders! All I'm saying is, yes, this woman looks just fine for being a regular crack-wh0re but she is not qualified to be a cheerleader.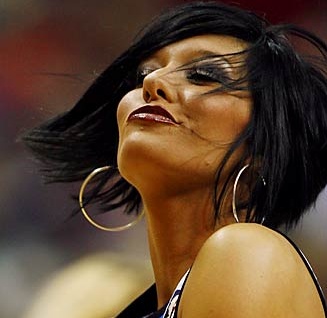 Okay that's a man. Right? Clearly a transvestite. He is Captain of the Orlando Magic Queerleading Team.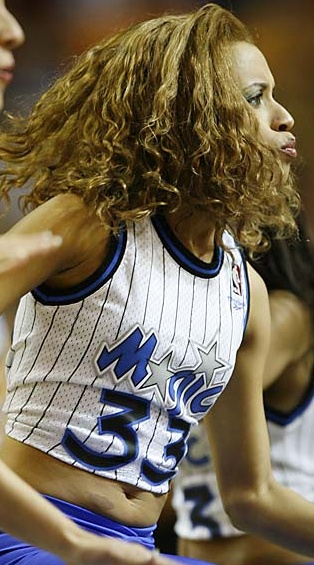 Aaaaaaaaah!!! Is that a cockroach on her stomach?
Holy crap! Let's go back to looking at hot cheerleaders for a second.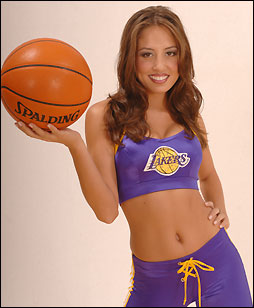 The Laker Girls are always hot. Laker Girls are basically chicks who moved to Los Angeles to become famous actresses or singers but needed a steady gig to pay the rent.
Then once they get too old or ugly to be Laker girls, they go to the Clippers.
Phoenix Suns cheerleaders got it going on, too!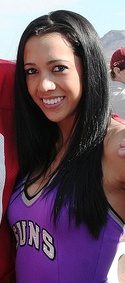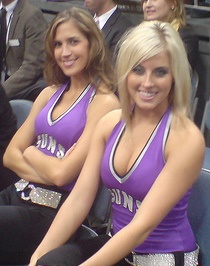 That blonde girl is so hot, I'm feeling drunk and she looks all blurry and I wuv yoooooooo!!
Okay, hold onto your heart. Here's another Orlando Magic trick: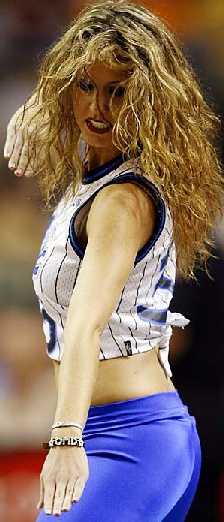 My lord. She looks like she escaped from a trailer park fire.
Though I do like her OMD bracelet. She thinks it stands for Orlando Magic Dancers. But we all know it means Oh My Damn you're not attractive!
To be fair, there have been other poor cheerleading decisions in the NBA.
Great decision: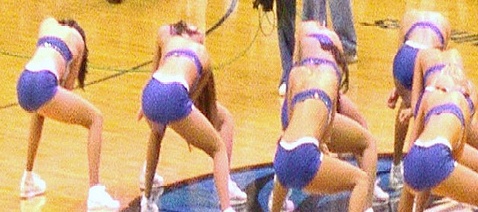 Poor decision: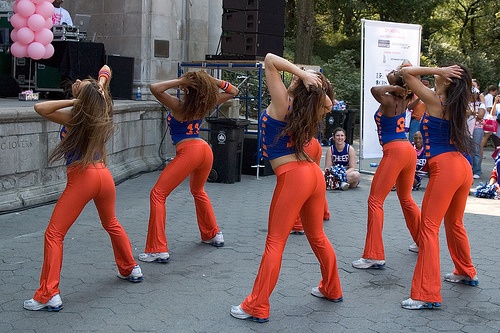 I can't think of a single woman who could possibly look good in bright orange pants. What the hell were the Knicks thinking? The poor girls look like they have pumpkins in their pants.
Here are 2 hot Phoenix Suns Cheerleaders with some dude with keys and his Stop N Shop Club Card around his neck.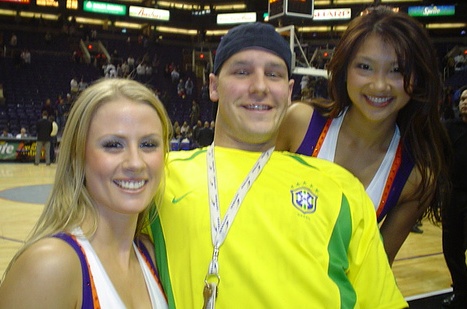 NOTE: To look important, always have a lanyard around your neck holding an ID card, or keys or bus pass or something official-looking so chicks thing you are in charge of something. Chicks dig guys who are in charge of stuff.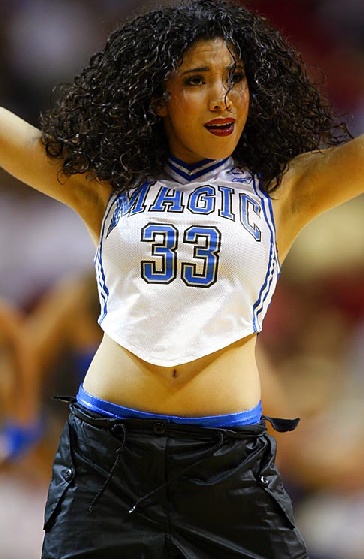 Damn. Throw a Compton hat on her head and she could be Eazy-E.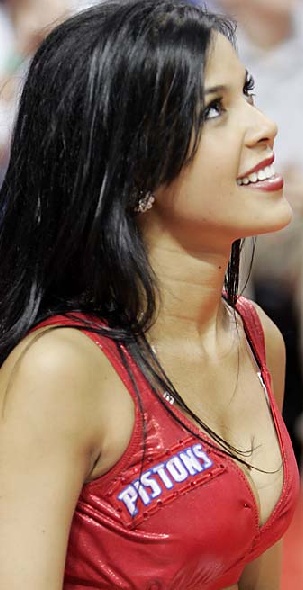 "Um, eeeew! I hope her jerry-curl juice doesn't drip down on me!"