JUSTIN: The NBA draft -- it's the one day out of the year where the world's most talented 20 year olds put on their pimp suits and come together to meet NBA commissioner David Stern.
HOG: I hate to disagree, but the world's most talented 20 year olds are the ones in Playboy magazine!
Well, of course, the NBA's 20 year olds are taking it to the hole of Playboy's 20 year olds, so I think you have a point.
JUSTIN: The NBA Draft is never a dull night when you have New York Knicks fans chanting things like, "Fire Isiah, Fire Isiah, Fire Isiah." Needless to say, a Halle Berry sex scene couldn't have satisfied this rabid crowd, much less the players that Isiah Thomas actually picked.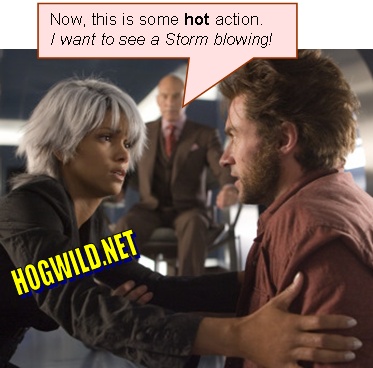 HOG: Not only did Knicks fans boo their General Manager, they also booed the owner! They chanted "Sell the Knicks! Sell the Knicks!"
They should sell the Knicks to me. While the Knicks are in suck-mode (for the next 2-3 decades) I will do my best to still make things interesting for the fans.
JUSTIN: I'm sure your girlfriend would be happy to find out that you can scrape together $50 to $60 million dollars but you still have to go dutch on your dates.
HOG: Dude, living the bootleg lifestyle and eating lunch from a can labeled "Mostly Tuna" is just a front. I am really a multi-trillionaire.
Okay here is what I will do for Knicks fans:
1 - I will reduce all ticket prices by 95%. And I will raise the annoying Spike Lee's ticket prices by 70,000%.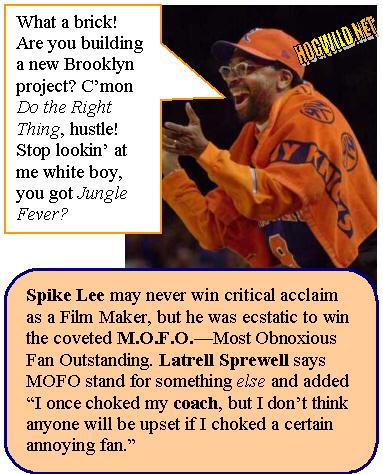 2 - I believe in affirmative action. So I will hire the 1st female coach in NBA history. Jessica Alba. I have no idea what she knows about coaching. But I know she will look hot in a business suit with her hair pinned up and wearing glasses.
JUSTIN: The slutty librarian...a personal favorite.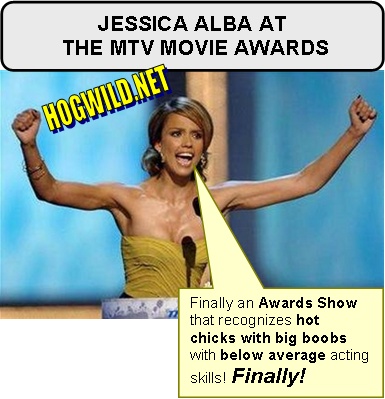 HOG: And I will provide in-game entertainment to distract the fans from the suckitude on the court.
Things that are more exciting than watching the Knicks:
1 - Book club. Fans will be shown on the big screen debating aspects of plot and character development in their favorite novels while the Knicks continue sucking.
2 – During the 4th quarter, instead of showing instant replays, arena television screens will show reruns of Charles in Charge.
3 – And during home games, every fan will be given a free newspaper to read, throw, or used to hide their heads in shame.
JUSTIN: The first player selected in the draft was Andrea Bargnani, a seven footer from Italy who dreamed of playing in the Unayeted Steeaytes but now gets to play in Canada for the Toronto Raptors. I'm sure he'll take freezing cold winters and French speaking locals over the topless beaches of Italy any day.
HOG: HA HA HA! That's awesome. This guy dreams of America and they ship him to Canada! He could have been a local hero in a place like New York where there are lots of Italians. But in Canada, they will say, "Who is that giant hoser, ay? If he's not a hockey player or Celine Dion, I don't care!"
JUSTIN: The Charlotte Bobcats with new owner and GM Michael Jordan decided to use their third pick for a big white guy who cries after big games, has diabetes and a wispy mustache. Charlotte fans better hope things turn around quick for the Bobcats or Adam Morrison will be crying himself to sleep 60 to 65 times this year.
HOG: Wow. Now you're making fun of diabetics? Why don't you make fun of Alonzo Mourning for his kidney disease, you bastard! I know, I know… next you will say, "You know that HIV positive player who is still alive after all these years? He has a Magic Johnson."
JUSTIN: Everyone forgets that Alonzo Mourning got paid a ton of money to sit on the bench in New Jersey because he refused to play for a crappy team and wanted to be traded. I'll probably go to hell but yes I will make fun of Alonzo because a kidney transplant is no excuse to be a d!ck.
HOG: Maybe Alonzo didn't want to spend the last few years of his life playing on a crappy team. I think it was a good life decision. I'm just saying, if the doctor says I have 3 years to live, I'm not spending them in freakin' New Jersey.
But listen man, if Jordan wants to draft a guy with diabetes, that's cool because I trust whatever Michael Jordan does... unless it's playing baseball. Or golf. Or gambling. Or making a third comeback with the Wizards. But the guy can do no wrong! Except Space Jam.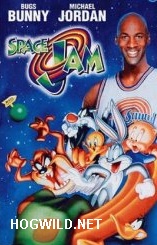 JUSTIN: The Houston Rockets used their eighth pick for none other than Rudy Gay. The small forward from the University of Connecticut could be the top player in this year's draft but it doesn't matter because his authentic game worn jerseys STILL WON'T SELL.
Unfortunately for him right after he was drafted he was immediately traded to Memphis for Shane Battier. This a great move for him because a player named GAY is going to fit right into the Tennessee community.
"What the hell, we got a queer on our basketball team?"
"No, no, his name is Gay, he's a good player he's really going to help the team."
"What kind of parents would name their son after a queer?"
HOG: Tennessee is the state the went to court to argue that Darwin's scientific theory of evolution should be banned from schools because it conflicted with the scientific theory of the Eve coming from Adam's rib.
So I'm sure they will be very open to new ideas! Like a player named Gay. That poor guy. Instead of wearing "GAY" on the back of his jersey, he may as well wear a target.
They should trade Gay to the Warriors in San Francisco where his jersey will be the #1 seller of all-time.
JUSTIN: That wasn't the only trade of the night. The Celtics picked Randy Foye with the number seven slot and then traded him to the Blazers for Sebastian Telfair. This was followed by Dick Vitale saying about Foye, "He's Dwyane Wade, baby!" So what does that mean? If he makes the NBA Finals he can expect to get 3-4 ridiculous fouls called in his favor even though it's clear that there was NO CONTACT?
Sorry, I'm still a little pissed about the finals.
HOG: Here is all I have to say:
JUSTIN: One of the most heralded players in the history of Duke University is JJ Redick. Even though he's had a hernia and drunken driving arrest all in the same month, he still went to the Orlando Magic with the 11th pick. Evidently the Magic think that all they need to get to the championship is a drunk with a hernia to go with their bible thumping power forward Dwight Howard.
HOG: I'm sure those guys will get along great in the locker room.
DWIGHT HOWARD: Maybe you wouldn't have a hernia if you stopped "picking up" all those groupie whores!
JJ REDICK: Aaaaaaaaaaaaaaaw, yer jess jealous because nobody likes you. But I love you, maaaaaaaaaan. Really. Hey, can you help me off the floor?
JUSTIN: The Knicks had the 20th pick and after a truly embarrassing season that cost coach Larry Brown his job, they decided to follow it up by drafting Renaldo Balkman.
Balkman is small forward from South Carolina that most Draft experts had tagged to go in the second round. So not only did Isiah Thomas trade the Knicks 2nd overall pick to Chicago for Eddie Curry's weight problem and neck tattoo, but he f*cked up their second first round pick by taking a forward that would've been there in the second round! Man I thought it was tough being a Mavericks fan but at least we have hope! The only thing Knicks fans have is the fact that this team CAN'T get much worse.
HOG: My Knicks are so bad that to reminisce about their last Championship, I have to borrow my DAD's memories.
JUSTIN: Across the river, they grabbed Marcus Williams, the University of Connecticut guard who was convicted of stealing laptop computers last year.
HOG: Hey, who among us HAS NOT committed grand larceny? Huh? C'mon. Give the guy a break.
JUSTIN: Williams was expected to go a lot higher in the draft but due to his character issues and 14% body fat (I guess it's bad to have a chubby point guard in the NBA) he dropped to the 22nd pick. Needless to say I think the Nets got…wait for it…a STEAL!
HOG: HA! I love it!
JUSTIN: With the 28th pick of the draft the Dallas Mavericks picked up Maurice Ager who will give them another shooter and someone who can help foul Dwayne Wade.
Speaking of the World Champions they didn't have any draft picks this year because they traded them to the Lakers in order to get Shaquille O'Neil and we all know how that turned out for them.
And lastly I know that all this draft talk can be confusing but don't feel bad if you don't understand how it works. The Phoenix Suns had two first round picks and traded them both away for…$. That's right they traded one to Portland and one to the Celtics all so their owner could have a little spending money the next time he went to the Riviera for a little R&R. Must be nice!
HOG:
OWNER OF THE PHOENIX SUNS: I would like to say to the fans, that I am committed to giving you a winner! That's why I traded all our best players for this watch.