JUSTIN: Well the NBA Finals are here and despite what the critics and experts are saying I still think the Cleveland Cavaliers have a shot against the San Antonio Spurs.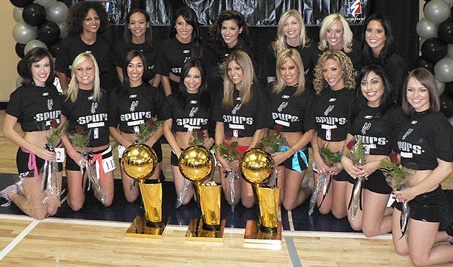 HOG: Iím rooting for the Cavs because I like LeBron James. He makes his teammates better with his leadership and passing. Plus the city of Cleveland really needs this. Give Ďem a break! Those poor people have nothing. Did you know that in Cleveland they donít even have sunshine? And no iPods. Thatís right. The city of Cleveland is forbidden from enjoying MP3s.

Plus itís fun to root against your home state of Texas. So Iím pulling for the Cavs to wipe out the San Antonio Spurms.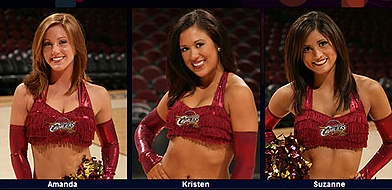 JUSTIN: Bandwagon Tour guide- "Listen people I know it's crowded but if you could just squeeze together a little bit more I think we can make room for HogWild on the 2007 Cleveland Cavaliers bandwagon..."
HOG: You're damn right! I was on the Knicks bandwagon but then their bandwagon fell over and caught on fire and got hit by a bus.

JUSTIN: Superstar factor:

After an entire year I think that itís safe to say that Iíve finally gotten over last yearís crushing defeat at the hands of the Miami Heat. Despite some of the POOREST officiating in the history of basketball (Bennett Salvatore Iím talking about your sorry officiating ass!) the simple fact is that the Dallas Mavericks just could not stop Dwayne Wade when it mattered. So before HogWild puts another picture up of someone crying let me tell you why this is important. I like to call it the Superstar factor. Everyone knows that Superstars in the NBA tend to get the benefit of the doubt when it comes to the officiating but no one seems to notice this until that Superstar is playing your team.
HOG: Dude, that still counts as crying, so again, I'm playing the violin for you.
HOG: You know, I have the Superstar factor going for me, too. Like, when Iím taking the crowded New York City subway to my comedy gigs I donít have to give up my seat to pregnant women or handicapped people. Because Iím a superstar. And a jerk. But mostly because Iím a superstar.

JUSTIN: Dude you should at least let the pregnant chicks sit on your lap.

I used to think that Michael Jordan was the greatest player on Earth until he played the Mavericks and then I would just sit there amazed at how he would get EVERY EFFIN call! Donít get me wrong I STILL think that Jordanís the greatest player ever but you see my point. And after watching Dwayne Wade get the same calls last year I am totally prepared to see Bruce Bowen foul out of every game in the series.

HOG: To eliminate this unfair practice, I think they should replace the referees with Robocop.

JUSTIN: Lebron James vs. Tim Duncan-

Speaking of Superstars, whoís going to cover them? Bruce Bowen drew the assignment of covering Lebron James but something tells me that itís going to end up being the entire Spurs team covering the 20 year old phenom! Heís just that good and too strong for one man to cover. If you donít believe me just re-watch game five of the Pistons series where they tried everything but food poisoning to stop him.

HOG: Playing defense against LeBron James is like the panties on Paris Hilton. In one quick move, heís shaking them off, getting open and taking it to the hole for the easy score.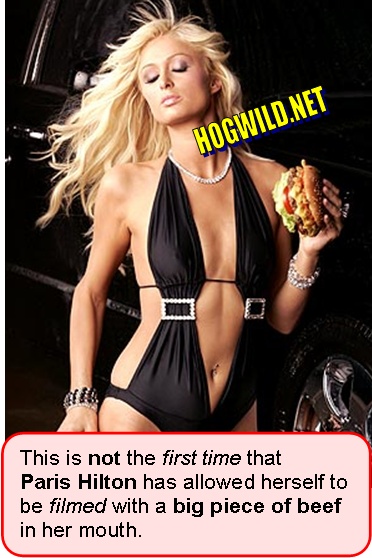 JUSTIN: Ha Ha Ha! On the other side we have Drew Goodenís pedestrian ass trying to cover the three time Finals MVP Tim Duncan. After 10 years Duncan's not as athletic as he once was but heís just so much smarter now and has the best supporting group that heís had in years. Look for the Spurs to work the ball down low and for Duncan to have a huge series and yet another Finals MVP. Trust me which ever Superstar has a better series will be the one hoisting the Championship bling.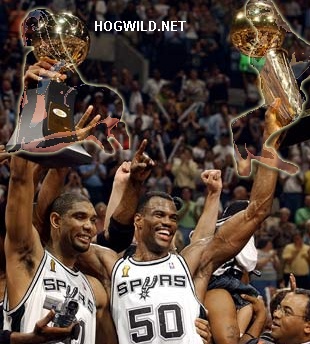 HOG: Shaq calls Tim Duncan ďMr. Fundamentals.Ē HA HA HA! Itís true. Tim Duncan is a boring player to watch but heís awesome. Heís a rebound machine. And on offense, he works the glass like a uh, a window-washer. Whoa. That analogy sucked. But yeah, Tim Duncan is money. I agree with you: My prediction is that Tim Duncan earns NBA Finals MVP #4. My other prediction is that by half-time of the next game, Charles Barkley will have eaten 6 entire boxes of doughnuts.

JUSTIN: Odd year factor-

With the exception of 2001, the Spurs have won the Championship every year that ended with a odd number 99, 03 and 05 so seeing as itís 07 Iím giving the edge to the Spurs! That and the fact that theyíre playing CLEVELAND, a city that was once called ďThe Mistake on the Lake.Ē Iím not giving the Cavs much of a chance. Not to mention the fact that the Cavaliers are called the Cavs for short which sounds a lot like the Mavs who choked last yearÖ so again Iím giving the edge to the Spurs.

HOG: Wow. Thatís the kind of scientific sports analysis I would expect from a small elderly woman living in a mud hut. Youíre basing your prediction on the fact that ďCavsĒ rhymes with ďMavs.Ē Okay, Iíll go with that. Thatís why I predict that both the METS and JETS will get knocked out of the playoffs early like the NETS.

I have no prediction for the Baltimore Orioles because nothing rhymes with Orioles.

JUSTIN: What about glory hole?
HOG: See, that's where your Texas truck-stop expertise comes in handy! HA HA HA!

JUSTIN: Big Shot Rob-

Who has the most Championship Rings on the San Antonio Spurs? None other than one of the greatest clutch shooters in the history of the NBA, the man that hip checked Steve Nash and the Suns right out of the playoffs, Robert Horry. Thatís right, he has 6 rings and has been a good luck charm to every team that heís played for, winning championships with the Houston Rockets, Los Angeles Lakers and the San Antonio Spurs. Heís like that friend you go out with that always gets you laid when heís your wing man. With those kind of stats I can see Robert Horry playing well into his 60ís!

HOG: Robert Horry is sooooo under-rated. He should be mentioned in the same sentence as Scottie Pippen. (And not the sentence: Scottie Pippen is uglier than Jessica Simpsonís SAT score.) He IS a lucky charm! When Robert Horry retires, my New York Knicks should have their coach saw off Horryís foot and wear it on his keychain.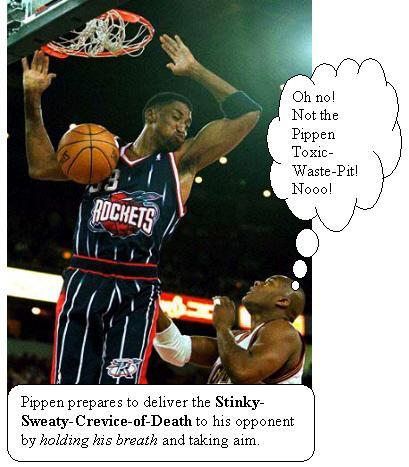 JUSTIN: Coaching-

This is going to be the biggest mismatch in the series because the only thing the Cavaliers coach Mike Brown has going for him is that he has LeBron James and heís a dead ringer for the dad on Good Times!

HOG: Good Times! Now that show had a great theme song! Thatís whatís wrong with sitcoms today. The theme song. Todayís shows donít have catchy awesome theme songs! I would totally watch According to Jim if it had a cool theme song.
NOTE: Just kidding. I wouldnít watch that show even if you bribed me with chicken wings fed to me by Jessica Alba.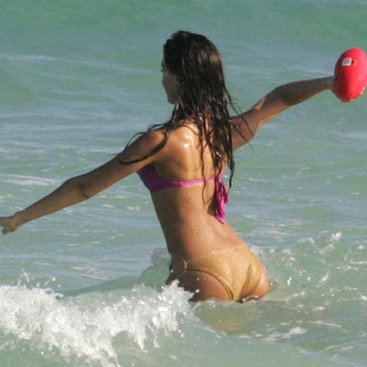 NOTE: Hold on. Let me think this over again. Because I do love chicken wings!

JUSTIN: I watch it just because Courtney Thorne-Smith is a MILF!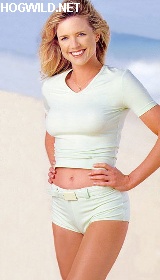 HOG: Did you catch how I called the Spurs, the Spurms earlier? Ha ha. Spurms.

JUSTIN: That's pretty good but they're still not losing to the Mavaliers.

My prediction is the Spurs in 5 but then again donít put it past commissioner David Stern to bring Bennett Salvatore in to call all three games in Cleveland just to even things out. Now if youíll excuse me I have some Mavericks t-shirts to burn and ANOTHER TEXAS championship to prepare for!

HOG: I will now say a sentence never before uttered in the course of human history: I like Cleveland.

Not ďI like Cleveland as a place to liveĒ but I like Cleveland to win. They wonít win. But Iíll still be cheering for King James and his Court of merry men because much like Britney Spears taking on a 3 year old dolphin in speed-reading contestÖ I like an impossible challenge.