JUSTIN: One for the Money, Two for the Show and Three for… well whatever, it's time for the NBA Basketball Finals once again and this Texas boy couldn't be happier. Don't get me wrong, I'm not counting the Heat out because as long as they have the greatest Rapper in the NBA, Shaquille O'Neal, and the second coming of Michael Jordan, Dwayne Wade, I think the Heat are going to give the Mavs all they can handle.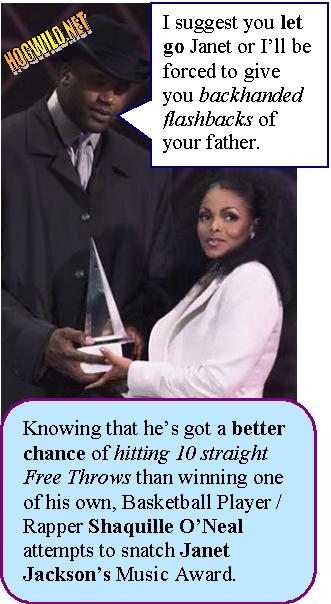 Luckily the Mavs have the most talented David Hasselhoff fan in the NBA, Dirk Nowitzki along with a roster of speedy and talented players to help out.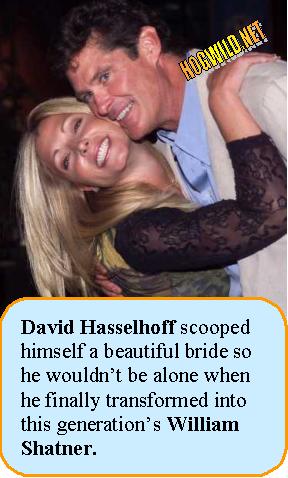 HOG: This is why sports are great. Because at no other time would redneck, yeehawing, American-flag waving Texas boys cheer for a German. Well, except for Heidi Klum.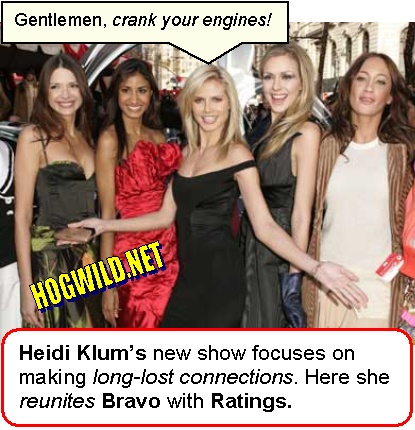 JUSTIN: As Luke Duke would say, "Yeeeeeeeeeeeeeeeeeeeeeeehaw!"
The coaches are pretty even also, the Heat has slick haired Pat Riley who looks like a retired porn star in a twelve hundred dollar suit but as his three championship rings will tell you, he's legit.
HOG: Hey, remember jelly bracelets, Bugle Boy jeans, and the Atari 2600 game system? Those were all popular the last time Pat Riley won anything. But he is proudly listed in the long line of Hall of Fame coaches whose careers were ruined by attempting to lead the New York Knicks.
JUSTIN: On the other side of the court, Dallas has the "Little General" (although it's hard for me to call someone little when he's 5'11") the NBA's Coach of the Year. He's feisty and he's turned the Mavs from a running and gunning also-ran to a tough minded defensive contender in one year.
HOG: Oh, I didn't know Little General was a nickname for his HEIGHT!
JUSTIN: The stars will be out when the series returns to Miami with celebrities peppering the Heat sidelines but when the cameras are focused on the sidelines in Dallas, keep a close look out the busty big haired bimbos.
They're every where and the men in Dallas love to show them off at the Mavericks games. It's amazing, even during the tensest moments of a game whenever a time out is called, you'll find yourself scanning the crowd for cleavage. Definitely keep an eye on this one.
Edge: Heat.
HOG: Before the end of the third quarter we'll see Paris Hilton sitting on Shaq's lap.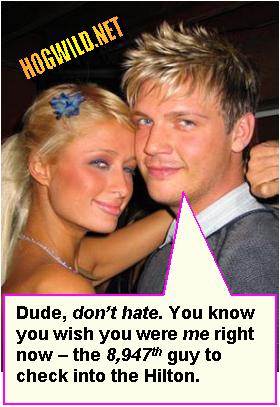 JUSTIN: On the court, this will be a battle of styles. The Heat play a grind-it-out half court game where they slow things down and try to get the ball to either Dwayne Wade or Shaquille O'Neal. The style has worked well in the playoffs and when they slow things down it helps cover up the atrocious defense of Jason "White Chocolate" Williams and Antoine Walker. Both are great scorers but when it comes to defense the Heat would probably be better off with a couple of burly girls from the WNBA.
Edge: Dallas
HOG: Yes! The best defense against men is ALWAYS ugly lesbians.
JUSTIN: I know what you're thinking, "Why do they call Jason Williams "White Chocolate"?
Well I looked it up on Wikipedia and this is what they gave as an explanation, "Williams is often called "White Chocolate" due to the fact that he reportedly plays an African American street-rooted style of basketball, despite being Caucasian." Ummm, correct me if I'm wrong but couldn't you say that about every white player in the NBA today?
HOG: You're looking up slang in Wikipedia? Do you think this is how Ludacris does it too? "Hmm, what is a street-approved synonym for money? Let's check out Wikipedia!"
To answer your question: No. Many white players play big doofy basketball. Others play a no frills, no nonsense style. They are referring to the flashy style of ball that is fun to watch but which makes us lose in the Olympics. In other words, Williams is fun to watch, but his showmanship gets in the way of team basketball.
Williams should play for the Harlem Globetrotters. With all the gentrification, the team needs a white player to accurately depict the new demographics of the neighborhood.
JUSTIN: On the other side of the ball, the Mavs run a fast paced up tempo offense with a smothering defense.
They were one of the top defensive teams in the league and held Phoenix under a 100 points four times in their last series. For those of you who don't follow the NBA, holding Phoenix under 100 points is like, giving Paris Hilton her daddy's American Express card and telling her to keep it under $1000 dollars. It's impossible.
It's like telling George Steinbrenner to try and keep the Yankees payroll under $100 million dollars.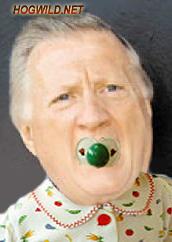 In other words, it's not going to happen. But somehow the Mavericks managed to not only pull it off, but they managed to close them out in six games.
HOG: They should employ the Mavs to defend our borders from illegal immigrants. I think less Mexicans would attempt to cross the border if a scary looking 10 foot tall man with a German accent told them to turn back, "Vah-air do you sink you ah going, little man?"
JUSTIN: On offense they have many options from Jason "Sack Puncher" Terry, to Josh Howard, to Dirk "Hasselhoff" Nowitzki the German terror who single handedly killed the Suns in game five.
I'm sure you're wondering why I keep mentioning David Hasslehoff and Dirk Nowitzki together right? Well it seems that Hasselhoff is HUGE in Germany, kinda like HogWild in Chinatown. And since Dirk's from Germany he's a big fan. It's to the point where Nowitzki admitted that he hums his favorite Hasselhoff song when he's at the free throw line.
Edge: Even
HOG: I think you made that up. Not the part about me being popular in Chinatown. Because I am. But about Dirk singing Knight Rider's songs on the court.
I imagine Dirk peacefully humming classical music by Wagner, the famous German composer, as he dunks over people and bites off their faces.
JUSTIN: So what will be the difference in this series? I think it will all come down to which of these evenly matched teams play better defense. I definitely wouldn't be surprised if this series went seven games and ended in some kind of triple overtime blow out, but my gut (who's been right a lot lately) tells me that the Mavs wrap this series up in six games.
So kick back, relax and enjoy one of the best NBA finals since Michael Jordan retired!
HOG: The best part about this NBA Finals will be watching Kobe Bryant cry himself to sleep as his replacement Dwayne Wade holds up the Championship Trophy with Shaq!
JUSTIN: Go Mavericks!!!! The only thing Wade will be holding up will be Shaq's nuts because the NBA title is staying in Texas! [cue the shotguns]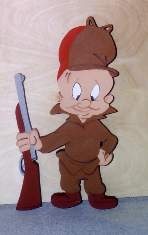 HOG: Go Knicks!!!! Um, go Heat! (I don't live in Miami, but as a Jewish guy in New York City, I know it's my destiny to wind up there when I'm 70.) So go Heat!