JUSTIN: Itís a fight, itís a fight! Itís a Knickerbocker and a Nugget? The brawl at Madison Square Garden was all over the news and is just now coming to a conclusion with NBA Commissioner David Stern throwing out fines and suspensions like a New York Meter Maid drunk with power.
HOG: Meter Maids can hand out suspensions?
JUSTIN: In this column...Yes!
HOG: And I think the politically-correct term is Traffic Enforcement Officer. Or Ticket B!tch.
JUSTIN: The result was 7 players getting suspended for a total of 47 games all together with the harshest punishment of 15 games going to MVP candidate Ron Artest...I mean, Carmelo Anthony!
HOG: Losing your star player for 15 games is harsh. Commissioner Stern was also going to suspend the Knicksí star player but they donít have one.
Coach Isiah Thomas actually petitioned the League Office to suspend Stephon Marbury but they denied his request on account that it would make the Knicks better.
JUSTIN: So how did this all get started? Well to no oneís surprise, especially the 65 fans and Spike Lee, who attended the game, the Knicks were getting spanked yet AGAIN! Unfortunately, no one told the Nuggets Coach George Karl that the game was in hand because with 1 minute left he still had his starters in the game and appeared to be trying to run up the score.
Thatís when Nuggets guard J.R. Smith was driving to the basket for a lay up and Knick forward Mardy Collins took him out with a move straight out of a Steven Segal 80's movie.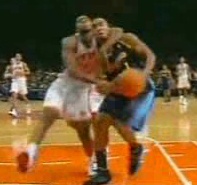 HOG: Cool! It would have been even cooler if Collins busted that move from Under Siege where a topless Erika Elienak pops out of the cake! That would be a unique way to foul someone.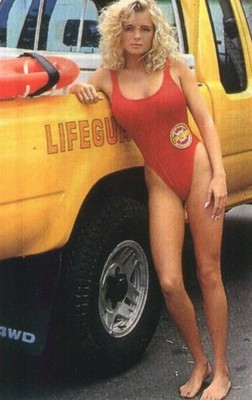 HOG: And dude, Steven Segal made his most famous movies in the 90ís. You must have been watching the films he had to make in order to convince the h0m0sexual casting directors to put him in a Hollywood movie.
JUSTIN: As far as I'm concerned his career ended in 1988 with Above the Law, the cheesiest action movie ever!
So all hell breaks loose, both benches emptied and 5'7" Nate Robinson went ape sh!t crazy!
As soon as Smith and Collins started jawing, in came Robinson jumping in Smithís face like a drunken girlfriend trying to protect her boyfriend.
Itís always good times when the smallest player on your team plays the role of the enforcer, but what else would you expect from the Knicks?
HOG: Hey! Nate Robinson may be small but he has hops! Remember, he jumped over Spud Webb!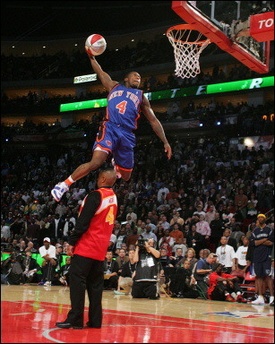 Thatís his Leap-Frog Shaolin-style of Martial Arts! Froggy-Style! Robinson jumps on your head and attaches his suction cups to your face and sucks the eyeballs out of your skull.
JUSTIN: Things quickly went down hill from there stemmed by a wrestling match between Robinson and Smith (which Mini-Me actually got the best of) followed by some pushing and shoving by both teams and capped off by Carmelo Anthony sucker punching Mardy Collins with a girlish half-slap/half-fist.
HOG: This is the most-talked-about fight in years at Madison Square Garden. Which is sad for the sport of boxing.
JUSTIN: I bet if you told boxers if they lost they'd have to play for the Knicks, they'd fight until the death!
After the dust finally settled and both teams were finally separated, ALL ten players on the floor when the brawl occurred were kicked out of the game. NOW that was an exciting Knicks game! The only thing missing was a camera so that Spike Lee could have done a documentary of the game. He could have called it...
* Do the Right Thing, Fire Isiah
* 5 Little Girls...Playing for the Knicks
* Moí Betta Losers
* Clockers II Knickerbocker Boogaloo
HOG: Spike Lee isnít the only kooky film maker at Knicks games. Donít forget Woody Allen! Actually, if you want to see a fight at Madison Square GardenÖ Woody vs. Spike! No punches would be thrown. The fight would be 3 hours of dialogue.
JUSTIN: Now I understand how a team with a crappy coach, no hope of being a decent team for at least three to five years and a fan base that hates them can get a little chippy... but in order to appreciate why this fight escalated you have to go back to last year when Isiah Thomas fired former Knicks coach Larry Brown.
A lot of people around the league felt that Brown's firing wasnít justified and that Brown had been treated unfairly. One of those people was a good friend and understudy of Larry Brown, George Karl, the current coach of the Denver Nuggets.
Ever since the incident there has been bad blood between Karl and Thomas, as a matter of fact itís to the point now where I think itís safe to say that George Karl hates Isiah worse than the Knicks fans!
HOG: Impossible. Knicks fans hate Isiah Thomas like:
* Paris Hilton hates underwear.
* President Bush hates grammar.
* Rosie OíDonnell hates salads.
JUSTIN: Couple that fact with the fact that the Nuggets have had an awful time holding late leads and youíve got the recipe for the first entertaining game of the year for the Knicks. Personally I think that this should be the new Knick philosophy. Just send your worst players out there every night and have them start fights with the opposing teams best players. Then when the other teams playing without their best players everything will even out and the Knicks will make the playoffs.
HOG: I love it!
JUSTIN: They could even have the entire team grow out their hair and put them in pony tails a la Steven Segal! How cool or uncool would that be? It'd be like a bad ass WNBA Team replaced the Knicks and started winning games!
HOG: At this point, I think a WNBA team WOULD be better than the Knicks.
To expand on your genius ideaÖ I think Commissioner Stern would catch on and suspend the entire Knick organization if they kept knocking out star players. Maybe they could be a little clandestineÖ like,
* Before going to L.A., they send slutty white girls to Kobe Bryantís hotel room.
* Before going to Miami, they pay the workers to not wash their hands at Shaqís favorite hamburger stand.
* And in Phoenix, they get some local thugs to challenge Canadian Steve Nash to a hockey game where leaves the rink with a dislocated head.