Crazy T-Shirts Party Poker - Safe, Secure and Fun! FREE Fantasy Sports
81 Smart Ways to Stop Kobe Bryant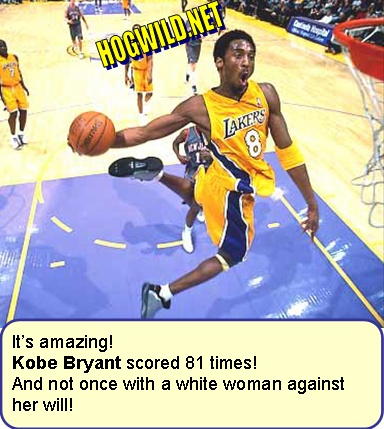 NBA Kobe Bryant Jokes and Funny Pictures
Justin Sanders with HogWild
JUSTIN: After Kobe Bryant dropped 81 points on the Toronto Raptors the other night it made me wonder about all things Kobe. Iíll be the first to admit that it IS impressive but what cracks me up is that he only had 2 assists! 2! I can just see his teammates standing around smoking cigarettes and eating hot dogs while Kobe shot threes and threw down windmill dunks.
HOG: Yeah, and his Buddhist Coach Phil Jackson is sitting on the sidelines sleeping, er, I mean ďzen meditating.Ē
JUSTIN: I just kept waiting for his teammate Lamar Odom (a former all star before he entered into The Black Mambaís black hole) to get sick of the Kobe Show and jump in there and block one of his shots or give him a hard foul.
HOG: What the hell is The Black Mamba?
JUSTIN: Kobe nicknamed himself The Black Mamba because, and I quote, ď"The mamba can strike with 99 percent accuracy at maximum speed, in rapid succession. That's the kind of basketball precision I
want to have."

HOG: Oh! I didnít know that! I thought The Black Mamba was a dance from the 1920s.

JUSTIN: On the other side though, how sorry is the Raptors coaching staff? I mean at one point the Raptors were up by 18 points in the third quarter right before Kobe went ape sh!t and turned into Wilt the Stilt. My question is why didnít they do anything to stop him?
HOG: Yeah, they could have enticed him to go ďAntonio DavisĒ and run into the stands by having someone attempt to steal the $8 million dollar diamond ring he gave to his wife.

JUSTIN: We all know how touchy Kobe is when it comes to hard fouls. Why not have Jalen Rose foul the sh!t out of him, provoke a fight and get him kicked out of the game? Okay yes that is a little bitchish but if Iím a coach making $2 million a season and my job is on the line every time I lose a game... Iím just saying that I mightíve considered it.
HOG: Yeah, Kobe is very touchy when it comes to hard fouls. Because it might mess up his pretty face and ruin all his endorsement deals. Oops! He ALREADY ruined his endorsement deals when he cheated on his wife with that skank in Colorado!

JUSTIN: Or why not play a zone on The Black Mamba? In high school, teams routinely played a box and one zone (basically quadruple covering him while one other player covered the ball) on Shaq to keep him from killing them.
HOG: Why not have Jalen Rose eat a bunch of pigís feet and chew on his practice socks and then BREATHE in Kobeís face the entire game? Oh that wonít work. Itíll just remind him of that SKANK he banged in Colorado!

JUSTIN: Are you telling me that this quadruple coverage wouldnít have kept Kobe in at least the low 60ís and possibly allowed the Raptors to win the game? I mean surely if you know coming into the game that Kobeís usually responsible for about 40% of his teams points -- wouldnít you do more to stop him than throwing the occasional double team out there?
HOG: Maybe to distract Kobe when he takes foul shots, the Raptors pay the cheerleaders to deep throat hot dogs.

JUSTIN: Iím telling you if Iím an opposing coach and Kobeís coming to town Iím sending hookers to his room, prank calling him at three oíclock in the morning, triple teaming him, giving him hard fouls, whatever. Iím doing anything I can to throw this guy off of his game because we are witnessing one of the most prolific scorers in the history of the game!

HOG: You don't need to spend money to send hookers to Kobeís room! You know Kobe likes white women who work in hotels! Just send the staff!
NBA ALL-STAR GAME. MICHAEL, MARV, AND MARIAH
MORE FUNNY HOGWILD RANTS AND JOKES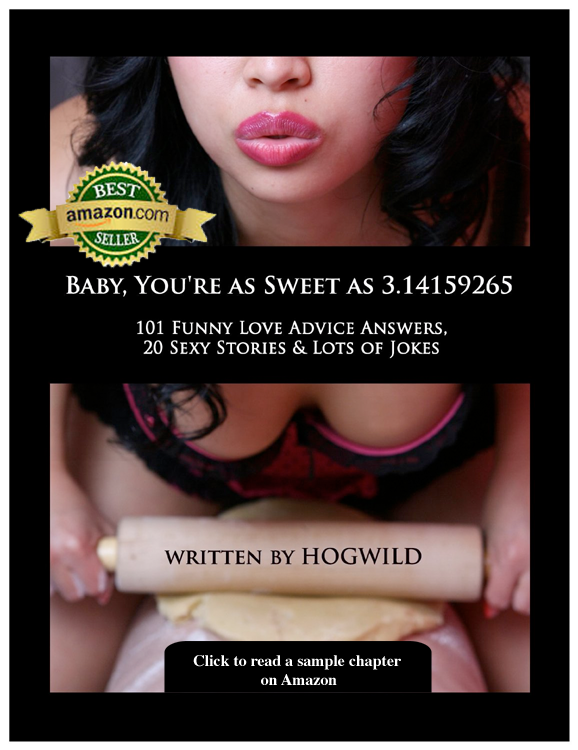 Watch my helpful and hilarious Expert Dating Advice videos!