JUSTIN: Well itís Playoff time in the NHL, so since no one gives a sh!t about Hockey, letís talk about the NBA Basketball Playoffs!
HOG: Yeah, I was yawning and a hockey game broke out! Oh! I get no respect, I tell ya.
JUSTIN: 16 teams are vying for the NBA Championship this year. But while only four teams have a legitimate chance to win it all, there is still plenty of excitement to look forward to in the first round of the playoffs.
Weíll start off with the Milwaukee Bucks vs. the Detroit Pistons:
The Bucks suck but not as much as 76ers or the Magic so they snuck into the playoffs and have a chance to get their ass kicked by the odds on favorite to win it all -- the Detroit Pistons.
HOG: Has a #1 seed ever been beaten by a #8 seed? Iím sure it must have happened at least once. Or is it so impossible, that even the family members of the Bucks wonít be watching?
JUSTIN: True story: When I was living in Seattle the #8 seed Denver Nuggets beat the #1 seed Seattle Supersonics in a shocking game 5 upset and it crushed everyone in the city, except for my girlfriend.
She didn't give a sh!t either way and she calls me up all bubbly and excited the second that the game is over wanting to know if I want to go out with her friends. I said NO.
I was still p!ssed at the game so we get in a big fight and after about an hour on the phone we break up.
To be honest the relationship was over anyway no matter what happened in the Sonics game but to this day she still believes that I only broke up with her because the Sonics lost.
The moral of the story being when you let sports get in the way of sex (and you don't play on an actual team) you need to seriously take a look at your priorities!
HOG: No way, dude. It's totally normal to ignore your girlfriend so you can yell encouraging words to muscular men in uniform.
JUSTIN: Unlike you, Hog, The Bucks arenít completely helpless. Theyíve got talented players such as the overall first draft choice Andrew Bogut but their team still hasnít worked out all of the kinks.
The Pistons on the other hand sport the best record in the NBA and 4 all-stars in their starting line up. If you like blowouts and games that are over by half time this series should give you four great games to watch.
HOG: Hey, I think this is great for the city of Detroit. I mean, what else do these people have to live for?
- The automotive industry their city was founded on is dying.
- Detroit Rappers are murdering each other every day.
- The city is broke. The mayor of Detroit is a homeless man.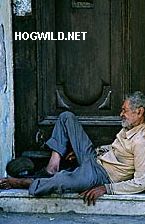 ABOVE: The mayor of Detroit.
Itís a sad day when youíd rather live in Cleveland than Detroit.
Well, letís not get crazy now.
JUSTIN: Next up is the Miami Heat vs. the Chicago Bulls:
The Heat went out this year, slicked back their hair a la Pat Riley, and picked up a talented roster to go with their MVP candidate Dwayne (Next Michael Jordan) Wade.
HOG: Youíre saying Dwayne Wade is the next Michael Jordan?!! Iíd watch just for that.
I thought the next Jordan would be Kobe Bryant, but it turns out he is the paragon of selfish play. He is exactly what is wrong with the NBA. Incredibly talented PLAYERS that have no concept of TEAM.
Jordan began his career that way, but he learned to make his teammates better. Thatís why Michael Jordan has 6 rings. Michael Jordan didnít run Scottie Pippen out of town like Kobe did to Shaq.
Oh, and Jordan didnít bang white skanks in the butt in Denver hotels.
Well, at least he never got caught.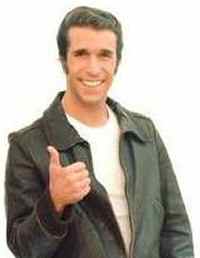 JUSTIN: However before the Miami Heat start making reservations for the NBA Finals they have to get past the upstart Chicago Bulls. This shouldnít be too much of a problem however since these arenít your Bulls of yore.
These Jordan-less Bulls play well together but they lack a legitimate post presence to slow down Shaquille OíNeal. So look for this series to be over quicker than a HogWild Little League at bat.
HOG: HEY HEY HEY! 1988 Little League All-Star Reserve Player, baby!!!! Did I ever tell you about the time I had to bat against former rap star Chi-Ali? No? Great!
Before he was famous, Chi-Ali was in my Bronx Little League. He had a blazing fastball. He was awesome.
And in my only at-bat in the 1988 Little League All-Star game, I had to face Chi-Ali. And I didnít strike out! Iím proud to say I hit a 3-2 pitch about 3 feet down the 3rd base line.
NOTE: Chi-Ali is now in prison for murder.
JUSTIN: Fortunately for the Bulls, they are playing with house money since they have the Knicks first pick in next year's NBA Draft so that should take some of the sting out this ass whippiní.
HOG:
Not for me.
Iím a Knicks fan!
But I am hopeful the Knicks will be in the NBA Playoffs by the time my grandchildren are dead.
JUSTIN: Which leads us to the Indiana Pacers vs. the New Jersey (soon to be Brooklyn) Nets:
On paper the Nets should destroy the injury ravaged Pacers but since the Nets have a bench weaker than a Bob Dole erectionÖ
HOG:
Dude, thatís gross.
JUSTIN: Öand the Pacers have had absolutely no chemistry since Ron Artest went ape sh!t in the stands of Detroit last year, so all and all this should be a pretty even series.
Look for it to go seven games but look for Jason Kidd to feed Vince (Big P*ssy) Carter and Richard Jefferson enough to pull out game seven in Jersey. Unfortunately, even if the Nets win, theyíll still be in Jersey.
HOG: Why is Vince Carter called Big P*ssy?
JUSTIN: Because he cried for two years in Toronto because he was unhappy and wanted to be traded so he played not to get hurt and sat out of games every time he tweaked an ankle or bruised a pinky.
This gave him a reputation as being soft and opposing players knew that if they gave him a hard foul early in the game he'd shoot jumpers for the rest of the game. Now of course he's happy and practically unstoppable in New Jersey which just goes to show if you pout and back stab your teammates long enough, eventually you'll get what you want in the end.
The last battle in the East will be the Washington Wizards vs. the Cleveland Cavaliers: All hail King James as he enters his first ever NBA Playoff series. The most talented player in the NBA faces off against the weirdest player in the league -- Gilbert Arenas. This should be a great series to watch and whichever star plays better should take his team to the next round.
As an added bonus the Cavalierís coach Mike James looks like the dad from Good Times so this series will beÖDYNOMITE!
HOG: Whatís so weird about Gilbert Arenas? I mean, besides his name?
JUSTIN: He's just crazy, if he's not making up conspiracy theories about why he was left off the All Star team, he's playing pranks on his teammates. He's awesome and if the Wizards beat the Cavaliers I'll do an entire column on his craziness.
Over in the West the defending champion San Antonio Spurs take on the Sacramento Kings: The Spurs have the best record in the West including the best player in Tim Duncan and the dude thatís boning Eva Longoria, (yes this is another childish ploy to get HogWild to post a pic of a hot chick)
HOG: Done.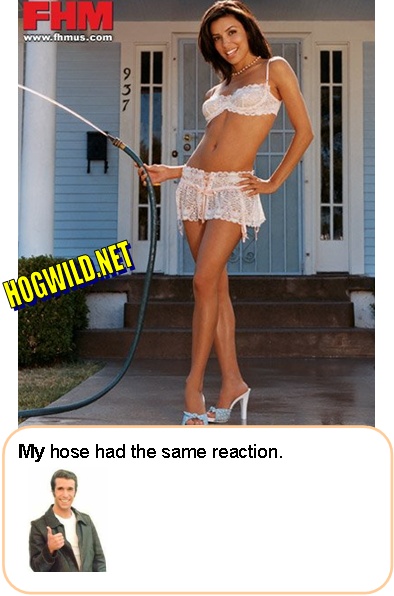 JUSTIN: But due to nagging injuries to Duncan and Ginobli, theyíve seemed a step slow this year.
Enter the craziest man / worst rapper / best defender Ron Artest and the Sacramento Kings and youíve got the chance for a potential upset. Still even though Artest will shut down Ginobli, (like the Braves shut down the Mets) the Spurs are still the best coached team in the NBA and play excellent team ball so get out your brooms because the Spurs will make this one quick.
HOG: Nice. Take a cheap shot against the Mets. Hey, they donít NEED to beat the Braves! Thatís the Cardinalsí job. The Mets will win the Wild Card and go to the World Series! To lose to the Yankees.
JUSTIN: HOLD ON...I just threw up in my mouth thinking about a Yankees vs. Mets World Series.
HOG: There should be an 8 Mile type freestyle rap battle between Ron Artest and Allen Iverson to see who is the crappiest NBA rapper. I know itís not Shaq! Shaq-Fu!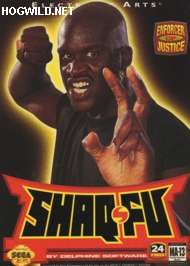 I think Shaquille OíNeal, Yao Ming, and Dirk Nowitzki should perform a public service rap group to promote racial harmony. I think it would go down like this:
Shaq: Donít hate based on race
Dirk: Embrace the color of every face
Yao: Yao.
Shaq: Everybody is the same inside
Dirk: Even though some fat chicks are wide
Yao: Yao. Yao.
Shaq: Black, white, yellow, is does not matter
Dirk: Iím telling you this chick could not get any fatter
Yao: Yao. Yao. Yao.
Shaq: Youíre messing up the song, Dirk!
Dirk: Iím expressing myself!
Yao: Yaaaaaaaaaaao.
JUSTIN: You are a rhyme master of which there is no equal.
In a battle of the Sunny Cities itís the Phoenix Suns vs. the Los Angeles Lakers:
This was a complete mismatch in favor of the Suns last season but since that time the Suns have lost their best player Amare Stoudamire to a knee injury and the Lakers Kobe Bryant has turned into an absolute scoring machine both on and off the court.
HOG: HA HA HA!!!
JUSTIN: Look for these two teams to put up more points than a Tera Patrick double feature but in the end Steve (The Pride of Canada) Nash will be the difference that pushes the Suns past Kobe and company in seven games.
HOG: I wonder what's higher odds... The Lakers winning or Kobe getting arrested?
JUSTIN: Onto the Denver (Deez) Nuggets vs. the Los Angeles Clippers:
The Nuggets won their division but the Clippers have the better record so these two teams match up better than any of the other series.
The Clippers are led by Sam (E.T.) Cassell and Elton (I went to Duke but never hung out with the Lacrosse team) Brand who this year combined old school and new school into a trip to the playoffs for the first time since 1997.
The Nuggets on the other hand were a team on the rise and destined to challenge for the title this year until Nene (yes he only has one name) and Kenyon (Iíve got a baby head tattooed on my arm) Martin went down with injuries. Now the Nuggets rely on Marcus Camby and the clutch shooting of Carmelo Anthony. Look for this series to be close and go seven games.
HOG: Nice way to weasel out of making a prediction! Whoís gonna win, man?! I will now use the Justin Sanders Method to make predictions:
The 2008 Presidential election will be decided by votes.
Tomorrow, expect the weather to affect how people dress.
Tonight, my girlfriend will do her best avoid having sex with me.
JUSTIN: My girlfriend has plenty of sex with me. It's my wife that holds out. FOLKS! I'm kidding of course, and it will be the Clippers clipping the Nuggets in 7.
Finally that brings us to the Dallas Mavericks vs. the Memphis Grizzlies: No one on the Grizzlies can guard Dirk Nowitzki and I think the only Grizzlies in Memphis are at the zooÖ
HOG: Yeah, ANOTHER stupid team name. The team moved from Vancouver. Why canít they change the team name? My suggestions:
The Memphis BBQ Ribs
The Memphis Elvis Sightings
The Memphis Crazy Old Blues Singers
Okay, now I see why they stuck with Grizzlies.
JUSTIN: What about the Memphis Pimpthis...Ride?
But since the Mavericks are notorious for choking in the playoffs let's not pencil in Dallas in just yet.
On the other hand the number of Grizzlie attacks and playoff victories are exactly the sameÖ0.
So just skip this series and prepare yourself for San Antonio vs. Dallas in the second round. .
So pop open a beer (because Lent is over and I can finally drink!) and enjoy this year's NBA playoffs!
HOG: Yeah, and Iím going to pop open a loaf of bread because Passover is finally over!