JUSTIN:
It's the time of year that all companies dread,
March Madness
, as everyone obsesses over their brackets and ignores their work. An estimated
$3.8 billion dollars
will be lost in productivity as office workers monitor games and tournament brackets. Actually if you add my salary to the equation it's $ 3,800,000,00
1.99.

HOG:
And don't forget
my
lost productivity. I haven't deposited a single aluminum can this week!
JUSTIN:
This year is a year of firsts in the NCAA. For starters, CBS Sportsline is offering viewers the first chance ever to watch games online (legally) -- even going as far as to include a
"Boss" button
which immediately changes your screen from the basketball game to a dummy TPS Report complete with figures and everything!
At this very moment I am poring over the productivity numbers of the Boston College and Pacific game. It's like they know I'm not only a f*ck up, but that I'm a sports junkie too!

HOG: The Boss Button rules! I remember that from my Leisure Suit Larry computer game!
One minute you're trying to pick up a prostitute in a bar, and then WAM! It's a spreadsheet and graph.
They should make the reverse, for college students. Your buddies are making fun of you for studying all the time. So you're doing your homework on the computer, and frat brothers walk in: WAM! Hit the Buddy Button and that homework is replaced with a slideshow of Scarlett Johansson's boobs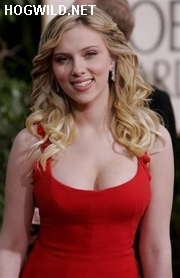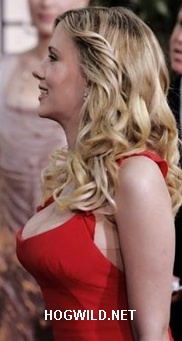 JUSTIN: BRILLIANT! You'll have guys across the country hitting their buddy buttons with that invention!
Tomorrow should be a complete and total drunken blur for most of the sports loving population when the stars align for March Madness AND St. Patrick's Day!
My god even the Catholic Church saw this one coming and gave Catholics the okay to eat meat on Friday during Lent because they figure that they'll probably be too drunk and focused on the games to remember not to eat that plate full of Buffalo wings! I of course being the dumb ass that I am gave up drinking for Lent. F*CK!!!! So I will be holing up tomorrow night and slitting my wrists…wait that's a sin, perhaps I will just look at porn, I didn't give that up!

HOG: Lent is ridiculous! Why do you have to sacrifice something for God? I mean, as a Jew, I never had to sacrifice anything for God – except the tip of my penis!!!

JUSTIN: Is that what you have on your necklace? I thought you were kidding when you said your mother had the tip of your d!ck bronzed but now I know.
So who will be this year's Cinderella? Which player will be this year's college version of Jason McElwain, the 17 year autistic senior that came of the bench to score 20 points in four minutes of the final game? Whoever it is, they will have two things in common with Jason because not only will they get to meet the President but they will also probably beat him at Scrabble!

HOG: HA HA HA!! I can totally imagine President Bush arguing with Autistic Kid at Scrabble.

Autistic Kid: That's not a word.
Bush: Yes it is!
Autistic Kid: Use it in a sentence.
Bush: We've brung libertines to the Iraqabs and topplesized Saddam's Dictationary ship!
Autistic Kid: I don't think there was 1 word in that entire sentence.
Bush: Hey kid, you should trade in that Z for a new letter.
Autistic Kid: How do you know I have a Z on my rack?
Bush: Patriotic Act.

JUSTIN: I, myself picked Villanova to win it all. Why? Because Allen Ray, the Senior Guard for the Wildcats, had his eye nearly poked out of the socket while scrambling for a loose ball during the Big East Tournament.

HOG: Hey wasn't there an NBA All-Star named Ray Allen? This is confusing. Who is the star player on Duke – Jordan Michael?

JUSTIN: It practically came out of the socket; if he had been hit any harder it probably would have popped out and started rolling around the floor like the poison antidote in Temple of Doom. People would've been scrambling around fighting over it, while both teams bands played the theme song to Indiana Jones…or something like that.

HOG: What a wuss. Growing up playing streetball in the Bronx, if that happened, we wouldn't even call a foul. One time a guy went up for a jump-shot and the defender stabbed him in the throat. With his partially severed vocal cords, he gargled, "Foul!" We beat his ass for being a p*ssy. Then we pulled his index finger out of the socket, crushed the bone into dust and smoked it in a crack pipe.

JUSTIN: Word, those Nerf hoop games get rough, yo.
This year's tournament is wide open, anyone can win. I mean you know it's a weird year when the two best players in the country are both white!

HOG: Dude, no way! Well you can't get more white than Canadian surfer dude Steve Nash and he won the NBA MVP. I guess these things go in cycles. It won't stay like this for long. In a few years it will once again be time for basketball to be dominated by the Vietnamese.

JUSTIN: Yep. Adam Morrison of Gonzaga with his "porn stache" has been battling Duke's J.J. Redick all year long for the Naismith College Player of the Year Award.

HOG: I think it would be awesome to mess with Morrison's head. Every player on the opposing team comes out with fake "porn staches" taped to their faces!

JUSTIN: I know what you're thinking, "Surely there is a black player that is just as good…" Well it's debatable but the University of Connecticut has an outstanding player named Rudy Gay, who not only is destined to play in the NBA but also to have the worst selling jersey in the history of sports!

HOG: HA HA HA!

That's not entirely true, though. His jersey is selling really well in San Francisco. Lots of guys there are wearing it tied in a knot at the waist -- with their 1980's style Isiah Thomas short shorts.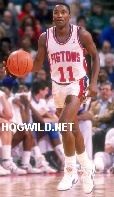 JUSTIN: "Heyyyyyyy!"

HOG: Dude, does the back of his jersey really say "Gay"? I thought that stuff only happened when you pledge a Fraternity.

JUSTIN: All and all I'm excited, my brackets are ready and my root beers are chilling in the cooler!

HOG: I'm sure Jesus will appreciate you sacrificing beer for Him while you gamble and watch sweaty teenage boys. Hey, if it's good enough for the Priests...