New York City Dating. Mating. Male Hating.
Relationship Humor.
New York City Valentine's Day. Jokes. Funny Pictures.
Took my girl out for Valentine's Day. She excuses herself to go to the bathroom. I had a box of those candy Valentine's Day hearts in my pocket.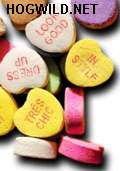 Bright idea: When she comes back to her seat, she'll find a cute little heart with one of those sweet phrases will be on her napkin!

So I pour a bunch of the candy hearts in my hand. What the hell?!!! Why
is it so hard to find a tiny candy heart with an appropriate sentiment?!!

The 1st heart says, "Call me." What?

I try again, "All Star." Um. Okay.

I try again, "Cool."
What? What does that mean?
Then I get a heart stamped with the loving phrase, "Page Me." WHAT? Dammit!!! This box of candy must be left over from 1991! I'm going to poison my girlfriend!!

I need to hurry! Uh, what? This one says, "Marry Me."

Okay, I'm no romantic genius... But I do know that you are not supposed to propose marriage with 99 cents worth of sugary candy. Marry Me?!! When did candy get so serious!

Imagine I accidentally put the Marry Me heart on her napkin... and she's like, YES!!!

Uh oh. Explaining would hurt her feelings and be awkward. Now I would have to keep up the theme. Buy her an engagement Ring Pop.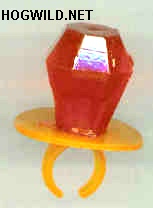 Take her on a honeymoon to Hershey, Pennsylvania. Move in together and buy a Gingerbread House.
This all went down at one of our favorite New York City restaurants, Ivo & Lulu. One of those great New York City places. A tiny place in a nook across from a cranny. It's BYOB. So I went next door to pick up a great bottle of wine. I mean, it was no Manishevitz, but it was still good. All the food at this place is organic. I don't care if it's organic, only if it's orgasmic. Stooooooooopid.
We were feeling adventurous, so for an appetizer we order the Wild Boar Pate. Being HogWild, I felt this was almost cannibalistic but I still devoured the ground meat with the stringy brie cheese. I'm not really into brie because it smells like farts. I don't like when my food smells like my butt. I mean, it will smell that way EVENTUALLY, but not BEFORE I digest it.
Speaking of which, my meal, looked like doody.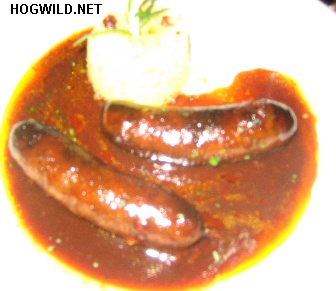 I think a lot of things look like doody. But c'mon. Look at that and tell me you aren't thinking, "Yup. Turds."
But actually this was an awesome dish! Venison (deer meat) in a sausage in cherry sauce. It was delicious and fresh from the small intestine... I mean kitchen.
My girl had this really good vegetable dish. Normally, I am anti-vegetables, but this was damn good.
It was a nice Valentine's Day in New York York City. I felt bad for her single female co-workers, though. Because when I gave my gift to her, I noticed all these delivery man bringing packages. For a single woman, this must be like being stabbed over and over... each rose that's not for you is another plunge into your lonely flesh.
I'm not trying to be mean. I really sympathize. It sucks. But for guys, we see this, I mean SINGLE guys see this (NOTE TO MY GIRL: I love you.) and their mouths water like a lion about to go in for the kill. They get ready to pounce on their defenseless weakened prey.
If they ever put human beings on the Nature Channel it would be like this:
NARRATOR: This male human has gone 4 months without mating. Though he has been practicing the mating ritual alone. It is Valentine's Day. Along with December 31st, this is high mating season.
He sees his prey. A woman with no ring, no rose, and no smile.
We can see the male taking the classic 3 step preparation.
1 - Puffing out his chest
2 - Standing tall
and most importantly,
3 - Inserting a breath mint.
He has established eye-contact. A crucial element of the approach. Without this 1st gesture, his approach would be thwarted by disdain and possibly pepper spray.
The female is alone, away from the protection of her pack. Or as the male calls them, "Fat chicks." Or sometimes "c0ck-blocking b!tches."
The male must lure the female away into another setting. One with alcohol. Preferably alcohol with sweet juicy flavorings. And music. And lower lights.
From there, he will attempt to put his paws on her. And then he will attempt to take her back to his habitat.
Hopefully his habitat has been cleared of all debris and scattered laundry. If it is, and she is sufficiently intoxicated by his charm (or as the State calls it, Strawberry Margaritas) she will allow the male to mate with her. The male, intoxicated by her beauty (or as the State calls it, shots of Jagermeister) will often have trouble with the mating process he has been so diligently practicing alone for the past 4 months.
Foreplay will include 10 - 15 minutes of him desperately trying to gain a full erection.
And sex will include 10 -15 seconds of pleasure for the female followed by 10 -15 seconds of incredible release for the male, immediately followed by loud nasal exhaling (or as the State calls it, snoring.)
The female will develop either:
1 - A deep bitterness
2 - Herpes
3 - All of the above
This will encourage future males to say things such as, "I'm not like all the other guys" and "Don't worry, I ALWAYS wear a condom" (or as the State calls it, lies.)
More Funny HogWild Rants and Jokes

Now go watch my Expert Dating Advice videos! Woo-hoo!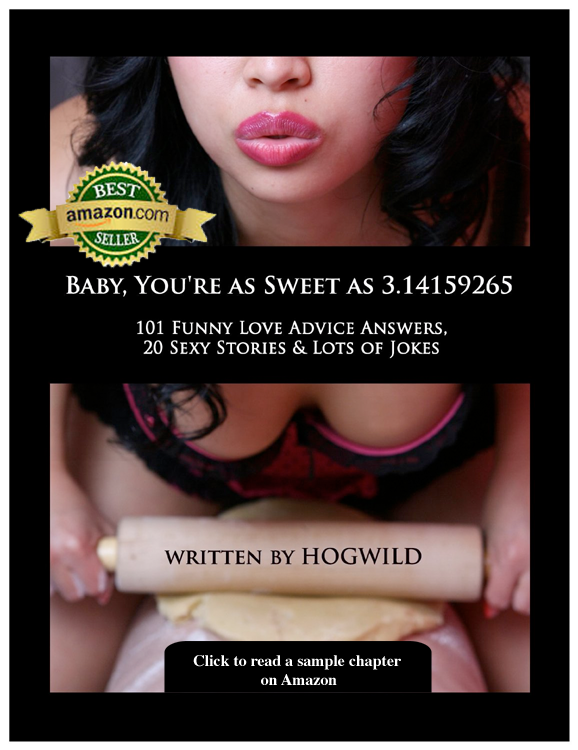 Watch my helpful and hilarious Expert Dating Advice videos!