New York International Auto Show: The New Lincoln Navigator, Rappers Edition +
The New Toyota Camry, Ultimate Chick Car.
Best / Worst Concept Cars.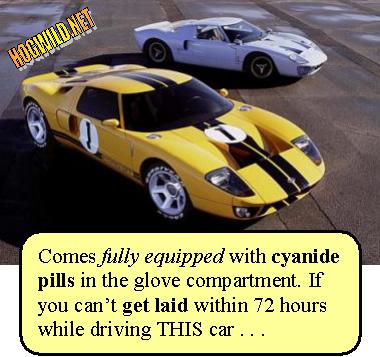 New York International Auto Show + Seriously Twisted Humor
Here in New York City, it's NEW YORK INTERNATIONAL AUTO SHOW time!
Check out some of these Concept Cars of the Fuuuuuuuuuture.

Lamborghini Miura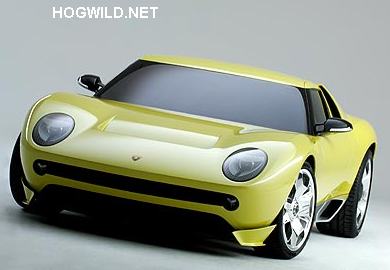 Looks generic, man. Look at the front of this yellow car. Looks like something you'd see at the end of a joking sentence in an email message.

Nissan Urge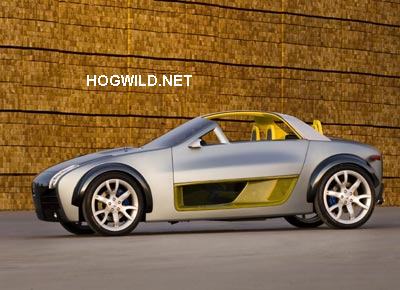 Cool! Now this is the car to drive to the beach in style. It's got the T-top. It's got the see-thru rims. And it's got some kind of opening on the bottom part of the door. Don't know why. But it's cool.

This is the kind of car you'd hope to see one of those obnoxious 21 year old Hollywood-types driving at 175 mph right before they wrap it around a telephone pole.
Because this car looks about as sturdy as Nicole Richie.
It does look really cool, though. It's as light as a tennis racket and I bet it can jump over ramps and stuff.
Subaru B5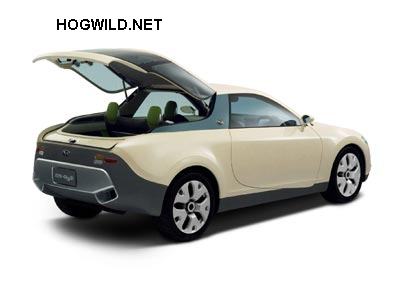 Check out this concept vehicle! Wow! Look at this innovation! I think they call it a "hatchback!" Whoa! Subaru is really on top of the 1985 engineering.

Toyota F3R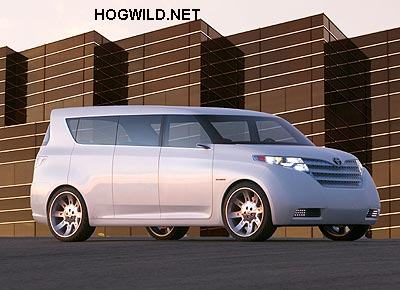 Now THIS is a new concept. Why should Hearses look so drab? This is how you transport a corpse in style. They should use this vehicle in the next Ghostbusters movie.

If you painted this thing yellow, you could use it to bring the "kids in helmets" to school.

Saab Aero X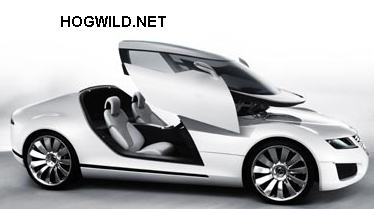 When you run out of ideas for concept cars... make the doors open UP instead of Out! Genius!

Look, we've seen doors that slide in, open out, open up, open the opposite way... Why not something REALLY different with the doors?

Like NO doors. The roof retracts and your seat raises up, up, up and you slide off the roof. You think that's stupid? The people who buy these cars want attention. That will get you attention! Especially because the
headlights will turn into spotlights that focus everyone on YOU.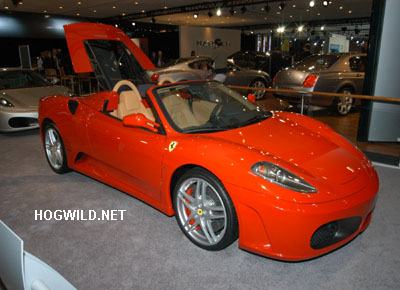 ABOVE: A Ferrari. What model? Red, stupid!
But where are the really crazy concept cars???

You know, the ones with no wheels? Where is my hover craft?!!
Science Fiction promised us all hover crafts! Where are they, damn it! Tires are so played out. With hover crafts you would no longer be upset when you run over pot-holes, road-kill, or people on bicycles.
Well, no one is really upset when they run over someone on a bicycle. (Unless he's carrying Chinese food. Because Won Ton soup should never go to waste!)

This is the New Lincoln Navigator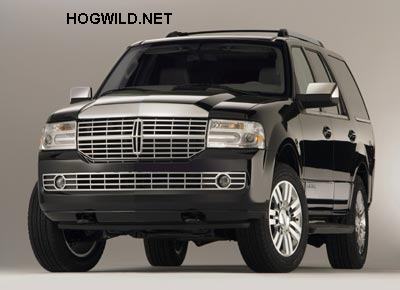 The biggest market for this vehicle are rappers. So they should make a special Lincoln Navigator just for rappers!
Imagine the TV Commercial!
TV Announcer: The grill of your new Lincoln Navigator is your choice of platinum or gold -- to match your own grill!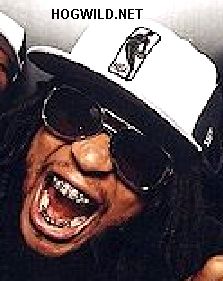 The Lincoln Navigator, Rappers Edition comes wearing a huge platinum chain with a Jesus piece.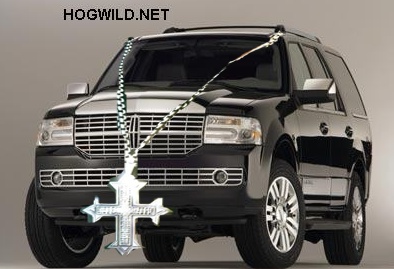 And check out these 72 inch rims. Of course, the rims are also satellite dishes for the TVs in the head rests.

Did I mention that this vehicle is hater-proof?

If a police officer pulls you over, there is a secret compartment under the floorboard where you can hide yourself! Meanwhile a white man in a bow-tie with good credit and no prior arrests -- replaces you in the driver's seat!

It's the ultimate Rapper Vehicle. The super bass sound system is capable of causing earthquakes and tsunamis when turned to level 3 out of 10.
At level 10, it can actually temporarily bounce the moon out of its orbit -- which is great for keeping your ho's menstrual cycles in check!

And as big bonus for today's busy hardcore rapper... the vehicle sells drugs.
***********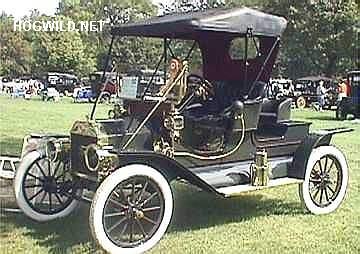 That would be awesome. Oh! And you see that uncovered back seat on the old Model T? That was called the
"mother-in-law seat." They should bring that idea back for the rappers, but call it the "Baby Mama Seat."
This is New Toyota Camry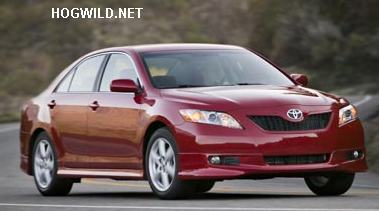 The Toyota Camry is the ultimate chick car because it's safe, comfortable and comes in the same colors as your lipstick!

What's new for the Ultimate Chick Car, The Toyota Camry?

* A dashboard compartment that neatly holds up to 12 tampons.

* Elbow pads on the steering wheel to accommodate how you drive while applying your make-up in the morning.

* The radio is pre-set to 106.7 Lite FM. As a bonus, all sports radio stations are permanently blocked just in case a boy should attempt to commandeer your radio controls.

* The air vents also allow you to control the scents released into your car. Your choices include Vanilla-Strawberry Bliss, Blueberry Wave, and Cinnamon Spice. Don't worry, when a boy enters your vehicle, there is a Max Power option.

* The trunk has been specially designed to store up to 70 pairs of shoes... so you'll be ready for ANYTHING! (Except a flat tire. Where is that stupid boy when you need him?)

* The driver's seat massages your back and neck while you drive. And the accelerator pedal gives great foot rubs while telling you how beautiful you are.

* The Toyota Camry's interior can be redecorated 24 different ways to match the hourly changes in your mood.
AND... MOST IMPORTANTLY...

* In every mirror, your hair looks great.

More Funny HogWild Rants and Jokes

Now go watch my Expert Dating Advice videos! Woo-hoo!


See my newest Dating Advice Video!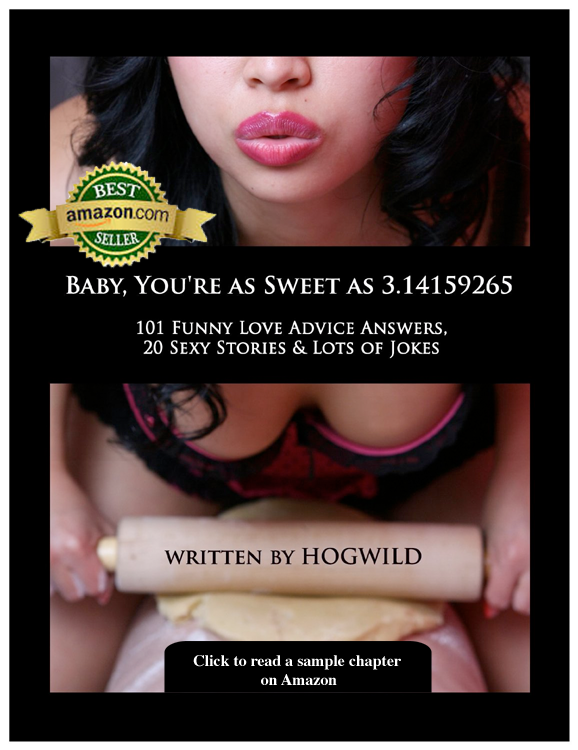 Watch my helpful and hilarious Expert Dating Advice videos!

Expert Dating Advice Videos by me!

My new Dating Advice Video! Watch it!