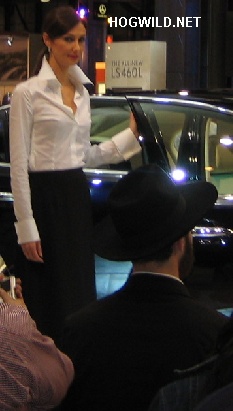 Every company employs Hot car bims for the New York International Auto Show.
The Lexus girls are the classiest. Because unlike the girls at Pontiac, they wear bras.
The Honda girls were down-to-earth, dependable women.
The GM girls wore acid washed jeans while chain-smoking. The GM girls looked like trash -- just like their cars!
And yes, the Hummer girls were dykes.
ABOVE: JEWISH GUY ASKS, Will you convert?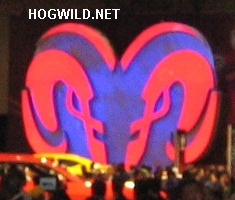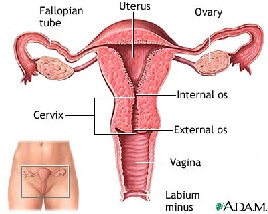 My buddy Russ pointed out that the Dodge symbol looks like a certain part of the female anatomy.
Introducing the new Dodge Uterus! It's Egg-citing to drive!
At the New York International Auto Show, a Dodge Uterus gave birth to a Mini-Cooper.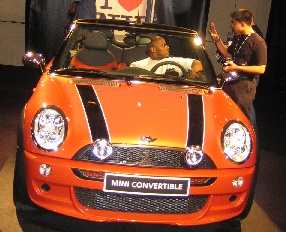 BLACK GUY: This is bull$hit!
UNDERCOVER COP: You have 4 seconds to get out of the vehicle before I start using excessive force.
BLACK GUY: Man, I'm not even driving! This is a car show!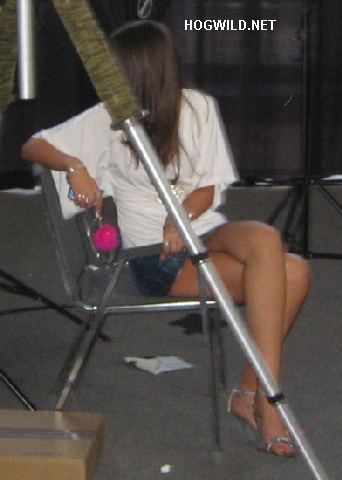 It was this girl's job to sit in the chair next to the Lamborghinis and look hot. She is very good at her job.
NOTE TO MY GIRLFRIEND: I love you. You look hot, too. Please don't hurt me.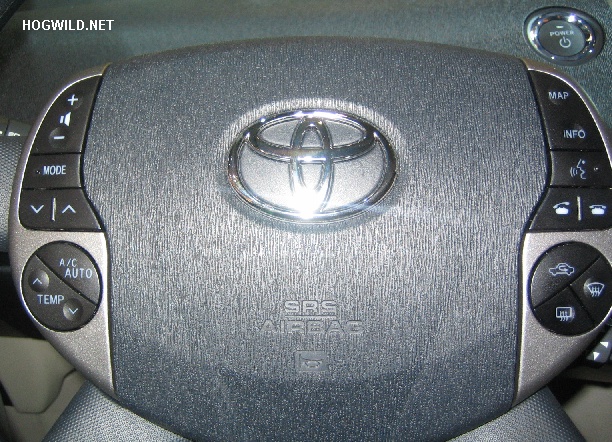 The new hybrid Toyota Prius. Look at the top-right of this photo. A power button! It would suck if you stalled out in the intersection. Gotta hit Control-Alt-Delete to reboot the car.
Look at all the cool stuff on the Toyota Prius! The right-hand panel has it all! Push the Map button for Maps, push the Info button for Info, and push the button with the guy with bad breath to spray Peppermint Binaca into your mouth!
Or maybe it's the DUI Tester. Cops pull you over and you press the button to give yourself a breathalyzer. Then the button below that is to make your one phone call before they bring you to jail.
This big, hairy guy named Bruno the Ravioli was considering a purchase of this fine vehicle for his work. He told the salesman he needed to test out the trunk. Since I was there, he threw me inside, and told me to scream after he slammed the trunk closed. Then he said he also needed to test out his new Louisville Slugger. That's when I began weeping.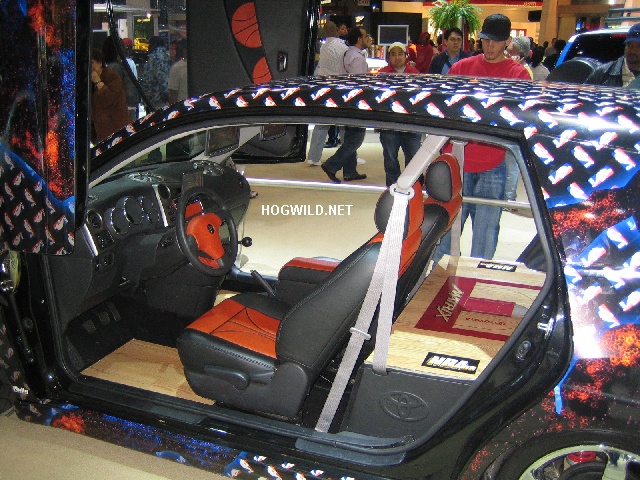 The Toyota NBA car. Isn't this car a little too small for NBA players? For Shaq to drive this vehicle, they'd have to cut a hole in the roof like in Fred Flintstone's car.
The Toyota NBA car is like Kobe Bryant. It hogs the road and never passes.
Weird that a Japanese company makes the official car of the NBA. Shouldn't it be an American company? Actually, America isn't the best at car manufacturing OR basketball anymore. The official NBA car should be made by Argentina.
Detroit is no longer the capital of auto manufacturing. Detroit Pistons isn't a realistic team name anymore. Outdated. Like the Philadelphia Shoe Cobblers. Or the San Francisco Typewriter Repairmen. Or the Anytown, USA Phone Tech Support Team. Sorry. They relocated to Bombay, India.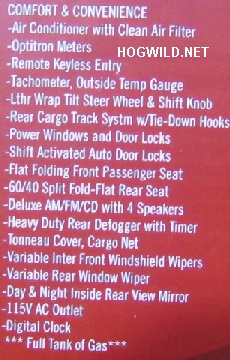 This is the list of features that COST EXTRA. Look at the 2nd-to-last item on the list. Yes, this is from TODAY and not 1972.
Digital clock??? That's the big feature?! Oooh, and does the radio come with a cassette deck with (are you sitting down?) auto-reverse?!
Remote keyless entry is a cool feature that's worth some extra cash. But a Tachometer is not. And what the hell is tachometer?! I looked it up. It's that thingee that tells you the RPM of your engine. Um, isn't it like a law or something that they HAVE to put that in? Is the speedometer also extra? I heard that this vehicle also comes with 1 seat standard. What?! You want more seats? You'll have to pay extra for that luxury!
And what is so "deluxe" about an AM/FM/CD with 4 speakers? Does it come with cheese, fries, coleslaw and a pickle? It would be deluxe if it was AM/FM/XM/IM/CD/DVD/MP3/PSP with a BLT @ IHOP.
And this vehicle comes with a ***FULL TANK OF GAS***!!! That's right, folks! When you purchase this $21,000 car we'll kick in an entire $45 worth of gasoline so you can drive it! That's right! We fill up the gas tank!
But to make up this huge loss in our profit, we're not filling the car with the other fluids, so you're on your own with the transmission fluid, power steering fluid, and brake fluid. But we won't worry you with those details in the dealership. You'll find out the 1st time you head down a steep hill.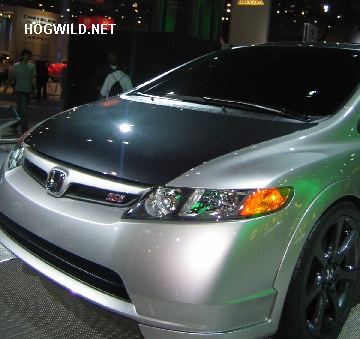 This vehicle at the New York International Auto Show looks as if it was already stolen and sloppily repaired with the wrong color hood.
The closest I've ever come to driving an expensive automobile came at FAO Schwarz. I was having a good time too, until this gang of hoodlums on Big Wheels carjacked me.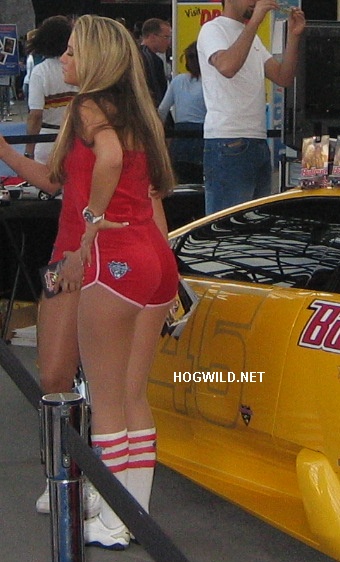 Hey baby, nice chassis!
ME: Can I take YOU for a Test Drive?
HOT CAR BIM: Charming.
ME: What? Like you haven't been around the block!
HOT CAR BIM snaps her fingers.
ME: Get your hands off me! You guys aren't even real cops!! OW! That's my ear!!