JUSTIN: The third largest Hurricane ever to hit the shores of Louisiana destroyed just about everything in its path except for the NFL's New Orleans Saints. In the aftermath, the people rebuilt the city of New Orleans and Tom Benson went to work on his woeful team.
HOG: Some people may not think rebuilding a sports team is important. But it's all about civic pride. It's gives people a sense of hope and connection to rally together for their hometown team. The resurgence of the Saints has given the people of New Orleans a reason to stand up and cheer. It's like the Saints are a huge breasted woman lifting her shirt on a balcony on Bourbon Street in exchange for plastic beads. It's a reason to celebrate!
Go Boobies! I mean, Saints!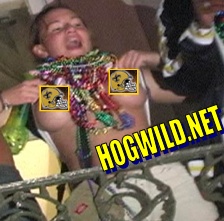 JUSTIN: The Saints went from 3-13 in 2005 to 10-6 in 2006 and are now sitting one game from the Super Bowl.
HOG: Yes, the New Orleans Saints are truly "America's Team."
HA HA HA!! Sorry Justin, I know your team is supposed to have that nickname!
JUSTIN: You can't be America's Team when you have America's @$$hole playing wide receiver for you!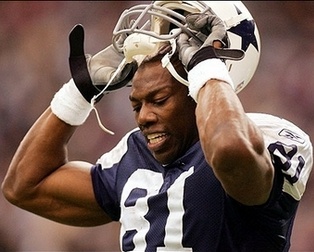 America's @$$hole.
So how did the Saints go from the sh!t house to the penthouse? They did it with 4 moves and a little bit of luck, but as someone once said, "I'd rather be lucky than good any day." Which is true but when you're both lucky AND good it doesn't hurt either!
HOG: Sometimes I get lucky and I'm not very good. Just ask that girl from last night.
Awwwwwwwwwwwwwww!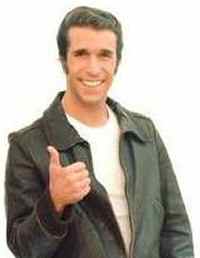 JUSTIN: The first move was Benson taking a young offensive coordinator from the Dallas Cowboys in Sean Payton and giving him the keys to the franchise. Yet another feather in the cap of Jerry Jones on HOW TO F*CK UP THE COWBOYS.
HOG: Hey there Cowboys fans. At least you guys still have the hottest cheerleaders in the NFL.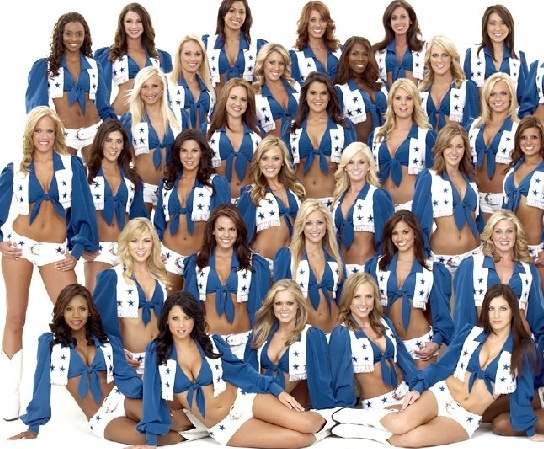 That's good for something, right? You need something to brag about. When the Mets sucked in the early 90's, I used to brag that we had the best DiamondVision in the National League East. Yeah, baby! What?!!!
JUSTIN: Payton began acquiring hard working defensive players from around the league and surrounding them with one of the deadliest offenses in the NFL. That accompanied with his new attitude, gave the Saints a reason to forget the past and start looking toward the future.
HOG: That's the same formula I used to get over my ex-girlfriend. Instead of moping around, thinking of the glory days, I went out and acquired hard working defensive players from around the league and surrounded them with one of the deadliest offenses in the NFL.
Sorry, I wanted to sound all sports-knowledgeable like you for a second.
JUSTIN: It's just too bad your offense doesn't get more opportunities to score.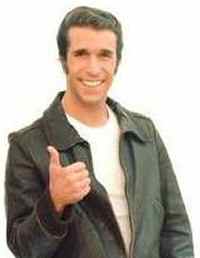 The second great move was New Orleans signing quarterback Drew Brees for 6 years and $60 million dollars or roughly 6 buffets for Oprah.
HOG: Hey! Oprah is thin this week!
And look, she's a Dallas fan, she's wearing a Cowboy hat!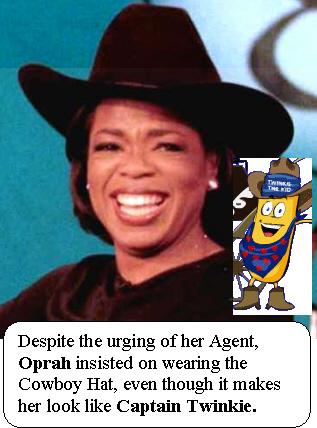 JUSTIN: Drew Brees, who was left for dead by San Diego after having reconstructive surgery on his shoulder, not only revived his career but was also the NFL MVP runner-up. If this sounds familiar, it's because almost the same thing happened in New Jersey to Chad Pennington. I'm sure after the season is over he and Brees will be sipping on some "Kiss my ass, my shoulder's fine Margaritas" while they chuck coconuts at the bus boys for fun... at least that's what I would do.
HOG: That IS what you would do, because you are a mean bastard. Besides, Chad Pennington doesn't have the arm strength to hurt anybody with a coconut! What's he gonna do, throw a coconut screen pass at the bus boy?
A 5 yard play action pass to the maitre de?
JUSTIN: Once the coach and the quarterback were in place, then it was time to go to work in the NFL draft where karma paid back the city of New Orleans by allowing the F*CKING HOUSTON TEXANS to pass up Heisman Trophy Winner Reggie Bush in order to draft a Defensive End from North Carolina State.
Sorry, maybe they saw something in Mario Williams that I didn't, but the last time I checked wasn't N.C. State a basketball school? Of course, what do you expect from a city that named their airport after George Bush?
HOG: Did you just suggest that Reggie Bush is Karma's payment to New Orleans for Hurricane Katrina? Wow. That's a rip-off!
Everyone in New Orleans should wear a t-shirt that says, "I Survived Deadly Natural Disaster Hurricane Katrina and all I got was a Football Player."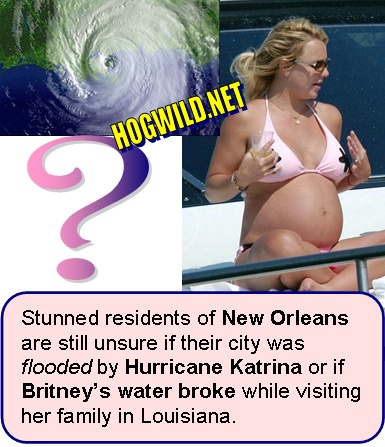 JUSTIN: The second move in the draft was taking Marques Colston, a little known wide receiver from Hofstra. The Colston pick was genius because he turned out to be one of the leading receivers in the NFL.
Not bad for a seventh round pick. In the real world, this would be like taking out that timid girl from church only to find out later that she is a stone cold fox when she let's her hair down, and that she's a monster in the sack.
HOG: It's always those quiet little girls that are crazy-amazing in bed! It's like they keep everything bottled up all the time, so they release it during sex. They're like a sexual volcano. Hot lava juices are flowing, there's smoke and ash spitting out… people are screaming. Aaaaah, it's great.
JUSTIN: Once the Saints had all of the pieces in place they went on a tear opening the season at 5-0 and eventually finishing up at 10-6. Two games highlighted the Saints' new crew and new attitude in the regular season. The first being a home thrashing of the Atlanta Falcons in the first game played in the newly refurbished Superdome. Fans poured out the love and the Saints handed out an ass whipping to the suddenly overmatched Atlanta Falcons.
The other game was the Kung Fu-esqe "NOW I"M THE MASTER, B!TCH" lesson that Sean Payton and his boys gave to his old mentor Bill Parcells and the Dallas Cowboys, IN F*CKING DALLAS no less.
HOG: Hey, at least you've got this: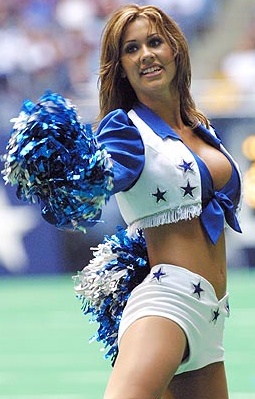 JUSTIN: But the Saints weren't done and still aren't. Last weekend, the Saints eked out a hard fought win at home with a 27-24 victory over Miss Jeff Garcia and the Philadelphia Eagles. It's a Cinderella story but will the fairytale end this weekend in Chicago when the Saints face the Monsters of the Midway at Soldier field in Chicago?

I say NO. Aints 35 Burrs 21.
HOG: I say, it's back to reality for the New Orleans/Oklahoma City/Atlantis Saints. The Bears will "claw" their way to victory. "Smother" the competition. "Insert Another Stupid Bear Pun" the Saints and win by the score of 35 - 3 ½.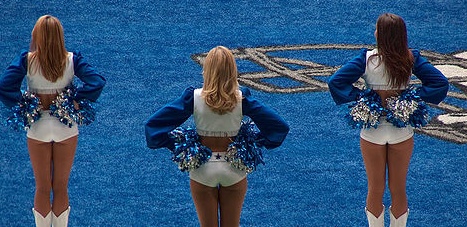 Now excuse me while I dream of giving these cheerleaders bear hugs from behind.