JUSTIN: It's NFL playoff time so that means it's time for NFL playoff predictions.
* New York Jets (10-6) at New England Patriots (12-4)

Everyone raves about the incredible job that Eric Mangini has done reviving the hopeless Jets this season but forgets to mention that a big reason that they're even in the playoffs is due to the resurgence of Jet quarterback Chad Pennington.
HOG: Comeback player of the year, baby!!! Plus Coach Mangenius = Upset!!!! Woo-hoo!!! J! E! T! S! JETS! JETS! JETS!
JUSTIN: Coming off two season ending shoulder injuries, the team and the rest of the nation were expecting Pennington to come back and throw like a sorority girl... but not only did he prove everyone wrong, heís actually managed to lead this group of underdogs to the playoffs.
HOG: Um, he DOES throw like a girl. He looks like heís tossing a wedding bouquet. But he makes smart decisions like passing the ball 3 yards then letting the receivers run 20 yards.
JUSTIN: Well then if he gets hurt they should just let one of the Jet cheerleaders come in to play. Hell, they can't do any worse than the bunch of stiffs the Jets have had in there the last couple of years!
Unfortunately for the J-E-T-S Jets they're facing the genius that is Bill Belichick in Foxboro.
The Patriots may not be as strong as they have been in recent years but under Belichickís guidance and behind Tom Bradyís arm theyíre still the cream of the crop.
So who will win in this match up of the Grasshopper versus the Master? Iím going with the Master instead of the masturbator's team, Patriots 27 Jets 10.
HOG: Dude, youíre so off here. BIG upset. Jets will win 1,000,000,000 to 3.
JUSTIN:
* New York Giants (8-8) at Philadelphia Eagles (10-6)

These teams have played each other twice with each team winning one game a piece at home but what this rubber match really comes down to is which weenie quarterback will step up to lead his team to the next round.
Now Iím sure that all the Philly fans are probably screaming and cursing my name, saying that Jeff Garcia is on fire and that he and the Eagles are the hottest team in the NFC. To them I say ďyouíre absolutely right.Ē But until the Eagles (or any Philly team for that matter) breaks the curse and wins a championship, Iím never going to pick them to go far in the playoffs.
HOG: Jeff Garcia may be g@y but thatís why he always hits the Tight End in the End Zone.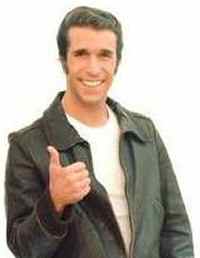 NOTE TO JEFF GARCIAíS LAWYERS: This is a satire web site, so I have no idea if Jeff Garcia is actually a good quarterback.
JUSTIN: On the other hand, itís hard to pick the Giants, who with Eli Manning leading the way, have lost 6 of their last 8 games.
The Giants do however have a solid defense and will lean heavily on (the soon to be Fox Broadcaster) Tiki Barber to keep the chains moving and the blitz-happy Eagles honest. All in all, it will be a close match-up but in the end I have to go with the team that has proven the most and thatís the Eagles 23 Giants 3.
HOG: My prediction: Tiki Barber will rush for 190 yards... in the 1st quarter. The Giants pull it out in an over-time squeaker 87-86.
JUSTIN:
* Kansas City Chiefs (9-7) at Indianapolis Colts (12-4)

This game features one of the best running backs in the league not named LaDanian Tomlinson. Larry Johnson will be running against a team that couldnít stop the run if it dug trenches and put up barb wire fences.
HOG: That analogy was very World War 1.
JUSTIN: The problem for the Chiefs is that their quarterback Trent Green is as brittle as a sun dried twig in late February.
HOG: That analogy was very pretty.
JUSTIN: Seriously, one good crack on Green and he could shatter like the Cyborg in Terminator II.
HOG: That analogy was very 1991.
JUSTIN: The Colts on the other hand will offset their horrible defense by relying on the leagueís most dangerous offense led by Peyton Manning. The Colts may have choked like a two year old eating Doritos in past years when it came to the playoffs, but those melt downs usually didn't happen until the AFC championship game.
HOG: That analogy was very bizarre.
JUSTIN: So in a game that comes down to which offense dominates the other team's crappy defense I'm picking the Colts 34 Chiefs 24.
HOG: My prediction: Colts 47.5 Chiefs 2

JUSTIN:
* Dallas Cowboys (9-7) at Seattle Seahawks (9-7)

As a life long Cowboys fan, this season has been about as much fun as having a catheter inserted into your penis by Michael J. Fox.
HOG: That analogy was very disturbing.
JUSTIN: From their up and down play to having to watch T.O. drop passes like the football was on fire, the only thing thatís kept me going has been a steady diet of Lone Stars and Alka Seltzers. Is it me or are you just waiting for the local news to cut into The Office to report that T.O. has taken a bus load of school children hostage and wonít let them go until the Cowboys re-negotiate his contract?
HOG: I think the Cowboys SHOULD re-negotiate T.O.ís contract. $100 million for 1 year. But every time he says or does something embarrassing, he gets fined $1.25. Itíll be a great deal for Dallas! Because by the end of the year, the T.O. will owe the Cowboys money!
JUSTIN: The Seahawks on the other hand aren't coming into this game looking much better. Theyíve lost their three top players in the secondary and the offense is still trying to find its rhythm with the return of Matt Hasselbeck and Shaun Alexander from injuries.
Still though, the Seahawks are playing at home in one of the loudest stadiums in the NFL, so despite all of the experts picking Dallas, I think Seattle has the edge.
However, god damn it Iím from Texas and Iíll be damned if weíre going to go up to Hippyland and getting our asses kicked. SO, Cowboys 28 Seahawks 16.
HOG: I say the Cowboys will beat the Seahawks 1-0.