JUSTIN: In case you didn't know, we're one game away from the Stanley Cup Finals!
HOG: Why would anyone want Stanley's cup? That's gross, dude.

ABOVE: Stanley's Cup
JUSTIN: But if you're like me you could probably care less. I'm not saying that no one cares about hockey but here are three things that ESPN the self proclaimed worldwide leader in sports news decided were more important than game 7 of the NHL Eastern Conference finals: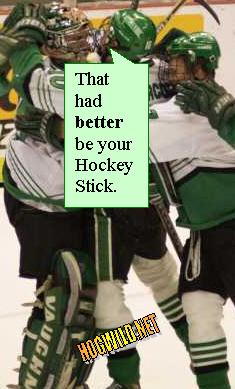 JUSTIN: 1. The Houston Astros have signed 43 year old pitcher Roger Clemens to a $12,000,000 contract so that he can pitch for them for three months. It might be four months but the Astros, even with Clemens, have about as much chance getting into the playoffs as the Mets have of winning another championship. (Hockey Fans at this point are probably just shaking their heads in disgust.)
HOG: HEY HEY HEY!!!!! Like me with your mom, the Mets are going all the way!
JUSTIN: 2. Washington Redskins safety Sean Taylor reached a plea bargain with prosecutors for a felony offense avoiding jail time and most importantly missing any games. (Hockey fans are now drinking heavily and re-watching the Canadian cult classic Strange Brew.)
HOG: They put THIS ahead of the NHL playoffs? NFL players are in and out of jail all the time! This is hardly news to begin with.
Reporting: "NFL Player Could Face Prison" is like reporting "Homeless Man Asks for Change."
JUSTIN: 3. Defending Women's French Open Champion Justine Henin-Hardenne celebrated her 24th birthday and advanced to the third round by beating Anastasiya Yakimova 6-2, 7-5. (Hockey fans are now drinking heavily and trying to slice their wrists open with the skates.)
HOG: This one I agree with… hockey is NOT more important than young women grunting and sweating and smacking balls. In fact, they should interrupt the President's State of the Union whenever Maria Sharapova bends over to tie her shoe.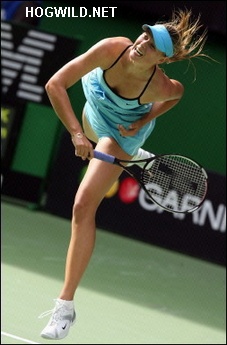 JUSTIN: The sad part about all of this is that there are about five other headlines before you get to game seven between the Buffalo Sabres and the Carolina Hurricanes.
HOG: I'm actually a really hard-core hockey fan. I'm one of few people who studies the line strategies and defensive alignments. And my expert opinion is that Carolina will crush Buffalo. Because a little Sabre is no match for a Hurricane! It's like if one team was named Paper and the other was named Scissors… Duh!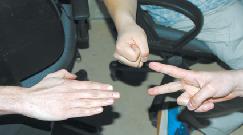 JUSTIN: On the other side of the border, waiting for the winner of this series, are the mighty Edmonton Oilers. They were the eighth seed this year and have upset three teams to get back to the Stanley Cup Finals for the first time since 1990.
Who will win this series?
I'm going to go out on a limb and say the Edmonton Oilers win it all in 6 games.
HOG: You've accurately predicted the last 3 outcomes of major sporting events. Lots of people have big money riding on your predictions.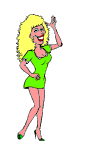 And one time you also accurately predicted that when I approached a hot blonde in the bar that she would reject me. That was obvious.
But then you predicted that the fat chick, the ugly chick, and the old lady would also reject me. Were those predictions -- or a jinx? You voodoo bastard!!! You jinxed my chance to have my first fat-ugly-ancient threesome!!!!!
Thank you.
JUSTIN: Why do I think the Oilers are going to win it all? Because their coach Craig MacTavish, a former player, was one of the last hockey players to play without wearing a helmet. He played so long without a helmet that his name is now code for not wearing a condom. As in...
"I hooked up with this chick last night and pulled a Craig MacTavish. I hope I don't get an STD, eh."
HOG: Now I think the Oilers are NOT going to win. Because their coach can't be too bright after 15 years of having a puck slammed into his forehead.
JUSTIN: In the NBA that's called a Shawn Kemp, named after the former NBA player who had seven kids with six different mothers.
HOG: I heard that for his baby mamas on Mother's Day, Shawn Kemp sends out a newsletter over mass email.
JUSTIN: See everyone, Hockey is fun! Perhaps we should all watch and see what happens in game seven. Of course the game itself is up against heavy competition due to the fact that it's on at the same time as the 2006 National Spelling Bee Final.
HOG: Oh that's right!! I can't miss spelling! Get it, misspelling? Tori Spelling is Miss Spelling… okay okay! Put down the gun. I'll stop now.
JUSTIN: Oh and there's that basketball game between the Dallas Mavericks and the Phoenix Suns but HEY we're focusing on Hockey today...right?
HOG: You know hockey is in the crapper when it's not even big enough to be shown on ESPN2. I mean, that's pathetic. That means the following sports are now more important than hockey:
* Toughest Man Competition
* Inline Skating
* Hopscotch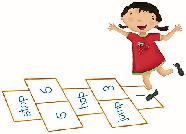 ABOVE: Hopscotch gets better ratings than NHL Hockey.
HOG: NHL Hockey is now on the Outdoor Life Network! This the same cable channel that dedicates 15 primetime hours per week to Competitive Bass Fishing.
And I thought NHL hockey was played indoors. But at this rate, they will be thrown out of their stadiums and forced to play on an icy parking lot in back of a Big Boy restaurant.
JUSTIN: It should be known that chicks dig hockey, too! Did you know that Alyssa Milano dated former NHL player Wayne Bean for two years? Tara Reid dated Sergei Fedorov of the Columbus Blue Jackets in 2004 and last but definitely not least, Tyra Banks (in the HOLY SH!T MOMENT of the week) was rumored to have dated former Rangers player Mark Messier.
Nice pucks.
HOG: Wow! Dude you forgot the hottest of all! Not only did Sergie Federov get whistled for high sticking Tara Reid, but he also spent a long time in the penalty box of Anna Kournikova!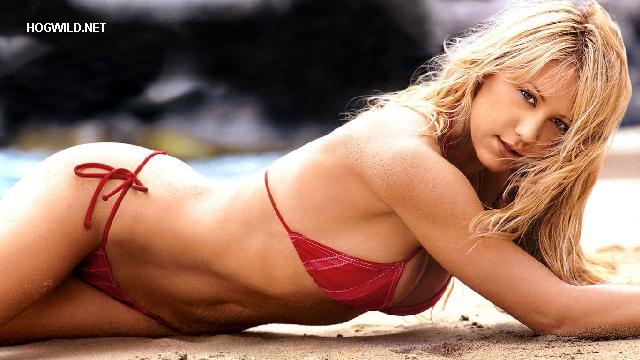 JUSTIN: If only these players could have talked their girlfriends into coming to their games perhaps we'd be talking about Hockey like we talk about Basketball! I know I'd watch more Hockey if there were a chance to see Tara Reid jumping up and down cheering. What about you?
HOG: Tara Reid jumping up and down is not that exciting because her Foobies (Fake Boobies) don't jump up and down with her. But I wouldn't mind seeing Tyra, Alyssa, and Anna… PLAYING! They should have hot bims skating around as a distraction to the players.
Less checking into the glass and more dry-humping on the glass!
Then they should install a huge golden stripper pole in the middle of the rink. Not only will this lead to exciting concussions, but players can grab it and whip around to quickly change direction.
And at all times there are hot bims dancing around. She strips… the girl is now without her shirt. Then without her skirt. Then the puck slams her in the grill and she's without her front teeth.
After the NHL strike/lock-out, they lost a lot of their core fans: guys in wife-beaters who live in a trailer. This is how the NHL can win them back… by showcasing strippers with missing teeth.