The North American International Auto Show in Detroit is a time to celebrate innovation, imagination, and the Japanese kicking our ass. Damn it! Can't we come up with a cool looking car that runs on solar power, goes 200 MPH, and has vibrating passenger seats! You know, for the laaaaaaaaaaay-deez.
I present to you, the coolest and dorkiest vehicles at the North American International Auto Show in Detroit, USA, North America, International, Earth, Milky Way Galaxy.
Let's start with this bad boy: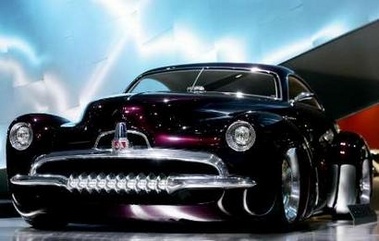 That's the Holden EFIJY. The EFIJY stands for Evil Freaking Incredible Jelly Yeller.
NOTE: I actually have NFI what it stands for.
NOTE: NFI = No f*cking idea.
But the thing looks cool!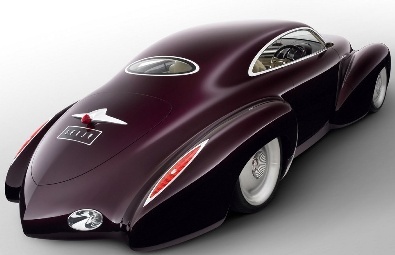 Hell yeah! But it's only a concept car. To purchase it, you must be a villain in a Batman movie. Or Dick Tracey.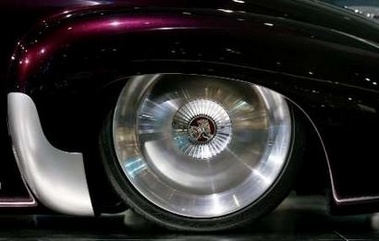 Those rims are pretty sweet. You can slice an onion in there. I don't know why you would, but you could!
And check out the Holden EFIJY's interior: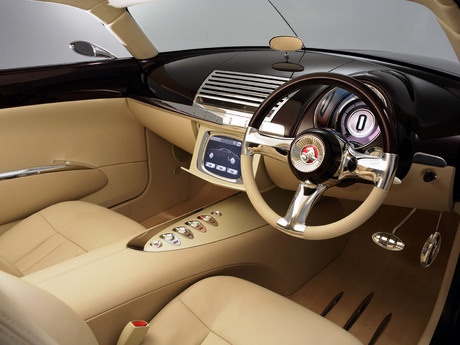 Classy. You know it's classy because the steering wheel is all British and stuff. And it's also classy because there are no cup-holders. Super-sized soda-holders are NOT classy. They're gassy. Stooooooooooooopid.
The Holden EFIJY is all class. In fact, the trunk is also a wine cellar.
And it's also where the butler sleeps.
The floor mats double as foot massagers and the safety belts are made of Cashmere.
NOTE: Cashmere will not save your life, but you've never experienced such luxurious whiplash.
This is the new Dodge Magnum: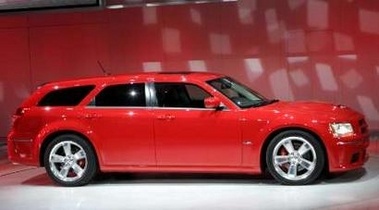 As you can see, this is one cool looking hearse!
Everyone loves Jeep. This is the new Jeep Rubicon: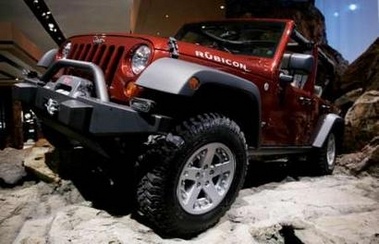 And just as you would expect, the Jeep Rubicon can scale mountains at 90 degree angles.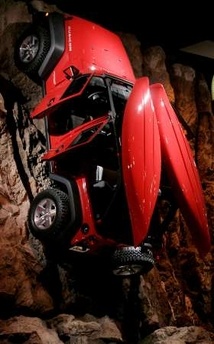 The Jeep Rubicon is actually a superhero. It scales tall buildings in a single bound!
This is Carmen Electra: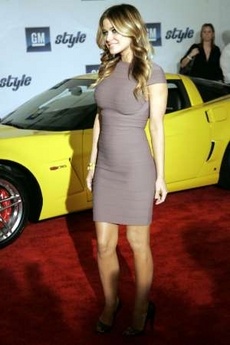 Carmen is available for test drives with qualified enthusiasts. Her sticker price is $3,000,000 per year from your NBA or Hollywood salary.
She handles extraordinarily well, though she's been around the block. Her engine purrs softly, never rattles. She's got just the right amount of trunk space and you'll be happy at what you find under the hood.
She shaves her muffler.
HA HA HA!
Wow. I am an idiot.
Chevrolet is America's savior when it comes to cool cars. Here is the new Chevrolet Camaro: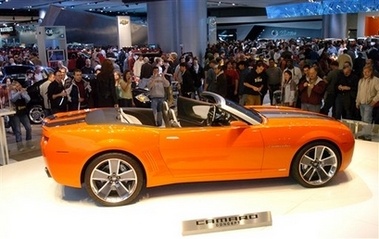 Kinda looks like something from The Dukes of Hazzard. Yeeee-ha!
This is the Saab Aero X: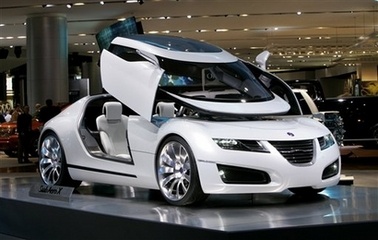 Clearly, the engineers of the Aero X were inspired by the technology of The Transformers.
Here's a bee-yoot! The Lexus LF-A. The LF-A stands for Lightning Fast @ssholes. Because that's who will be driving this car.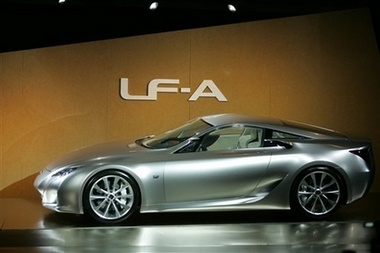 If you could marry a car, this would be it. Flawless, curvy body. Sleek. Proud to show her off. She's also reliable and comes from a good family. And she doesn't mind if you shoot your man-goop on her windshield.
Whoa. That was over the line. Bad, Hoggy! Bad!
And here is the complete opposite car: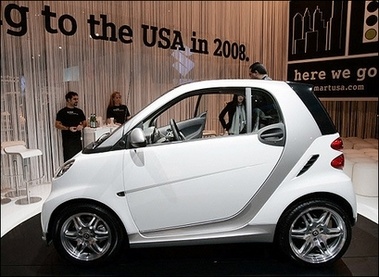 That's the Smart ForTwo. Get it? For two people! Man, I wouldn't be caught delivering pizzas in that car.
Holy crap, that's embarrassing.
I'm all about efficient gas mileage, but if you're concerned with not using a lot of gasoline and you want to look like a dork at the same time, you may as well ride your bicycle with the white basket in the front.
That thing does NOT look safe. Did you know that if you fart in it, the entire car explodes.
Back to real vehicles... This is the Mazda Ryuga: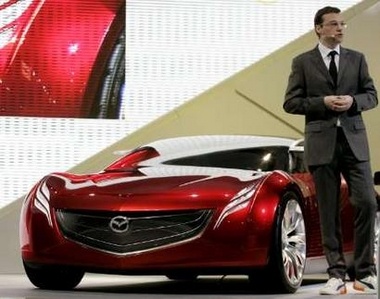 As you can see, this is the car to drive if you are a dork with a headset who wears Puma sneakers with a suit.
And here comes America's Greatest Disappointment. I mean, Ford: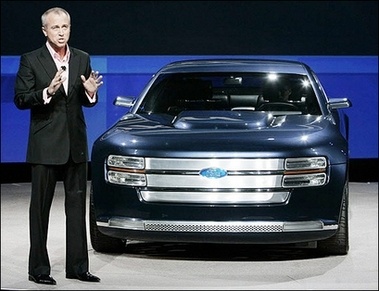 That's the President of Ford explaining that it's Ford's mission to produce the ugliest, crappiest cars on the Planet.
Congratulations, you've succeeded: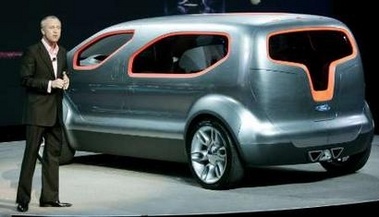 That the Ford Airstream. It's like a van, only disfigured.
I feel bad for it. I have to remind myself not to stare at it. It's not its fault that it's so hideous. Its mother drank while pregnant. Poor little guy.
And look, the inside is even worse!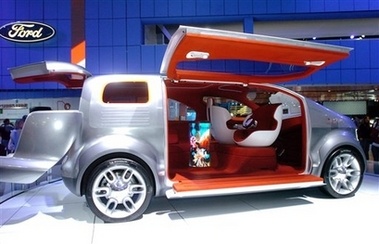 Now we have the new Cadillac CTS.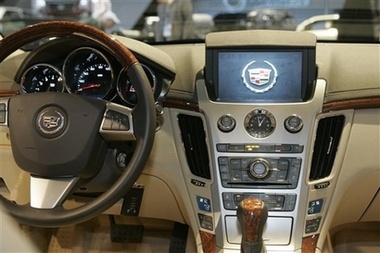 Looks cool. But there's a lot going on in there. It's like the Space Shuttle or something. This is the first car that comes fully-equipped with landing gear.
They do that because guys like dials and levers and buttons. The longer it takes to learn all the stuff, the better.
Because once we figure out what all the little buttons do, we get bored. This is why we love women. Because we NEVER figure out all her little dials and levers and buttons.
This is Rosie Perez: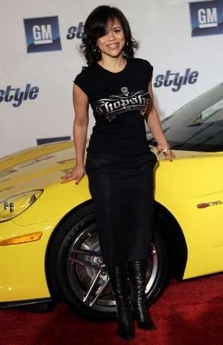 I know! I thought she was dead, too! But thankfully Rosie got this gig. And she looks PDG! (Pretty Damn Good.)
She might have some little dents, dings, and dimples but I'd be happy to bang those out for her.
Awwwwwwww! Stooooooooopid.
Ah, Rosie Perez from Brooklyn, you still look good. Look at that rack... and pinion steering! Nice hooters. As the prophet Al Bundy once said, "Let's see the Japanese build a better one of those!"