JUSTIN: It's been 12 years since Tonya Harding's ex-husband hired Shane Stant to club Nancy Kerrigan but the incident was brought back into the spotlight after a "punters feud" at Northern Colorado got out of hand. Finally a real ass kicking contest…
HOG: Man, tell me some dude got kicked between the uprights!
Thanks for bringing up Tanya Harding and ice skating. It's my favorite sport because of moves like this: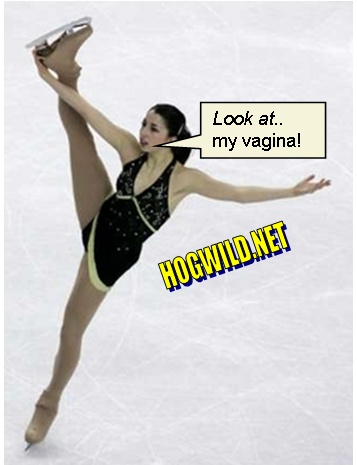 JUSTIN: It seems last week in Greeley, Colorado the back up punter for the Northern Colorado Bears, Mitch Cozad, stabbed first team punter, Rafael Mendoza in his kicking leg in a jealous rage.
HOG: Wait, it wasn't the Spanish guy that did the stabbing? What is this world coming to?!
JUSTIN: Evidently Cozad's first attempt to "scratch Rafael's eyes out" didn't work, so he had to resort to his cuchillo.
HOG: I don't know what a cuchillo is, but it's making me hungry.
JUSTIN: Cuchillo is Spanish for knife, Gringo...at least that's what my Spanish to English dictionary says.
HOG: I don't have a Spanish to English dictionary, but I think this next image translates to Ay ay ay!!!! Muy caliente!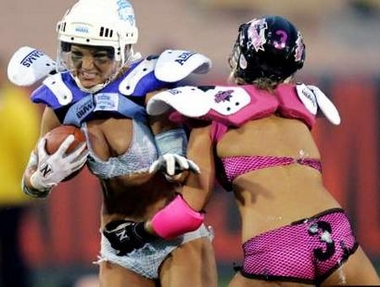 JUSTIN: Cozad was arrested on the charge of being a jealous b!tch and second-degree assault.
HOG: Being arrested on the charge of "jealous b!tch" will make him extraordinarily popular in prison.
JUSTIN: He was freed on $30,000 bond or roughly two years of college tuition or what his average two year salary will be now that he has a felony on his record.
HOG: Whoa! What are you talking about?! Now that Cozad has a felony, he is qualified to play in the NFL, baby!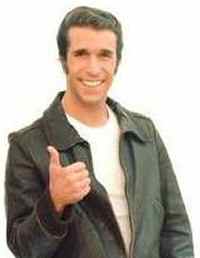 JUSTIN: Mendoza, a Junior at NCU, will miss this weekend's game as he recovers and wished his team luck by saying "I'm looking forward to getting back to playing with my team. I'm upset this happened but at the same time there's nothing I can do and just move on."
He also said, "And if I ever see that b!tch Cozad, tell him that I'm going to kick his ass all the way back to the suburbs, holmes."
Okay I made the second quote up, but you know he's pissed.
HOG: This reminds me of the time in my high school when John Mason went into a jealous rage and stabbed Gary Gittleman in the arm with a #2 pencil. He did it because he was jealous that he was skipped over in favor of Gary to be the Captain of the Math Team.
JUSTIN: It still amazes me that you're not a virgin.
HOG: It amazes me, too! It really does!
JUSTIN: Police Lt. Gary Kessler said, "I guess the only identified motive at this point in time is the competition for that position." This doesn't really make sense to me. Who needs a back up punter anyway?
Having a back up punter like having an ugly girlfriend that won't put out. They're practically useless!
HOG: No way, man. You should follow my philosophy: I don't care how she looks, as long as she can cook! Looks fade, my man. But meatloaf… that's forever!
JUSTIN: Head coach Scott Downing was unsure if it was about jealousy, "I have no idea. That would all be conjecture." Downing then admitted that he didn't even know what the word conjecture meant.
HOG: I'd conjecture to conjecture that invectives were invected when Mendoza's epidermis was ruptured by the nefarious Cozad's dagger.
Did I get a triple-word-score on that?
JUSTIN: Wow. It still amazes me that you're not a virgin.
So Cozad was suspended from the University, the football team and was evicted from his dorm room. Boy, don't you know he's going to be fun in prison.
Burly Convict: What are you in for?
Cozad: I stabbed a punter.
Burly Convict falls down on the floor laughing. Ten Minutes later after wiping the laughter tears away...
Burly Convict: That's hilarious, man! It's so funny that I'm not even going to r@pe you… until tomorrow.
HOG: Prison r@pe. Ouch! Talk about getting sacked in the End Zone!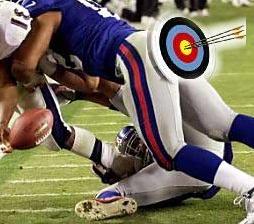 JUSTIN: The best part is that Mendoza averaged 37.6 yards per punt. This means Cozad is going to jail for stabbing a crappy kicker! That's pathetic!
HOG: Yeah! What a loser!
This whole story would've been cooler if Cozad had gone totally insane and broken into Mendoza's dorm wearing a ski mask and revving up a chainsaw.
Mendoza would wake up from his drowsy sleep. But last night he was drugged by Tonya Harding who seduced him at the Regal Beagle.

Now Mendoza is tied to the bed. He wakes up just in time to see Cozad sawing off his kicking leg.
Mendoza's roommate screams in horror, then immediately calls the Dean to ask if this is like one of those suicide situations where he will get automatic A's in all his classes.
Then Tonya Harding runs out with Mendoza's leg, finds Nancy Kerrigan, and swings the leg at Nancy's knee.
Then Mendoza hops along on his bloody stump to catch Cozad. Then while hopping across the street, a bus plows into him. One of his eyes pops out of his skull, but he gets back up!
Now it becomes a Mummy vs. Jason, Friday the 13th movie and I wish football was always this cool.
JUSTIN: Wow. It still amazes me that you're not a virgin.