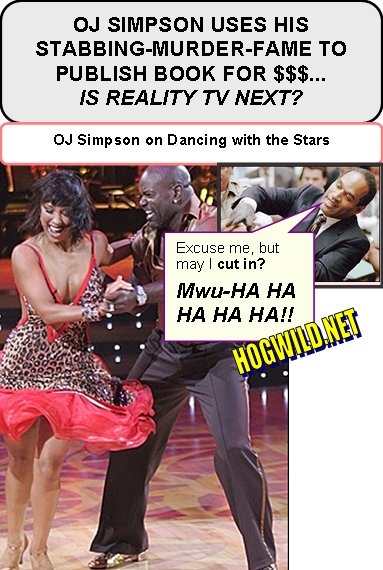 O.J. Simpson has the balls to profit off the murders he ALLEGEDLY committed by writing a book about the homicides. Clearly, O.J. doesn't give a what-what about anything society thinks about him. So I think soon we will see the new VH-1 Reality Show... The Flavor of O.J.!

On the Flavor of O.J., O.J. Simpson will pick a new bride to murder from a group of beautiful and pathetic women who are all dying to be famous. Literally.
When a contestant survives elimination she gets to survive.
But not for long! Because hopefully she will advance to the final round where O.J. will choose her to marry and murder.
Every girl that makes it to the next round gets a gold butcher knife to wear around her neck.
And in the spirit of Flavor Flav's show, O.J. will give each of the contestants a cute nicknames like:
* Slashey
* Slicey
* Stabby and
* Dead Meat
*** HOT TUB ROUND ***
Each girl gets 10 minutes in a private hot tub with O.J. By the end, the hot tub looks like a pot of tomato soup. With chunks of brain.
*** RRRRRRAAAAAAAR! ***
The girls on the Flavor of Love always get into cat fights. But not on the Flavor of O.J.! Here they get into knife fights!
The highlight of the Flavor of O.J. series comes when Stabby spits blood in the Slicey's face.
The show concludes with a big romantic wedding with O.J. Simpson and his beautiful new bride wearing the flowing black gown that she will buried in.