JUSTIN: Nothing's better than watching two guys who don't like each other duke it out in the middle of ring except for maybe watching two chicks who really like each other rub oil all over each other in the middle of the ring.

HOG: I've been watching Elimidate. They have this new thing where every date the 4 girls wrestle in creamed corn. I thought it would be hot, but it's really gross. It looks like the girls are slopping around in their own diarrhea.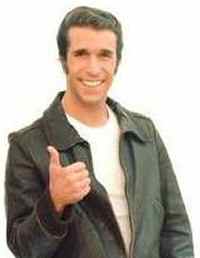 JUSTIN: See this is what happens when you take a good thing too far! It'd be like if in Swordfish when Halle Berry strips down to her undies and if someone came and threw chocolate sauce all over her. It's too much and it's also this week's ploy for a hot chicks pic!
HOG: Dude, just because you mention the name of a hot chick doesn't mean I'm going to put up her pictu-- who am I kidding? Here ya go!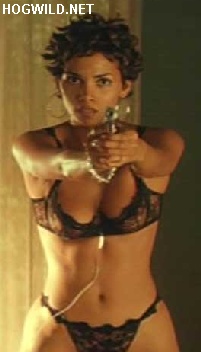 JUSTIN: This weekend I'm actually going to throw down the money and pay to see Oscar "Golden Boy" De La Hoya fight the trash talking Ricardo "El Matador" Mayorga.
HOG: My prediction of the fight: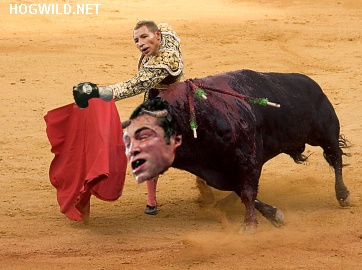 HOG: So dude, YOU are the person who watches boxing! Dude, I haven't seen a boxing match since that crazy guy with the face tattoo ate his opponent in the ring.

JUSTIN: Yeah I know it's been a while since there's been an exciting heavyweight (Mike Tyson) in Boxing but let me tell you why this going to be a good fight to watch.
First of all both fighters stellar records, Mayorga is the 147 pound Champion at 28-5-1 and De La Hoya is a former 5 time Champion at 37-4. Or you could just look at the press conferences leading up to the fight. Right off the bat Mayorga told Oscar to "Make sure that his wife f*cks him on the morning of the fight so that he won't have to lie down like a f@ggot like when (Bernard) Hopkins knocked him out."

(Hopkins knocked out De La Hoya with a punch to his liver and the word going around was that Oscar could've gotten up and continued but he was scared.)

HOG: I think both boxers should start each fight with Yo Mama jokes. Then there would be a natural escalation to violence.

JUSTIN: As they say on the street that's when I knew that it was ON!
But Mayorga wasn't done there as he went on to say that the Oscar "can't even represent his own people."
Now if that was me, I would've whipped his ass right there (assuming that I was a world class boxer and not the muscular but uncoordinated mini-pimp that I am) but Oscar kept his cool and simply glared at Mayorga like Clint Eastwood in a Spaghetti Western before saying in Spanish: "You have disrespected me, my wife and my people. I'm going to knock you out." Needless to say I can't wait!

HOG: To get me interested in boxing… one word… wedgies.

JUSTIN: Mayorga has always been a nut though since bursting onto the national radar with a five-round TKO of Andrew "Six Heads" Lewis for the WBA Welterweight Title in 2002, followed by his pair of upset victories over
WBC kingpin Vernon Forrest in 2003.

HOG: Why was he called Six Heads? Did he have head replacement surgery 6 times after being knocked out?

JUSTIN: Not sure. I think it was because after Mayorga whipped his ass that's how many heads he was seeing.

During that time his unorthodox style was as infamous as his trash talking. He once promised not only to beat Forrest but also to take the (nonexistent) Mrs. Forrest back to Managua to clean his yard.
HOG: What? I thought it was gonna get nasty! That's weak. "Yeah, I'm gonna make your girlfriend iron my shirt... punk!"
JUSTIN: And he arguably crossed whatever line of taste still remains in boxing when he told Cory Spinks he would send him to meet his recently deceased mother. What a D!CK!

HOG: That's what I'm talking about! Hey, you're supposed to try to kill the other guy. That's the fun of boxing. Boxing is too tame these days. Where is the gore? I want to see a guy with his eyeball swinging out the socket by its twisted up capillaries.
JUSTIN: Still though, would you rather watch boxers talk sh!t or watch two boxers thank God for having the opportunity to fight such a great champion? But as much as Mayorga clowns, showing up for the post-fight press conferences smoking cigarettes with a beer in hand, he still lets his fists do the talking once he gets in the ring as his 23 knock outs in 28 fights proves.

HOG: Hey, most fights involve cigarettes and beer! Well, the domestic fights I see on COPS anyway.

JUSTIN: It makes sense though given his rough childhood growing up on the streets of Nicaragua. As a child he ran with gangs, got in fights and nearly went to jail before finally finding his salvation in the boxing ring. Now at the age of 33 he is faced with the biggest fight of his career.

HOG: Yeah, how to hook up with 20 year old girls! That's every 30 year old man's biggest fight.

JUSTIN: It's true. When my wife and I role play and she's the naughty sorority girl she turns me down at least three times before we...never mind I've said too much.

Oscar De La Hoya (or De La Joto* as I like to call him because my wife has a crush on him) ...

*Joto means gay in Spanish. One of the few words I learned in high school Spanish.

... won a gold medal in the 1992 Barcelona Olympics and went on to be the biggest non-heavyweight attraction in the sport. Oscar has defeated 17 current or former world champions and is considered one of the greatest fighters of his generation.

HOG: 1992 Olympics? Man he's old to be a boxer! The greatest fighter of his generation is David. Because he knocked out Goliath.

JUSTIN: Dude he was 17 when he fought in the Olympics. He was a year younger than me and I am going to kick your ass!
HOG: You instill as much fear in ME, as Nicole Richie instills in an All-you-can-eat buffet.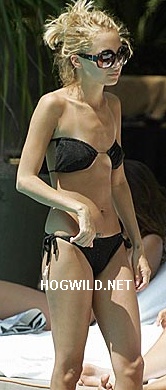 After being beaten by Bernard Hopkins and suffering the only knock out loss of his career Oscar has waited 19 months to finally get back in the ring.
Judging by his interviews though Oscar seems ready to come back saying that "I will continue on in the sport, the sport that made me who I am today. Boxing is in my blood. This is the sport I love and will continue being in as long as my body and mind allow me to."

HOG: Aaaaaaw. He's getting so sentimental. He loves boxing! Guess he's not ready to sell me kitchen appliances on my TV at 2 o'clock in the morning.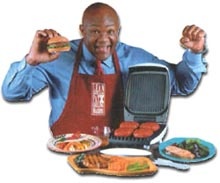 JUSTIN: So who will win? De La Hoya has the speed and mobility, combined with a devastating left hand and is clearly motivated by all the sh!t talking Mayorga has been spouting.
However he hasn't fought in 19 months and a rusty start could play right into the hands of the hard charging Mayorga. Why? Because, Mayorga has explosive power and can punch with both hands.

HOG: Are there boxers who can't punch with both hands?
Maybe it's because one hand is actually a pirate hook. That would be cool! Each boxer gets to saw off one of their hands and replace it with something else like a wrench, a bundle of sharpened #2 pencils, or a beehive.
JUSTIN: Mayorga's brawling unorthodox style will help him because it's practically impossible to know where his next punch is coming from-- he's like that drunk friend that goes to clubs and knocks out bouncers!
The good news for Mayorga is that he can take a punch, the bad news is he'll need that chin because he has almost no defense whatsoever and he's fighting one of the soundest boxers of this generation.
So it's clear that both boxers will try to knock each other out but I think De La Hoya will weather Mayorga's storm in the early rounds, wear him down with his boxing skills and then knock his ass out in the 8th round.

HOG: You heard it here 1st! Jabbin' Justin Sanders predicts De La Sol will knock out Mayorga McCheese in 8!

JUSTIN: After the fight is over and the winner is crowned I wouldn't look for any hard feelings to be squashed as evidenced in the venom in Mayorga's remarks about the possibilities of he and De La Hoya being friends: "Nah, I have never been friends, nor do I want to be friends with that f@ggot. After I knock him out and they release him from the hospital, I will beat him up again. Don't talk to me about being friends with that f@ggot."

HOG: Such language! I think today's boxers are being influenced by all of the swearing and violence in video games. We need to censor video games and rap music because it's making boxers want to beat each other up! Stooooooooopid.
Now the best part of any boxing match... the hot Round Card bims!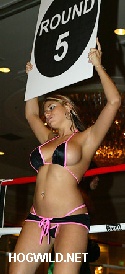 They should hire these bims to hold up numbers between innings at baseball games! And hold up numbers between courses at dinner! And hold up numbers between my frequent trips to the bathroom!