I'm a guy. I watch p0rn. But sometimes you see some disturbing sh!t!
The girl in the p0rno was wearing a wedding ring. What? And it wasn't part of the act, she is actually married and she wore her ring in the movie. What kind of f*cked up home life do her and her husband have?
GIRL: I'm headed out to work...
GUY: I hope you get off early.
GIRL: Me, too!

Then she comes after work...
GUY: How was your day?
GIRL: Same old, same old. Jacked off a monster c0ck, swallowed a few loads... oh! And traffic was awful!
GUY: Wow! Traffic was that bad?

And what about their serious conversations?
GIRL: I want to have children.
GUY: Really? I didn't think you wanted start a family.
GIRL: I don't really. It's for my career. Those pregnant fetish videos pay a ton! And then I can go into lactation fetish. And in 1 year, I'll be certified for MILF videos!
GUY: I love you so much! We can convert the S&M Dungeon into a nursery!

********************
There is all kinds of p0rn out there. But there is ONE kind that I think is just wrong. And I'm not talking about the interracial-@nal-Asian-midget p0rn, because that's pretty cool...
I don't like when they bring religion into p0rn. Like when the girl has those huge fake boobies, or as I call them... foobies, and she's wearing a big cross between them. Because then I start thinking, "What Would Jesus Do?" And if Jesus was between those 2 huge foobies, I think he'd do this: "B-B-B-B-B-B-B-Brrrrrrrrrrrrrrrrrrrrrrewski!!!"
*********************
I remember the 1st time I saw a bl0w job in a p0rn.
I had never had one at that point, and from the look on the guy's face, I never wanted one! I was like, "Look at his face... he's in pain!!!"
**********************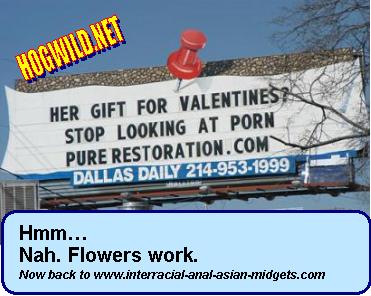 The most disturbing thing involving p0rn happened with my college roommate. It's late on a Saturday night. I walk in and there he is... sitting in front of the computer... asleep... with his d!ck in his hand.
Duuuuuuuuuuuuuuude!!!
He's lucky this happened before cell phone cameras and youtube, or else he'd be very famous right now.
So my shriek of horror woke him and he responds with a startled, "Dude!"
What could I say, except for a please-explain-what-the-hell-is-going-on, "Dude?"
To which he replied with an apologetic, "Dude."
I sighed an upset but sympathetic, "Duuuuuude."
He let me know that he acknowledged his wrong-doing and let me know this would never happen again by explaining, "Dude."
I offered a forgiving, "Dude."
He stood up, to make peace and opened his arms for a hug, "Duuuuude."
Um, his jammy was still hanging out of his pants! "Duuuuuuuuuuuuude!!!"
**********************
One of my favorite p0rn stars is Ava Devine. Because she so obviously loves what she does.
You gotta respect that.
Some female p0rn stars are in it for the money, or for their insatiable sexual appetite, or for their self-esteem issues... but Ms. Devine is in it for the love of the game.
My 3 favorite/most disturbing Ava Devine moments... Mind you, I find NONE of these to be er0tic, but still, they are classic.
1 - Ms. Devine is in a standard FFM threesome. The other girl is on top of the guy, with his jammy loaded in her butt. Ms. Devine has positioned her face to provide extra lubrication to the gentleman's scrotum.
When, OUT OF NO WHERE... Ms. Devine, unplugs the gentleman's rectal meat thermometer and exclaims full of joy, "I want to SMELL it!!!" Then she happily inhales a deep breath of what must be his doody-coated flavor injector.
That's funny! Usually, the only time I laugh while n@ked is when I fart in the tub!
2 - Ms. Devine is walking around, minding her own business when, OUT OF NO WHERE... an African-American midget jumps on her from behind. Ms. Devine looks like she's wearing a black Jansport backpack.
3 - This is among the most disturbing things I've ever seen. In fact, I don't know how it ended because just the anticipation of what was to, um, come... gave me the heebie-jeebies.
The p0rn-dude is ready to fire off the silver bullets from his groin gun, when OUT OF NO WHERE... Ms. Devine spreads her eyelids open with her fingers and shouts, "C*M ON MY EYEBALL!!!"
Why, Ava, why?!!!
Maybe, this is a cheaper alternative to purchasing contact lens saline-solution?
Maybe it was about sympathy and understanding... like, she really wanted to see where he was coming from.
Or maybe she's simply a sick b!tch!
HA HA HA!!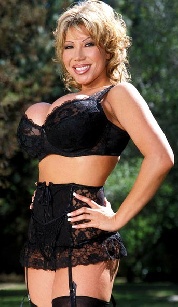 vs.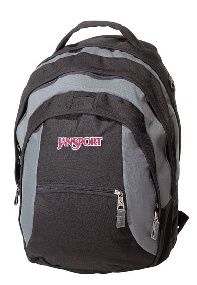 ******************
It's senior year of high school. My good-good friend Dennis (not his actual name) is staying over at my house. He goes into a frenzy. "Dude! I NEED to m@sturbate! Do you have any magazines?"
What? No. What the f*ck, dude?
"C'mon, man. I really need to! How about a Victoria's Secret catalogue?!"
He was weirding me out. Why would anyone bring up this topic? If you have zero self-control that you can't go 1 day without amusing yourself, at least you might have the courtesy as to not inform your host of what you intend to do on his couch.
Who the hell wants THAT image in their head?
So after 2 hours of him pleading for me to give him the bra section of a Department store circular, I kicked him out.
In the middle of the night.
In the Bronx.
In a neighborhood known for criminals quick to pull a stick-up. Looking back, I feel bad for those criminals. Because little did they know that Dennis was quicker than they were to pull a stick up!