HogWild Eats his Way Through Europe!
Italy, Part 2: Pope on MTV Cribs, Wonder Woman Vs. Ice Cream
Jokes & Funny Pictures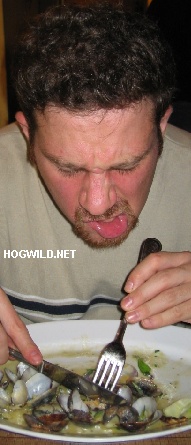 by HogWild
Italian women are beautiful. All so skinny. What's their secret? The shoe diet. They spend all their money on shoes so they have none left for food! (My friend Anna made this observation, as she stuck her foot out and muttered, "Have a nice fall, you skinny b!tch!")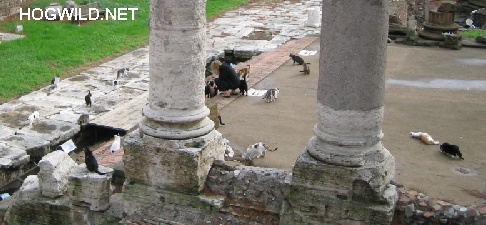 In Rome, they love cats. Roman pillars were built to be giant scratching posts.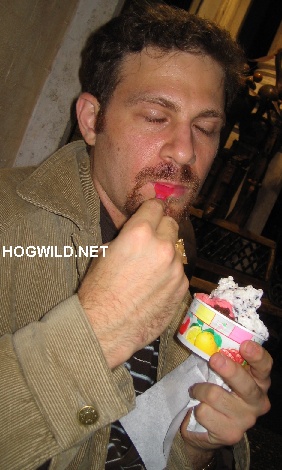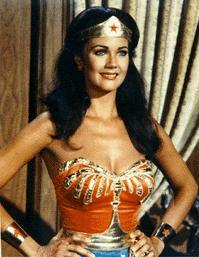 Let's get something straight. THE best ice cream in the whole-entire-worldwide-galaxy-universe is in Italy. The perfect texture, temperature, taste, and tingly feeling in my brain. Perfectly sweetened. I swear to God and anyone else who will listen, if you presented me with two choices: having the scoops in Linda Carter's cups versus the scoops in THIS cup... sorry Wonder Woman, but you're flying home alone in the invisible plane tonight.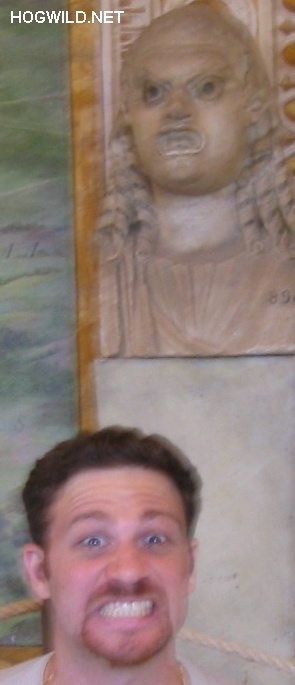 I tried to copy her expression. Failure. SHE looks angry. I look like I'm trying to squeeze out the Turd Torpedo.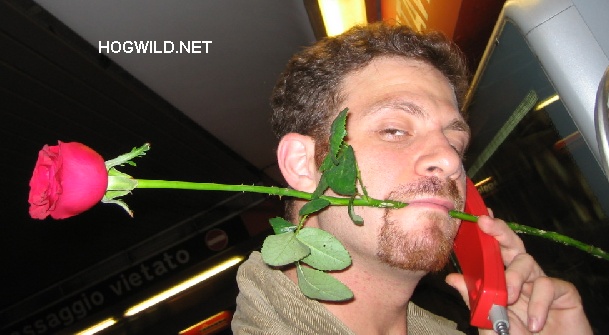 HogWild: Gay Phone Sex Operator.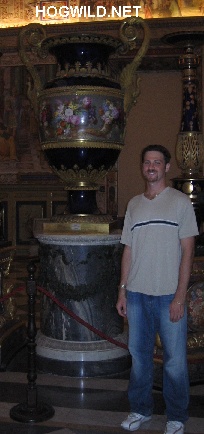 Daaaamn!!! That's a big vase! That must have been one big fat Grandma to have all those ashes! Stooooopid!
Yeah, that vase is in the Vatican, home of the Pope. Pope's pad is bangin'! Everything is Marble and Gold. So when you donate your money, now you know where it's going: to put 42 inch chrome spinners on the Pope-Mobile. Imagine the Pope on MTV Cribs... "'Sup y'all? Here's my car -- the pope-mobile. Bullet-proof glass of course."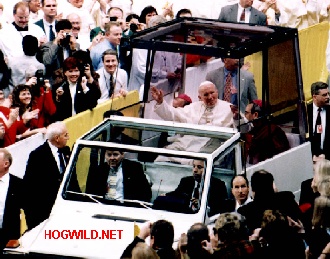 Pope's pimp-ride.
"Now my crib has this dope Sound System - a 27,000 foot tall organ. Neighbors never complain though. Guess I got 'nuff respect. Prolly that I can send them to Eternal Damnation and all.
"Now let me show you – my CITY. Yeah, I own this city. Call it the Vatican. It's cool.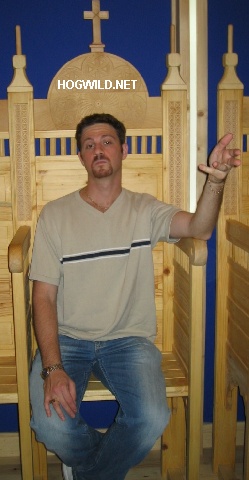 HogWild the Pope! Birth Control -- LEGAL! Fat Chicks with Small Boobies -- ILLEGAL!
Pope is like, "Yo yo yo! Check out this bling – gold and diamond cups. I don't know why I have these. Never use 'em. I mean, I'm older now, nah mean? Thing I like best now is my platinum adult diapers. Pope passes them heavenly bowel movements. Nah mean?"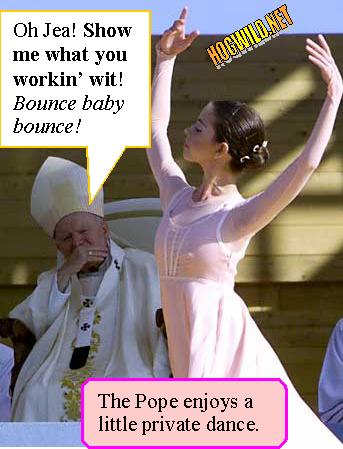 Lots of great paintings in the Vatican. I was like, "I want that painting in my bedroom!" One problem. That painting is BIGGER than my bedroom! Really.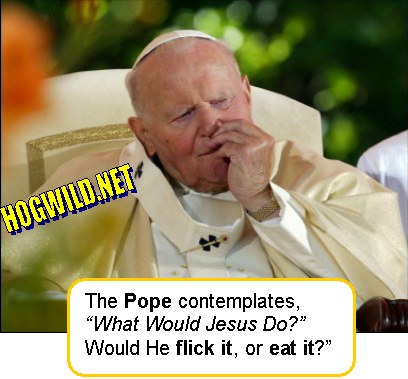 Quick question. If Popes are here to serve God and man is here to serve his fellow man, why do the Popes have all these statues of themselves? And more importantly, on the statues, whose job is it to wash the Pope-statue's balls?
Does he consider it an honor?
"What do you do, man?"
"I work in maintenance in the Vatican."
"Wow!"
"Yeah, I have a special white towel that I use to wipe down the Pope's marble nuts."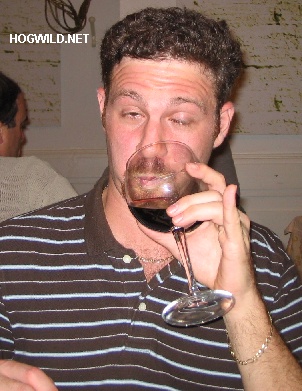 Normally, I would say I was simply plastered in this picture. But I had the pinky up. So I'm sophisticated. Or gay. Hey, it's Europe -- where even the straight guys are gay: tight clothes, perfect hair, manicured nails, waxed eyebrows, good dancers, perfumed grapes...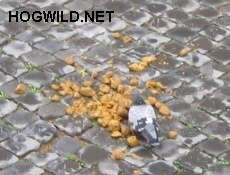 Pigeons: Rats of the Sky. Rats with Wings. DON'T FEED THEM! Look! They eat poop! And not their OWN poop like cute doggies -- HORSE POOP!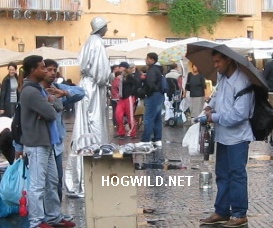 Most people are reasonably intelligent. But when we become tourists, we all become drooling nincompoops.
"Ooh a guy in silver paint is a mime! Let's watch him! A restaurant so close to a major tourist attraction with high prices? It must be good! Ooh a fountain! What a great place to discard our money in exchange for luck!"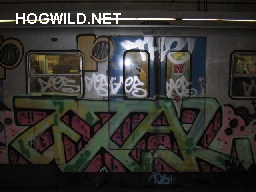 Now THIS made me homesick! I miss the Bronx!



*** More HogWild Funny Stories and Rants ***





Watch my helpful and hilarious Expert Dating Advice videos!

Expert Dating Advice Videos by me!

See my newest Dating Advice Video!