Ladies and Gentlemen... the President of the United States.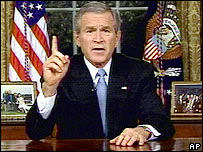 Well uh, ain't this something. Heh heh.
You Democrats won control of the Congress for the first time since 1994. That's a long time ago. I think Windows 95 came out that year.

I uh, first of all, I want to congratulate all of the new Democrat Congressmen and Congresschicks, heh heh, who got elected.

So I guess this means the party's over for us Republicans. Guess we gotta negotiate some stuff now that you Democrats have control of the Congressional Congress.

I gotta get your approval for stuff now. That sucks.

Because I had this great plan -- well not exactly a plan -- it was more like a sketch on the back of a napkin at Applebees -- for invading, I mean liberating, Iran, then Lebanon, and of course Guatemala. Damn, Guatemalans have really been p!ssing me off with their damn Guatemalan ways. Guatemalans are grade-A a$$holes.

So, I know you Democrats are pretty peeved at how I've ignored you and rejected all your ideas for the last 6 years. I want to say, "I'm sorry."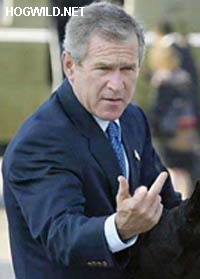 Hope that about covers it.

So live it up, Democrats! Have your little fiesta to celebrate. I'm sure you guys will be partying hard tonight by smoking your reefer, making tie-dye t-shirts and getting abortions.

First thing you guys will try to do is raise the minimum wage. Great. Now I gotta pay more money to my gardener!

Just kidding. He's an illegal immigrant.

But don't think I'm gonna cancel my War just because you guys got some power! I'm still the head honcho around these here parts!
We're gonna stay the course in Iraq until every last Republican is voted out of office!

Now you know Donald Rumsfeld has quit. Well okay, Cheney gave him the option of resigning or accompanying him on a quail hunting trip.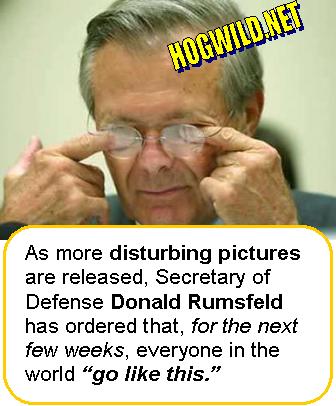 Did you know that we spend nearly $100 billion dollars in Iraq each day?

But I went to a popular Theme Park and I converted it to Disney Dollars. So really, does 100 billion Disney Dollars sound so bad?

And just think... pretty soon the Middle East will have its first Disney World! And we'll be culturally sensitive. Mickey Mouse will wear one of them Jew-hats and Minnie Mouse will be covered in one of those Muslim bee-keeper outfits.

You Democrats probably have some plans to fix the Health Care system. And to find Osama. And stop Global Warming.

Well you couldn't get any of those things done in the 1990s!

So lucky for you, I have some plans:

* EVERY American should have access to health care. So I propose that we allow prayer in schools.

* And to find Osama bin Laden, we should censor bad language on television and radio.

* And to stop Global Warming, we should go to the moon and turn it into a giant air conditioner and point it at the Earth.

Just kidding. I know that's ridiculous. It will only LOOK like an air conditioner, but it's really a giant laser for my anti-missile defense shield. It will totally work!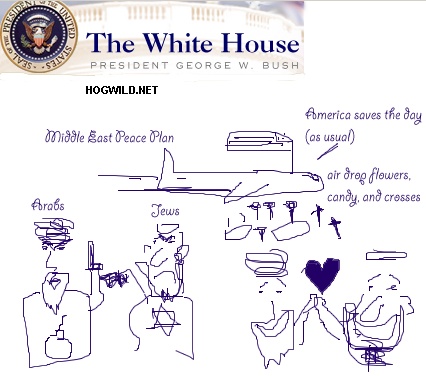 So live it up Democrats!

You even let a woman be the Speaker of the House for the first time ever. And you'll probably have Hillary Clinton as your presidential candidate.
Everyone knows WOMEN aren't cut out for leadership! They are irrational! They do things that don't make sense! For instance, there might be terrorists in say, Saudi Arabia, but she gets all emotional about something and she attacks Iraq instead! Women are crazy!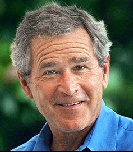 And what if she has her period on her birthday?

What if, America? What...if?

So party it up Democrats! But I tell you I will have the last laugh. One word for you... The Supreme Court. We run it! I put my guy in charge! The Supremacy Court is Republican until they die! HA HA HA HA!!!

And with your stupid idea to allow stem cell research to help us grow and replace organs -- I can keep them alive... FOREVER!!! Mwu-HA-HA-HA!
Idiots!