JUSTIN: Amarillo Slim, one of the most famous proposition betters alive, once bet someone that he would ride a camel through the El Mamounia Casino in Morocco. My point is, gambling isnít always about money, sometimes itís just about having fun and proving who has the biggest balls!
HOG: You made a bet on the size of your balls? That sounds like the start of a g@y porn movie.
JUSTIN: And you know this because?
HOG: Because I was going through your video collection and found a DVD titled "When Harry Met Harry."
JUSTIN: The point was, Austrian World Cup skier Rainer Schoenfelder, on a dare/bet with his physiotherapist, skied n@ked down Europe's famous Lauberhorn downhill course.
Now thatís fun for the whole family. Schoenfelder wins his bet and everyone gets a good laugh when he arrives at the bottom of the hill with big frozen balls!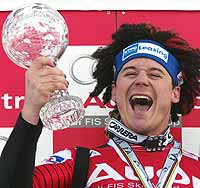 "Yow! I'm not wearing pants!"
HOG: Skiing is not more fun to do while n@ked. Here is a list of activities that are more fun while n@ked:
1 - swimming
2 - surfing the internet
3 - s*x
Things that are NOT more fun to do while n@ked:
1 - jumping jacks
2 - slicing a salami
3 - skiing 90 mph around massive trees down a frozen mountain

JUSTIN: A quick note to all of you jackasses that consider yourself expert skiers: RAINER IS A PROFESSIONAL! This is not to be tried at home... unless you have plenty of alcohol and a trusted friend to video tape the entire run.
HOG: You just explained the entire premise of YouTube.
JUSTIN: Rainer is no novice when it comes to skiing. The 29 year old is a 2-time bronze medalist and despite being n@ked, he was still smart enough to wear a bright orange helmet to protect himself.
HOG: Are you sure this genius doesnít ALWAYS wear a helmet?
Iím just saying, he doesnít seem like the brightest guy on the short bus.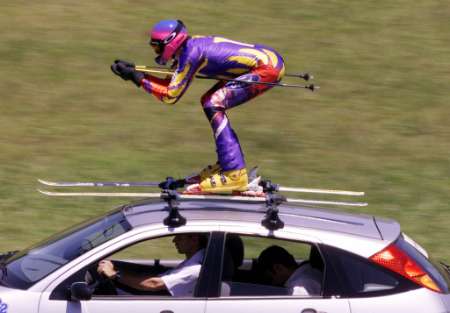 HOG: The ONLY way to ski cross-country! Stoooooooooooooopid.
JUSTIN: The crazy thing is that the bet came about because Schoenfelder had injured himself during training the week before and told his physiotherapist that he would ski n@ked if his wounds healed by that Wednesday.
Great, so after you bust your ass during a training run where youíre wearing protective gear and are perfectly healthy, you decide to prove that youíre okay by skiing buck ass n@ked down the same mountain. Makes perfect sense.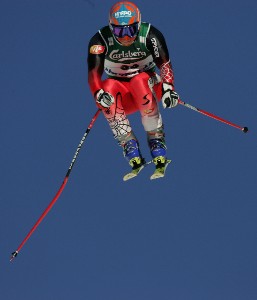 HOG: Now imagine this guy skiing nude. Look! Up in the sky! It's a bird! It's a plane! No, it's a Crazy N@ked Guy with icicles dangling off the bottom of his sack!
You never want to look up in the sky and see test!cles. His frozen-blue scr0tum probably looked like it was an atomic bomb about to be dropped on your head.
JUSTIN: The whole event took place during a rest day when 50 degree weather forced organizers to cancel the weekendís training sessions. Now I donít know if thatís too cold or to warm to ski (I live in Texas) but some of the women watching the event said that they did notice definite shrinkage on Schoenfelderís third ski pole.
HOG: There were women watching?!!!
I heard that Schoenfelder tucked his jammy between his legs to cut down on wind resistance.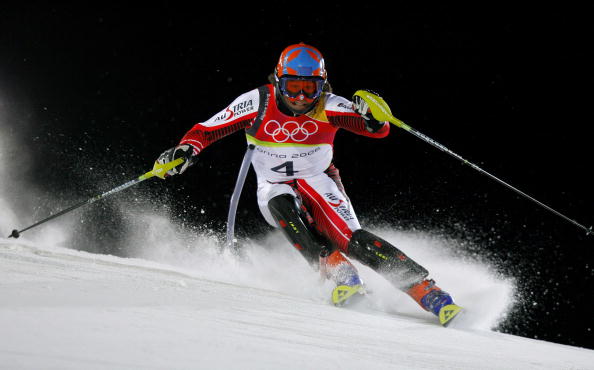 HOG: Look how much concentration is required. And Schoenfelder was able to do this n@ked! Do you know how difficult it is to concentrate with the sound of all those people giggling?
JUSTIN: Schoenfelder did win the bet and is unlikely to face any punishment for the stunt so it just goes to prove my point, that sometimes being an idiot can be not only entertaining, but also prove to be prosperous!
HOG: It works for me!