My Romantic Ghetto-way
Bed & Breakfast Jokes, Sex & Relationship Jokes and Funny Pictures
Took my girl on a romantic get-away. No, not a ghetto-way. That's when you take your girl to a dirty motel and try to convince her that "the important thing is that we're together." Then you call the front desk to request they wash the blood off the walls.
A Ghetto-way is when you sing "Hotel? No! Motel? No! Holiday Iiiiiiiinn? No! My cousin's apartment! In Newark, N.J.!"
Then you have to be honest and admit he's not your cousin. He's a guy who owes you $50.
On a ghetto-way, you're making a champagne toast with the champagne of 40 ounce beers, Shlitz Malt Liquor.
Your girl hears gun-shots at night. You tell her they're fireworks. But let's not go outside... I want private time with only you.
Your place doesn't have a romantic fireplace, but there are romantic trashcan fires outside where the homeless keep warm.
And there is plenty of romantic music being blasted from the cars on the street. Like 50 Cent and and that new love song remix by the Death Murda Piss Face Squad featuring Busta Rhymes.
No, this was nice. Rated the BEST Bed & Breakfast in all of the United
States… and CANADA!!!
Seriously the best vacation I've ever been on. Why? Because I got to do the 3 things I love most: #1 eat delicious food, #2 hot sex, #3 nap.
Yes, those are in order.
What a great trip! Go out for an incredible meal, come back to the cottage and nap in the big soft King-sized pillow bed in front of the fireplace, then wake-up and slide head-first into home plate!
It's great to go away and KNOW you're gonna get some. My girlfriend even brought OUTFITS. And I brought deodorant. Special occasion, ya know?
Oh my God, the sex was so good I broke out into an R&B song, "Your pussy is retarded!! Feels so good... look what you started.... I need it bad... 'cause your pussy is retarded!"
We did a little sexual role-playing. I was the school's hot lunch lady.
Tried some new food. Escargot. That's French for snails. And they are expensive! Man, there are game shows that would pay ME to eat a slimy little bug that crawls along the ground. But they were actually pretty good. Tasted like seafood. And the antennae were yummy!
My girl didn't like when I stabbed a little snail with my fork and made it dance, though. I thought it was cute.
Don't think I just spent an entire weekend boinking & eating... got a lot of reading done:
I get bored, I like to channel surf with books.
Oh, we also got our drinky-drink on! I was double-fisting mad glasses of wine, yo!

Out our window we had a view of this guy's big furry butt!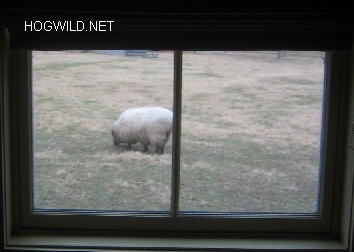 Sheep are so laid back. They just chill in one spot for like 20 minutes. Sheep are pot heads. Lazy. Dred-locked hair. They love their grass.

Oh, we also had a double-headed shower! This is the best invention ever!
We could shower at the same time and not get cold! My girl had her temperature setting and I had mine! But the real fun in the shower started when my girl left me alone.
Yes! Two shower heads just for me! Spraying me from both directions. In the frontside and in the backside. It was a shower gangbang!
This is how cool my girl is: we're going on a romantic walk
along the Delaware river, hand-in-hand. I look in her big beautiful eyes
and scream: "STICK FIGHT!!!"

I grab a branch from the ground. She looks at me with 1 part fear and 1
part confusion. Okay… maybe 2 parts fear.

From under some wet orange leaves, I find a stick for her. I toss it to
her. Again I announce my intention to duel: "STICK FIGHT!!!!"

Now, at this point, most women would get incredibly dizzy from rolling
their eyes at my childishness. But not my girl!

For 3 glorious minutes we were like 2 dueling dancers with our wooden
swords. I swooped around with the 360-degree-Luke-Skywalker-move. Our sticks clicked low, then high. Now for the best part: "SLOW MOTION!!!"

So cool. But then the unexpected! As we morph back into full-speed,
my girl swings a two-handed stick from above her head. I block. And…. and… my stick breaks in two! "Nooooooooooooo!!!!!" I drop to my knees. I
feel the moist mushy ground of defeat. "Nooooooo!"

This is when my girl looks around, realizing she has been an "enabler"
to a crazy man. "Uh, there are people coming. Can we go now?"

"Okay. Thanks, baby... wanna race?"
The only bad part of the whole trip was that my girl caught a little cold. Coughing up some nizasty green stuff. To make her feel better, I started making fun of her:
Baby, if you were a bird, you'd be a FLEMingo.
If you were a University, you'd be FLEMson.
If you were a private investigator on television you'd be FLEMington Steele.
Then I challenged her to a hock-a-loogie contest.
She won.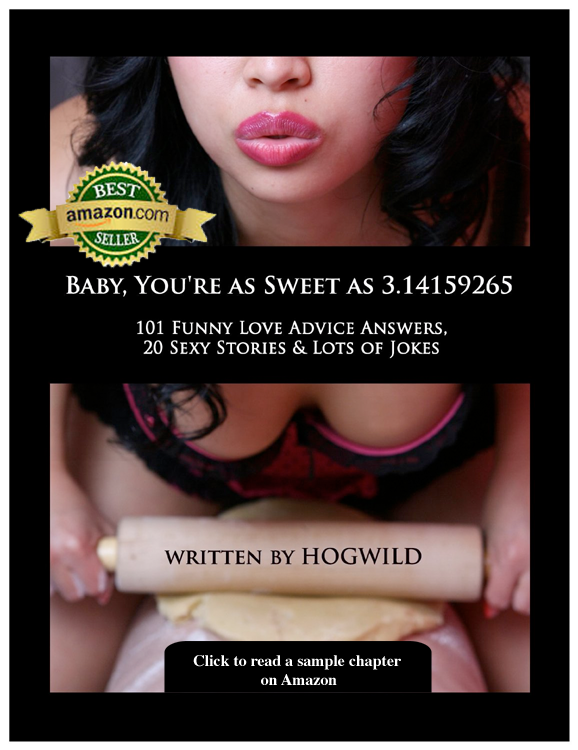 Watch my helpful and hilarious Expert Dating Advice videos!