JUSTIN: In Bountiful, Utah many Mormons and white people gathered to watch the Little League Championship game expecting to see a fun filled afternoon of baseball. But what they got instead was a controversy that has swept across the country like photos of a Lindsay Lohan nipple slip.
HOG: What?!! There was a Lindsay Lohan nipple slip? Where?! Where?!!!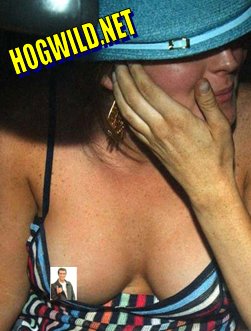 HOG: Wait, Mormons AND white people… are there any Mormons that are not white?
JUSTIN: It seems in the Championship Game, coach Shaun Farr's team was holding on to a one run lead in the last inning of play with two outs, the tying run on third and the opposing team's best hitter stepping up to the plate.
The tension was thicker than the gap in Madonna's teeth and the trophy was on the line so coach Farr decided to intentionally walk the power hitter in order to face Romney Oaks -- a cancer survivor who had recovered from treatments in time to play in the game.
HOG: Oh my goodness. That poor little boy had cancer! And the other team exploited that?!!
LITTLE LEAGUE MANAGER: Okay let's walk the big kid to get to Chemo-boy.
COACH: Isn't that bit harsh?
LITTLE LEAGUE MANAGER: It's okay, Chemo-boy is my nephew.
JUSTIN: Now don't get me wrong I'm just as competitive as anyone... remember I'm the one that questioned why no one bothered to cover or even give a hard foul on the kid with Autism that scored 20 points in 7 minutes, but this is a line that even I wouldn't cross.
I guess that it just goes to show that even in Caucasia people take sports just as serious as us rednecks in Texas.
HOG: Hey, we New Yorkers take our sports seriously, too! Remember that kid Danny Almonte from the Bronx Little League team in 2001 who lied about his age in order to qualify for the team? And it turned out he was 36?
JUSTIN: Oh and did I tell you that this was a 10 year old and under league?
A league where everybody bats, even if there are 15 players on a team and if you score four runs, the other team comes to bat, a league where going out for pizza after the game is just as important as winning. So can someone tell me WHY you would even bother walking a batter in order to get a batter match up?
HOG: Because pizza tastes better when you WIN, baby!
JUSTIN: Of course if we were in Hollywood then little Romney would've had a cooler name and would've smacked a home run that struck the light pole in center field showering the field in majestic sparks as he rounded the bases, but in real life fate just isn't that kind and needless to say he struck out.
HOG: Did he strike out? Or did we as PEOPLE strike out?
Maybe there is more to life on this here planet we call Earth than wins and losses and swings and misses. Maybe we could be just a touch more compassionate. A little gentler. More tender.
Whatever. That stupid cancer kid lost me $500!!!!
JUSTIN: So I ask you, what would you do if you were the opposing coach HogWild?
HOG: Look, the cancer kid came to play. His choice. Treat him like everyone else.
But I wouldn't have intentionally walked the other batter to get to him. Not because I'm sympathetic. But because I don't believe in intentional walks. I say you always go after the batter!
And if you think you'd REALLY rather not pitch to a certain player… then you throw at him with a high hard one! Yeah, I would've knocked the 1st 10 year old kid on his ass!
JUSTIN: If it was me I would've had my kid pitch to the big hitter or if I really wanted to win the game I would've had my pitcher hit the power hitter with a wild pitch, walk the cancer kid to load the bases and then put in Chi Ali to strike out HogWild.
HOG: HEY!!! I did NOT strike out against Chi Ali! I smacked a powerful drive, deep to left of the pitcher's mound.
JUSTIN: My friend Brian Dowd sees the whole situation differently. He thinks, "The blame should be on the opposing coach who clearly was trying to protect his power hitter not with another equally good hitter, but with a sympathy card. It's like if Jim Abbot played in the National League and you'd bat him behind Albert Pujols every time hoping the opposing coach wouldn't want to look like an @sshole."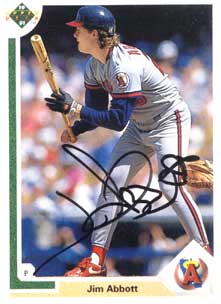 ABOVE: Jim Abbott, a inspirational baseball player born with 1 normal hand and 1 stumpy hand.
Clearly Mr. Dowd is going to hell or on to coach the Mets in the next couple of years and really what's the difference.
HOG: Wow! Your friend Brian is brilliant! I think he's 100% right! Why ELSE would you put that poor sickly kid after your best hitter… UNLESS… they had similar rules to my Little League. They made a rule where you couldn't bat the girls (if your team had any) last. So the line-up had to be boy/girl/boy/girl.
Maybe THEIR Little League has a healthy kid / unhealthy kid rule. Sample batting order:
1 – Perfectly healthy kid
2 – Super Fat kid with Type 2 Diabetes
3 -- Johnny Normal
4 – The kid they call Wheels (because he's in a wheelchair)
5 – Average Joey
6 – Randy Ricketts
7 – Justin Sanders, Jr.
And batting 8th & 9th…. Timmy & Tommy the Siamese Twins

JUSTIN: Honestly though, I think that the blame should be put on Romney Oaks.
HOG: You're blaming a CHILD CANCER SURVIVOR?!!
JUSTIN: Now before you start cussing me out and spitting on your computer screen, let me explain.
HOG: Explain it to GODDDDDDDDDD!!!! You sick bastard, how dare you vote for Republicans?!!! What the hell is wrong with you?!! What were we talking about?
JUSTIN: Romney wanted to play baseball and regardless of how many heart warming movies you've seen... baseball is unscripted and can at times be unmercifully cruel, just ask baseball fans in Cleveland.
HOG: And life is cruel, too. Just ask ANYBODY who has to live in Cleveland.
JUSTIN: So when someone strikes out in a big spot, who are we to blame?
HOG: The umpire?
JUSTIN: Personally, I think that whether or not he got a hit is not the point. I think the fact that the kid is fighting cancer and had the heart to gut it out and play in the game is what we should be focusing on. That and the fact that Shaun Farr the opposing coach is a piece of sh!t.
HOG: Dude, give the guy a break. He's the Tony LaRussa of Little League coaches. If the cancer kid has just practiced a little more he could have won the game Kirk Gibson style. And right now we'd all be happy and congratulating him.
But did he go out and take extra batting practice? No. He just sat around all day taking radiation therapy and vomiting.
JUSTIN: The moral of the story is that everyone strikes out (HogWild) but it's how you deal with that, and how you comeback from it the next time that defines you as a player.
So next year when Romney returns to baseball I hope he'll have another chance to redeem himself in the championship game and shove that trophy right up Shaun Farr's ass.