The Complete Life of Rosa Parks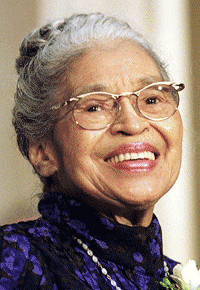 December 1, 1955 - Rosa Parks refuses to give up her seat on the bus to a white passenger, as the law requires. Her brave decision sparks the Civil Rights Movement and inspires future generations to strive for justice and equality.

October 24, 2005 – Died.
Okay, fine. She did more than that. But, really, none of it was cool.

Rosa and her husband joined the local chapter of the NAACP and worked to improve the lives of African-Americans in the segregated south. BORING.

Mrs. Parks served on the staff of U.S. Representative John Conyers. YAAAAAWN.

Mrs. Parks founded the Rosa and Raymond Parks Institute for Self-Development that sponsors an annual summer program for teenagers called Pathways to Freedom. The young people tour the country in buses, under adult supervision, learning the history of their country and of the civil rights movement. SNOOOOOZE.

President Clinton presented Rosa Parks with the Presidential Medal of Freedom in 1996. TERRIFIC, BUT HAS SHE EVER WON AN MTV MUSIC AWARD? NOPE.

Upset over the use of her name, she files a defamation lawsuit against Grammy-winning musical group OutKast, over their hit song "Rosa Parks." PROBABLY BECAUSE SHE WAS JEALOUS OVER THEIR MTV MUSIC AWARD.
Let this be a lesson to you. Your life will be long (and mostly boring) but even if you do a lot of great things, you will only be remembered for ONE.
Examples of people who did MANY great things but we only remember ONE:
Abraham Lincoln: Freed the slaves
Neil Armstrong: 1st man on the moon.
Jaleel White: Urkel.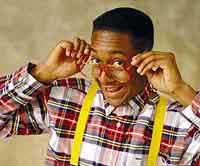 Expert Dating Advice Videos by me -- HogWild -- professional dating advice: helpful and hilarious.