HogWild's Back to School Advice for Children:

* Teachers often go over classroom rules so you'll know what's allowed and what's not, such as rules about visiting the restroom. This is where you can quietly sob, just like them in the teacher's lounge.

* Ask mom to pack your lunch with fresh fruits and vegetables. These help a body grow up to be big and strong! The bully who steals your lunch will thank you!

* Did you know how much MUDVAYNE RULZ! Or that Mr. Pittman sucks? How about the fact that Heather is a ho bag boyfriend-stealer? Sit at a carved-up public school desk and the learning starts immediately.

* To the young girls who wear those short shorts that say "Juicy" on the back: That suggestiveness may shock your parents now, but by the time you read this, those will seem positively Amish.
The future of fashion for pre-teen girls is clear: all clothing will have life-size v@gina graphics in the center of a bulls-eye with flashing LED arrows pointing into it.

* Sixth grade often signals the jump to middle school where you'll start switching classes and learning many new subjects. They say that 5th grade is as different from 6th grade as a wedgie is from an atomic wedgie. Which you'll also be learning.

* You can make the first day feel special by wearing an outfit you like. Maybe it's a great t-shirt from vacation, or new sneakers that put a spring in your step. Or maybe something a bit trampy — like a Catholic schoolgirl uniform.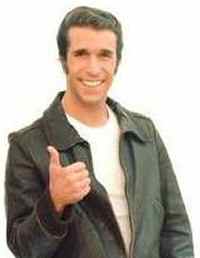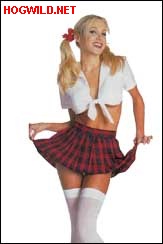 IMPORTANT NOTE: If you find yourself attracted to a middle school aged girl then you need to immediately cut off your genitals and swallow them. Seriously.
NOTE: Unless you are ALSO in middle school.
NOTE TO ANY 6th GRADE BOYS READING THIS: I really hope you read my 2nd note before acting on my 1st note. Damn. My bad.

* Get into good habits. Don't procrastinate completing your gossip. Make certain that your gossip gets around the ENTIRE school before it gets back to Jill that she got fingered by Ted over the summer in the movie theater.
Because whether it's math homework or spreading devastatingly hurtful rumors... it's important to finish what you start.
And don't forget to add the part where Jill got a yeast infection because Ted was eating buttered popcorn with the same hand.

* Some schools distribute supply lists before the year begins, so you can come stocked up on pencils, folders, erasers, etc. When you're an adult you can steal these from the office supply closet as a small compensation for endless days of desk–bound toil. But for now, bring your own.

* The first day of school is your first chance to learn the pathways to new classes. It's a lot to learn in one day, so don't be surprised if you need a reminder or two! If you don't get it after that, maybe your school will assign a special helper animal to guide you to the very special education room.



* Once you've covered the supply basics, you might like to bring along a book to read while you're on the bus. You might also like to stamp the word "Dork" on your forehead. Then you might like to give yourself an atomic-wedgie. Then you might like to slap yourself in the face and steal your own lunch money.

* Now is the time to get serious about school and start making smart academic choices. Don't copy off your friends during a test! They're just as stupid as you. Copy off that new kid with the glasses and really big digital watch.



* If you hate going to school, don't worry, it won't last forever. Once you're done with school you'll have a whole new exciting life ahead of you! Life will be totally different!

- You'll wake up every morning to sit behind a desk all day, you will write reports, and you will have some mean older person telling you what to do!

- Your favorite part of the day with be lunch or maybe going to the gym.

- And instead of leaving in the afternoon, you'll be there into the evening!

- And best of all… no summer vacation!